Young Guns Wins the 26th Annual Saltwater Slam!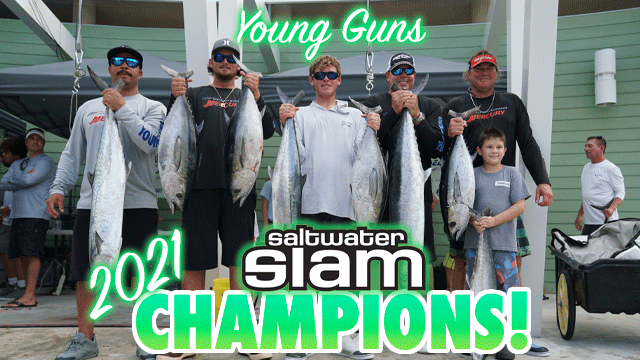 FOR IMMEDIATE RELEASE
JUNE 2021
Contact: Jennifer Hoffman
Phone: 954-725-4010
Email: jennifer@bluewatermovements.com 

Young Guns Wins the 26th Annual Saltwater Slam!
The Pompano Beach Saltwater Circuit continued on with its second leg, the Saltwater Slam on June 12th. 72 boats were rigged up and ready to roll in the Mercury/SeaVee sponsored event, with all eyes on the coveted Showdown Crown title. 
With COVID-19 regulations and restrictions lifted, the festivities for the Slam kickoff party started to look more like they did before the pandemic and it was easy to see that anglers and fans were excited to be back! The Slam kicked off at the Pompano Beach Civic Center on Thursday, June 10th with amazing food by Fort Lauderdale's own Blue Moon Fish Company and bar hospitality by the South Florida Hooters girls. One of the most notable takeaways from the kick off party was its focus on charity. A 'Darts for Dollar's' fundraiser was in play for tournament charity Mission Fishin' and the anglers were all in all night long! The unique spin on the traditional carnival balloon game was a hit with the anglers. Their contributions went directly to Mission Fishin' while anglers had an opportunity to win some really cool prizes from Bass Pro Shops, Bubba Blade, E-Sea-Rider and Clarion Marine just to name a few. The fundraiser raised over $1,800 for Mission Fishin'. 
Competition day was set for Saturday, June 12th. Only 3 pounds separated the top 3 overall teams and it would be team Young Guns that came out on top. Their total weight of 158.5lbs would hold on to secure them the title of Saltwater Slam Champions 2021! The Mercury Pro Staff squad started their morning off Jupiter and were able to find their kings, but knew they needed more. So they raced south to the opposite end of the boundary and struck gold with four blackfin tuna to seal the deal and celebrate with a champagne shower on the stage at Sullivan Park with a hefty payday of $18,460!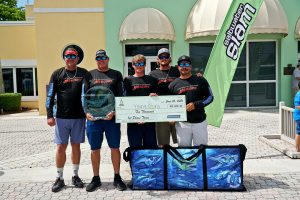 Finishing in second place was three time Showdown Crown Champs, Blue Moon. They weighed in a total of 157.2lbs of fish and snagged a $8,806 payday! However, the biggest payout of the tournament went to team Gator One who finished in third place overall weighing a total of 155lbs of fish, including the Top Kingfish (38.5) and Bluewater Challenge, third place in the Bluewater Bonanza, first place in the Big Three, and first place in Holy Mackerel for a grand total of $19,749!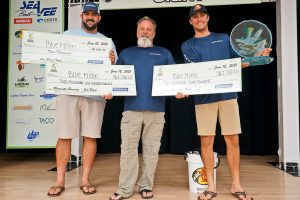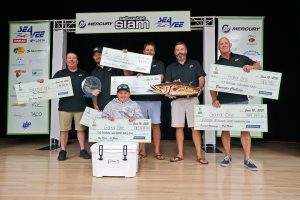 With one leg remaining to crown South Florida's newest meatfish champions plus the top small boat of the series and the Junior Master Angler, the stakes are high heading into the Saltwater Showdown on August 14th. The Saltwater Showdown is an open tournament available to all teams that want to fish. To register for the Saltwater Showdown visit: www.fish.bluewatermovements.com 
MORE SLAM RESULTS:
LowKey: First Place Non Pro Division, First Place Non Pro Bonanza, 2nd place Cobia (15.6)- $3,985
Spiced Rum III: 4th Place Overall, 3rd Place Kingfish (33.9), First Place Cobia (28), Third Place The Big Three, Second Place Holy Mackerel-$6,944
Hoked Up: Second Place Small Boat Bonanza & Division, Second Place Non Pro Bonanza & Division –$3,749
Lenny's Luck: First Place Wahoo (29.2) First Place Small Boat Division & Bonanza- $3,515
Digger Rich: 6th Place Overall, Top Dolphin (25.8), First Place Show Me The Mahi –$2,750 
Top Female Angler: Sherri Beswick, Spiced Rum III
Top Male Angler: Devin Dickerson, Gator One
Top Junior Angler: Trey Gailing, NautiGator
Top Pee Wee Angler: Chase Gailing, NautiGator
Top Family Team: Living Water/Makin' Time, The Fishman Family
First Timers Award: Small Craft Advisory 
Full Results Can Be Found by visiting https://fish.bluewatermovements.com/leaders/overall/53 
ABOUT THE POMPANO BEACH SALTWATER CIRCUIT:
If you like fishing for Dolphin, Wahoo, Kingfish, Tuna and Cobia, then you will love the format of the Pompano Beach Saltwater Circuit. The PBSC is a 3-leg tournament that takes place annually in South Florida from May to August. Leg 1 of the series begins in May with the Saltwater Shootout, followed by the Saltwater Slam in June and the Saltwater Showdown in August. In addition to a $550,000 purse, teams that register for the tournaments will enjoy premier hospitality including free drinks, great food, live entertainment, tournament shirts and a team bag loaded with sponsor swag! It's no wonder why the PBSC has become one of the most popular series on the east coast. Mark your calendars and join Bluewater Movements for the kickoff to the summer series in May! For more information on the PBSC series, visit: https://www.bluewatermovements.com/tournaments/summer-series/
About Bluewater Movements:
Bluewater Movements, Inc., is a sport's marketing company based in South Florida, the sportfishing capital of the world. Throughout the past 20 years, our team has developed some of the most successful competitive fishing events in the industry. Our background in tournament fishing coupled with our expertise in event marketing has enabled a 
premium experience for tournament anglers and sponsors. Within our portfolio there are six wildly popular fishing tournaments, all hosted at various venues across South Florida.
###