Young Guns Wins The 25th Annual Mercury/Seavee Pompano Beach Saltwater Shootout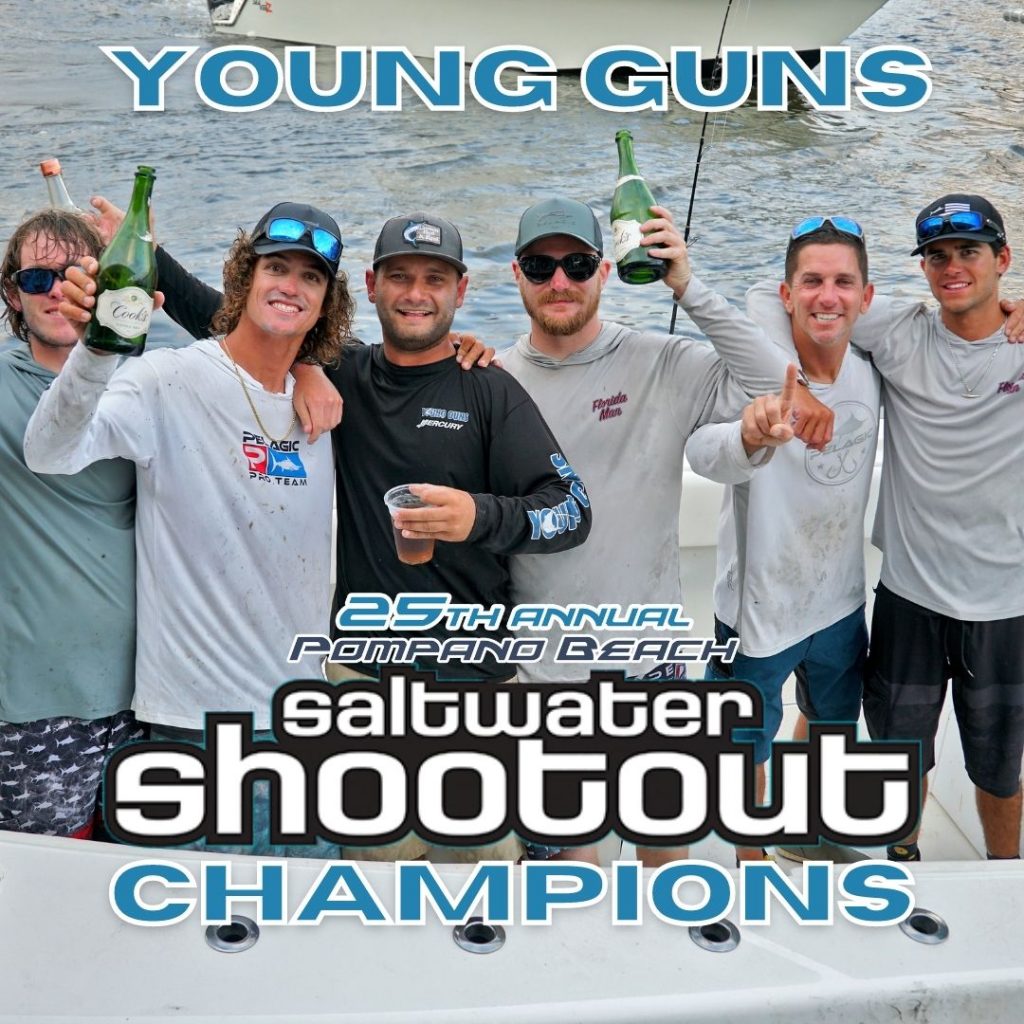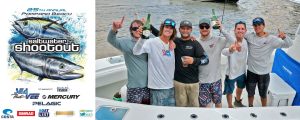 FOR IMMEDIATE RELEASE
May 2023
Contact: Chris Caravello
Phone: 954-725-4010
Email: Chris@bluewatermovements.com
Kicking off the 25th Annual Mercury/SeaVee Saltwater Shootout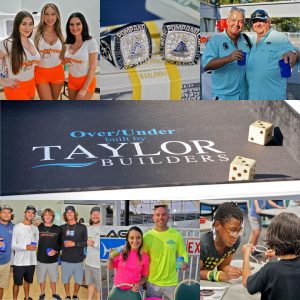 The 25th Annual Mercury/SeaVee Saltwater Shootout kicked off with a fresh look and a field of 64 teams vying for their share of the $171,920 cash purse and prizes. The event began with a captain's meeting featuring a record number of sponsors and appearances by BoatList.Auction, Hooker Electric, PELAGIC, SIMRAD, Seaward Systems, Eddie Forbes Art, Bonefish Macs, and more. Outside, the Over/Under Game built by Taylor Builders raised over $2,500 for charitable partner Mission Fishin'.
The newly renovated Cove Waterfront Restaurant & Tiki Bar served as the Weigh-in HQ for the competing teams. Anglers were treated to food and drinks courtesy of Jersey Mikes, Landshark Lager, and Islamorada Beverages, while onlookers were entertained by all the teams rafting up to see the big fish hit the scales on the BoatList.auction sponsored stage. 
Shootout Recap
On tournament day, a total of 227 fish were  weighed for a hefty haul of 4,435.2 lbs, and Mercury Marine Powered teams dominated the leaderboard, sweeping 5th through 1st place. 
In 5th place, team Gator One landed a cash prize of $1,200 after weighing in four kings and four tuna totaling 89.6 lbs and 74.9 lbs, respectively.
Next up in 4th place, tournament sponsor Captain Eric Neidorf's of How Ya Reelin Fishing & Tackle on team Caught Slippin reeled in four kings and four tuna weighing a total of 165.1 lbs, respectively, and took home $2,805 including a 3rd place finish in the Bluewater Bonanza Calcutta.
In 3rd place, team Seapremacy reeled in four Mahi, Four Tuna, and two Kings reaching the tournament limit of 10 fish per boat. They had a combined weight of 181.8 lbs, to earn them a grand total of $11,063 across multiple categories, including 1st place in the Show me the Mahi Division, the Midrange Bonanza Calcutta, and Charity Calcutta on their 29 SeaVee. 
In 2nd place, team Off The Wall took home the biggest payout of the weekend, cashing in on $20,368 after catching a total of 187.7 lbs of fish, including a 33.3 lb tuna caught by angler Evan Bradley which secured their win in the Big Fish Tuna Division and the Bluewater Bonanza, as well as 1st place in the Ante Up calcutta and the new winner take all Fish & Chips Calcutta.

Other Notable Top Finishes:
Top Female Angler
Carol Ott – No Fly Zone – 90.8 Points
Top Junior Angler
Averi Norden – In-2-Bait – 72.8 Points
Top Pee Wee Angler
Miles Schlee – REEL-E-SEA – 40.2 Points
Top Family
1st Place – In-2-Bait – 126.7 Points
Big Fish Division – Dolphin
Pat Lynch Jr – Mow Money – 16.0 Points – $1,000
Big Fish Division – Wahoo
Gary Waldo – Highly Unlikely – 15.4 Points – $1,000
Big Fish Division – Kingfish
Jacek Ozyp – Hazard Pay –45.4 Points – $1,000
Big Fish Division – Cobia
Billy Burke – Tax Relief – 28.9 Points – $1,000
Heaviest Fish – Slow Pitch Jig
Pete Weisberg – Miss Michelle – 27.5 lb Kingfish – $500
Small Boat Division (26 feet and under)
1st Place  – The Program – 119.7 Points – $2,500
2nd Place– Hoo We BiLLiN – 113.3 Points – $1,250
3rd Place– Outnumbered – 93.6 Points – $500
Mid Range Division (27 to 32 feet)
1st Place  – Young Guns – 194.6 Points – $2,500
2nd Place– Seapremacy – 181.8 Points – $1,250
3rd Place– Bowdacious/Off-Season – 113.7 Points – $500
Semi-Pro Division 
1st Place  – Low Key – 105.7 Points – $2,000
2nd Place– Outnumbered – 93.6 Points – $1,500
3rd Place– Reel Line – 91.8 Points – $750
4th Place– Resolve Aircraft Management  – 56.2 Points – $500
5th Place– Screamin' Reelz  – 55.8 Points – $250
New Moves from the Young Guns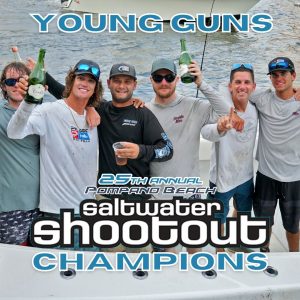 There's an ironic link between NASCAR drivers and Sportfish Teams competing in Pompano Beach meat fish tournaments. Both sports demand a blend of teamwork, strategy, and meticulous prep. From the driver or the captain leading the way to the pit crew or the anglers making sure everything goes accordingly, it's all about executing the game plan. They dive into weather forecasts, dissect strategies, fine-tune techniques, upgrade gear, and some even attract sponsorships. But at the center of it all, there's one undeniable truth—they're obsessed with left turns. For the drivers, it's the racetrack's only direction, and for the majority of fishing teams, it's their primary recipe for victory as they make that turn to run northward out of the inlet.
However, the audacious Mercury Marine-powered Team Young Guns, captained by Timmy Maddock, Jr, decided to defy conventional wisdom and shake things up. They took a detour down south, and it paid off in a big way. This move positioned PELAGIC Pro Timmy Maddock, the Shootout's Top Male angler, in the sweet spot to reel in a whopping 122.9 lbs of the team's grand total of 194.6 lbs, clinching 1st place. 
Congratulations, Young Guns… You've earned the well-deserved title of 2023 Mercury/SeaVee Pompano Beach Saltwater Shootout Champions. 
Heading into leg 2 of the PBSC series, the Mercury/Seavee Pompano Beach Saltwater Slam, two giant calcuttas remain unclaimed from the Shootout. Both of the KDW and Pick 3 jackpots are expected to reach near $50,000 each! At a modest fee of only $200 per category, the ROI will be off the charts for a couple lucky teams if they hit the jackpot! Registration for the Saltwater Slam is open at https://fish.bluewatermovements.com/app/
About The Pompano Beach Saltwater Circuit
If you like fishing for Dolphin, Wahoo, Kingfish, Tuna and Cobia, then you will love the format of the Pompano Beach Saltwater Circuit. The PBSC is a 3-leg tournament that takes place annually in South Florida from May to August. Leg 1 of the series begins in May with the Saltwater Shootout, followed by the Saltwater Slam in June and the Saltwater Showdown in August. In addition to a $550,000 purse, teams that register for the tournaments will enjoy premier hospitality including free drinks, great food, live entertainment, tournament shirts and a team bag loaded with sponsor swag! It's no wonder why the PBSC has become one of the most popular series on the east coast. Learn more by visiting our website.
About Bluewater Movements
Bluewater Movements, Inc., is a sports marketing company based in South Florida, the sport fishing capital of the world. Throughout the past 27 years, our team has developed some of the most successful competitive fishing events in the industry. Our background in tournament fishing, coupled with our expertise in event marketing, has enabled a premium experience for tournament anglers and sponsors. Within our portfolio, there are seven wildly popular fishing tournaments, all hosted at various venues across South Florida.