The Saltwater Shootout is Social Distancing, but the Fish Aren't!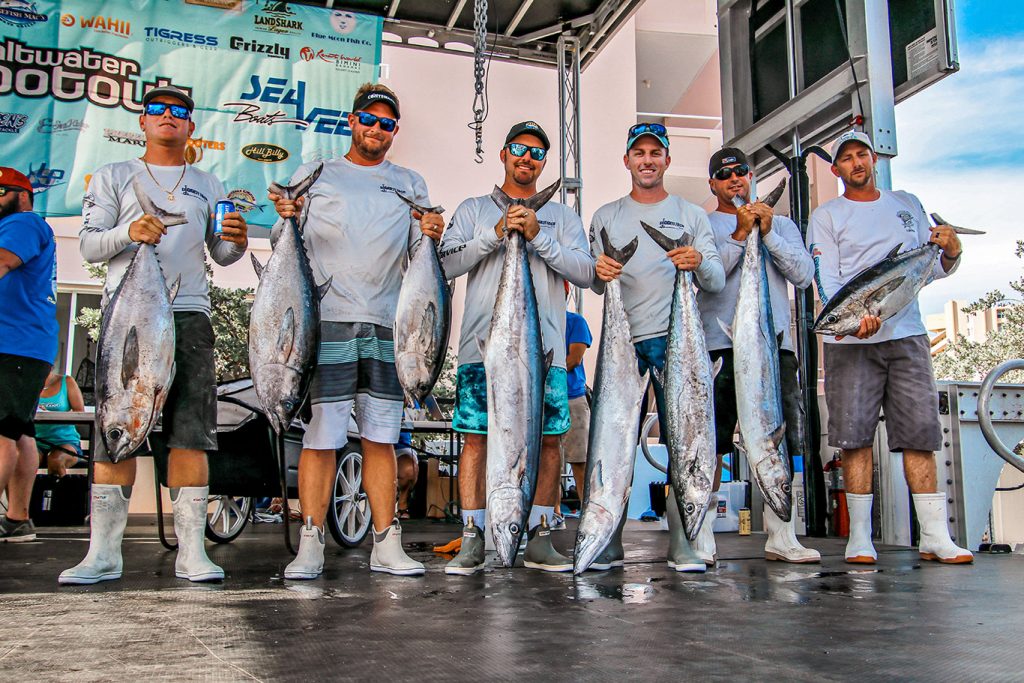 Pompano Beach, Fl. (July 8, 2020) – Leg 2 of the 22nd Annual Pompano Beach Saltwater Circuit is almost here! The Mercury/SeaVee Pompano Beach Saltwater Shootout will be held on July 16-19, with the same COVID-19 social distancing guidelines and city-mandated regulations that were in place for the Saltwater Slam on June 13th. The Saltwater Shootout, which is usually the opening leg of the PBSC series, was pushed back into July this year due to stay-at-home orders that were in place back in May.
The stakes are high for the upcoming Saltwater Shootout tournament, as anglers have been craving a hot bite and some exciting competition on the water. Coming off a strong Saltwater Slam tournament that hosted a 95-boat fleet and a solid bite, teams are ready to snag the unclaimed mega jackpots for the Pick 3 and KDW categories, which have over $80,000 and $53,000 up for grabs individually!
Time to get lock and loaded for a Shootout on the big blue! Get your bait pens stocked and rigs ready. The countdown is on with only one week to go before the kickoff party and final registration at the Pompano Beach Civic Center. This 2020 PBSC season is loaded with ways to win big including over $550,000 in cash and prizes, and over $200,000 up for grabs in the Shootout alone. With over 60 opportunities to walk away a winner in the general prize structure and optional entry categories, the odds of cashing a check are high!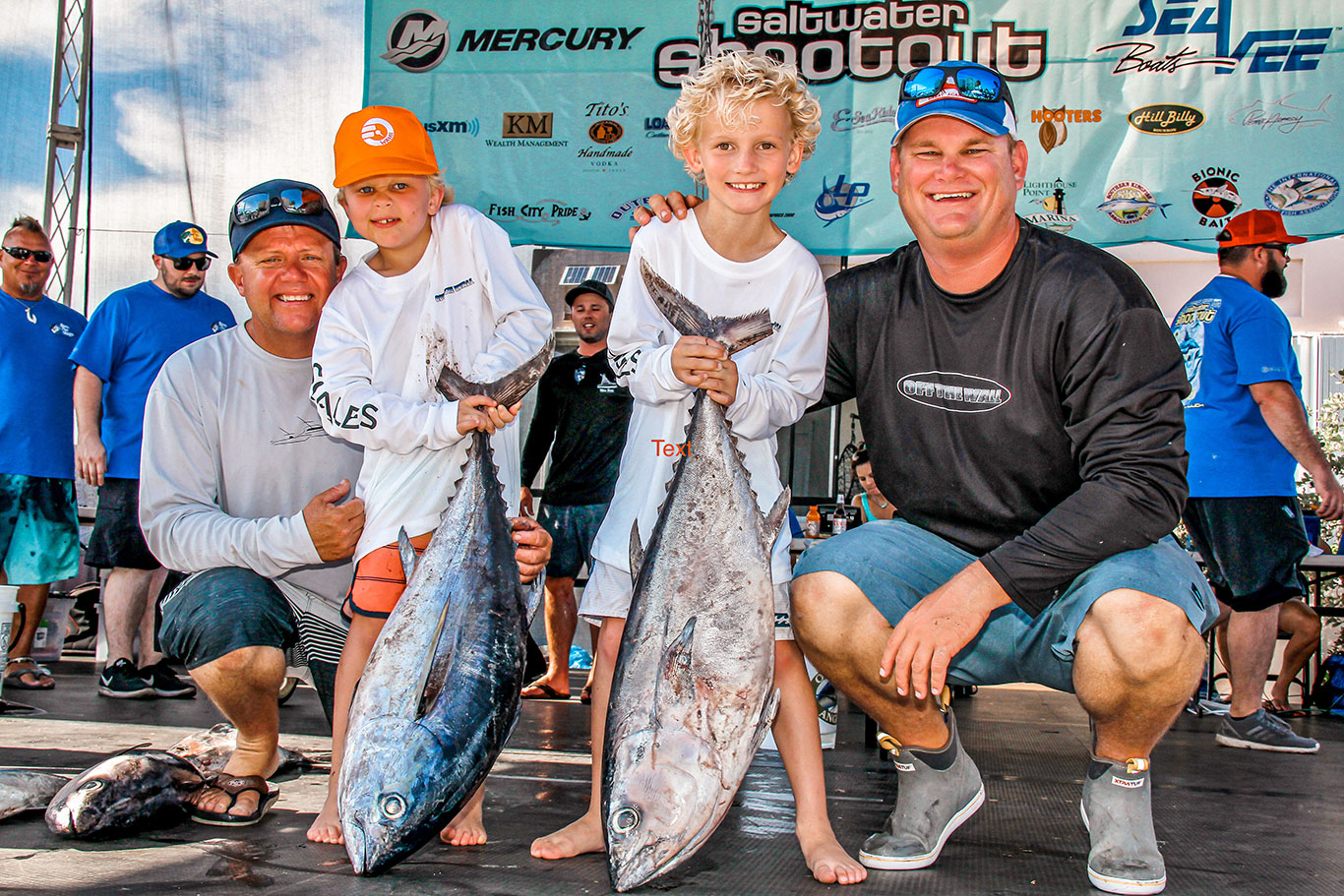 Buying into "optional-entry" calcuttas increases your odds of winning more money, but your "general-entry" alone will get you some big bucks as well! Some of these lucrative categories include $10,000 for the top overall team with the heaviest combined weight, $1,000 for each heaviest eligible species, $1,500 for the Top "Small Boat" (26' and under with a maximum of 400 HP total), and $2,000 for the Top Non-Pro team. New sponsor, BUBBA Blade has created some incredible prize packages for both the Top Male and Female anglers of the Shootout, and Grizzly Coolers has a $1,000 gift certificate up for grabs to the team that hangs the heaviest fish of the tournament during the Bass Pro Shops sponsored weigh-in at Sands Harbor Resort!
Procedural guidelines for the Shootout will follow the same protocol that was in place for the Saltwater Slam in June. Only registered anglers will be permitted to attend the kickoff party at the Pompano Civic Center, scheduled for 6pm-10pm on Thursday, July 16. All anglers attending the event will have their temperatures checked at the door, and face coverings will be required at all times while attending all events for the tournament. The event will utilize outdoor and indoor space to accommodate distancing guidelines and capacity limits for anglers in attendance. Social distancing won't prevent great hospitality made possible by Blue Moon Fish Company, Bonefish Mac's, Tito's Handmade Vodka, Appleton Rum, Lanshark Lager, and Rabble Wine!
Tournament day for the 2020 Saltwater Shootout is Saturday, July 18th with check-out held at the Hillsboro Inlet scheduled for 6:30 a.m. followed by a bimini-start @ 7 a.m. The Bass Pro Shops sponsored weigh-in stage will open at 4 p.m. at Sands Harbor Resort & Marina on Saturday, July 18th. Social distancing regulations won't allow for grand stands and the 'big stage' during the weigh-in, but the entire weigh-in will be available to watch LIVE on the Bluewater Movements Facebook page (@BluewaterMovements). An express weigh-in option will still be available at Lighthouse Point Marina as well. The Saltwater Shootout Awards ceremony will be held at the Pompano Beach Civic Center from 2-5 p.m. on Sunday, July 19th and will again be limited to registered anglers only.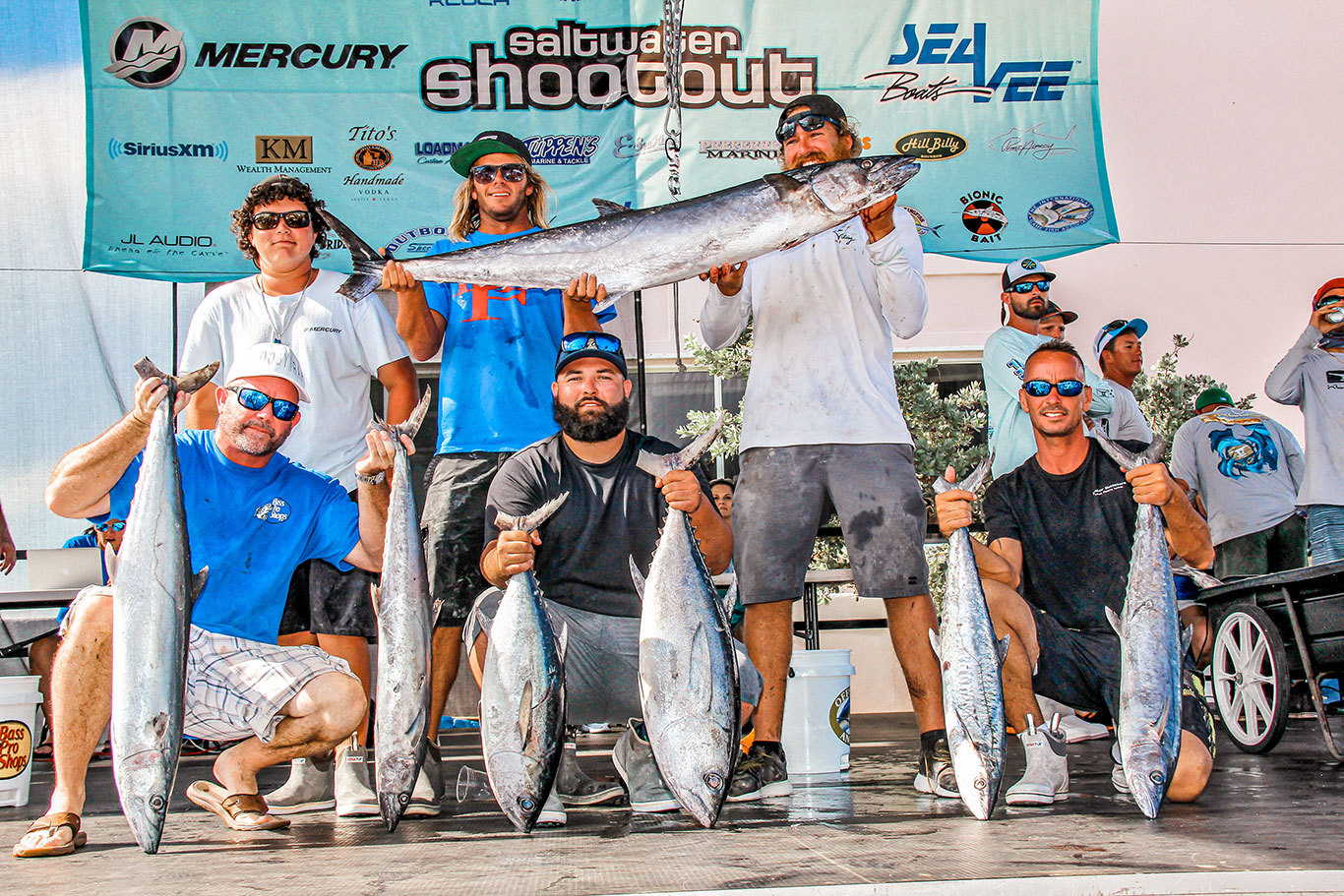 If your team fished the Saltwater Slam last month, you are 1/3 of the way to getting entered into the highly prized Pompano Beach Saltwater Circuit "Grand Prize Drawings" that happen at the Saltwater Showdown kick-off party. If you register for all 3 PBC tournaments (Slam, Shootout, and Showdown), your team will be eligible to win these grand prizes on Thursday, August 13th! Prizes include a 3-year 2020 RAM 1500 truck lease from Joey Accardi of Pompano Beach, a V.I.P weekend package to Resorts World Bimini, a SiriusXM Marine offshore weather package, TACO Marine outrigger package valued at $2,500, Grizzly cooler package, Costa sunglass package, $4,000 Loadmaster gift certificate, $500 Bass Pro Shops shopping spree, and a $2,500 cash giveaway!
Register now for leg 2 of the Pompano Beach Saltwater Circuit, the 2020 Mercury/SeaVee Pompano Beach Saltwater Shootout. Late Registration remains open through the conclusion of the Shootout kick-off party on Thursday, July 16th. Register at-home prior to getting to the Kick-off Party to save yourself from waiting in lines now at www.fish.bluewatermovements.com
Charitable proceeds from the PBSC summer series benefit the Perry J. Cohen Foundation.  Together PJCF and Bluewater Movements are working to educate adolescent boaters on the importance of boating safety to make sure they place safety first and are fully prepared with the life-saving equipment they need every time they leave the dock. To learn more about the PJCF mission visit https://www.bluewatermovements.com/tournaments/summer-series/charity/
For more details on the Mercury/SeaVee Pompano Beach Saltwater Shootout, visit www.saltwatershootout.com Details on the 3-leg PBSC summer series are available at https://www.bluewatermovements.com/tournaments/summer-series/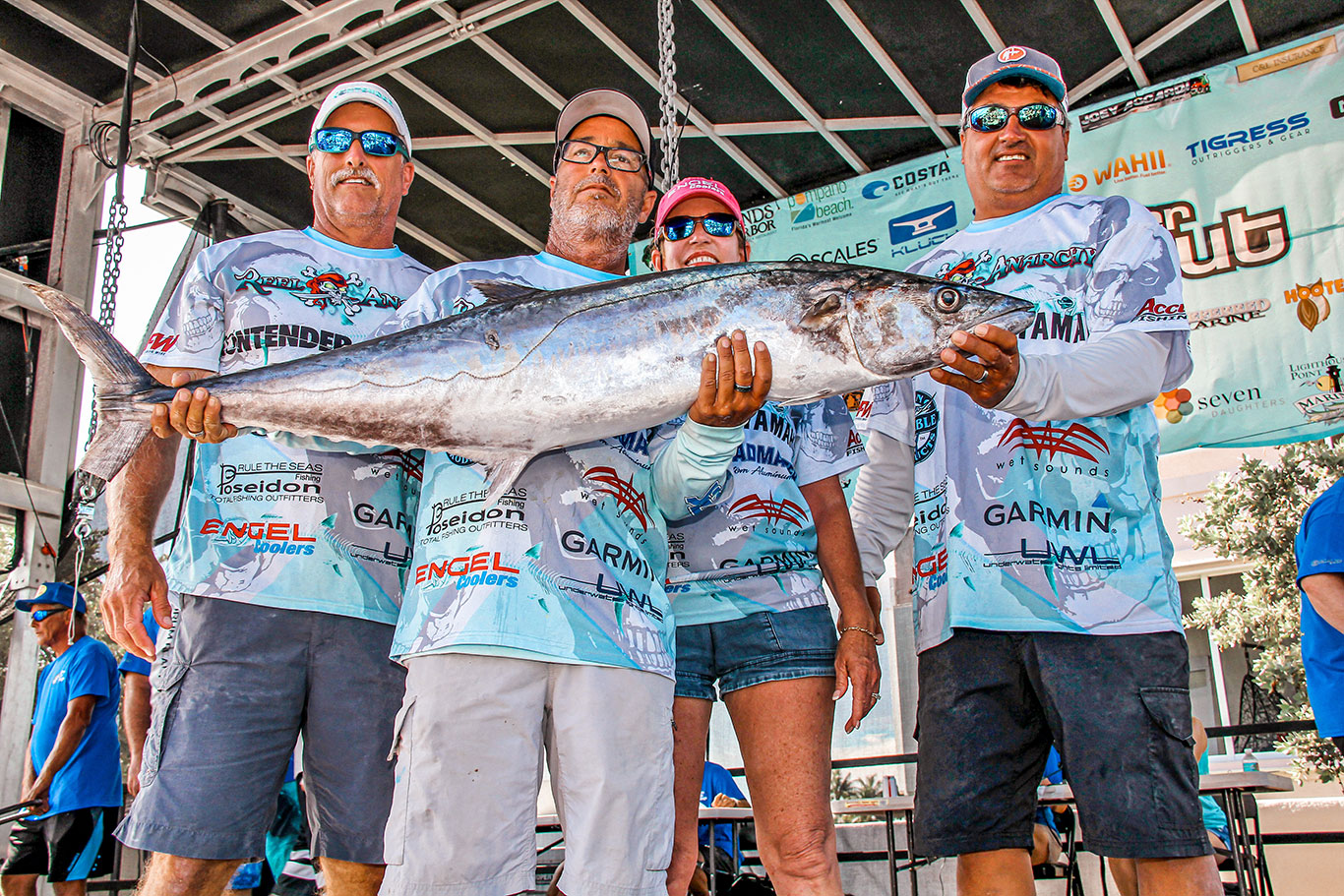 About Bluewater Movements:
Bluewater Movements, Inc., is a sport's marketing company based in South Florida, the sportfishing capital of the world. Throughout the past 25 years, our team has developed some of the most successful competitive fishing events in the industry. Our background in tournament fishing coupled with our expertise in event marketing has enabled a premium experience for tournament anglers and sponsors. Within our portfolio there are six wildly popular fishing tournaments, all hosted at various venues across South Florida.