The 3rd and Final Leg of the Series, the Saltwater Showdown Is Here!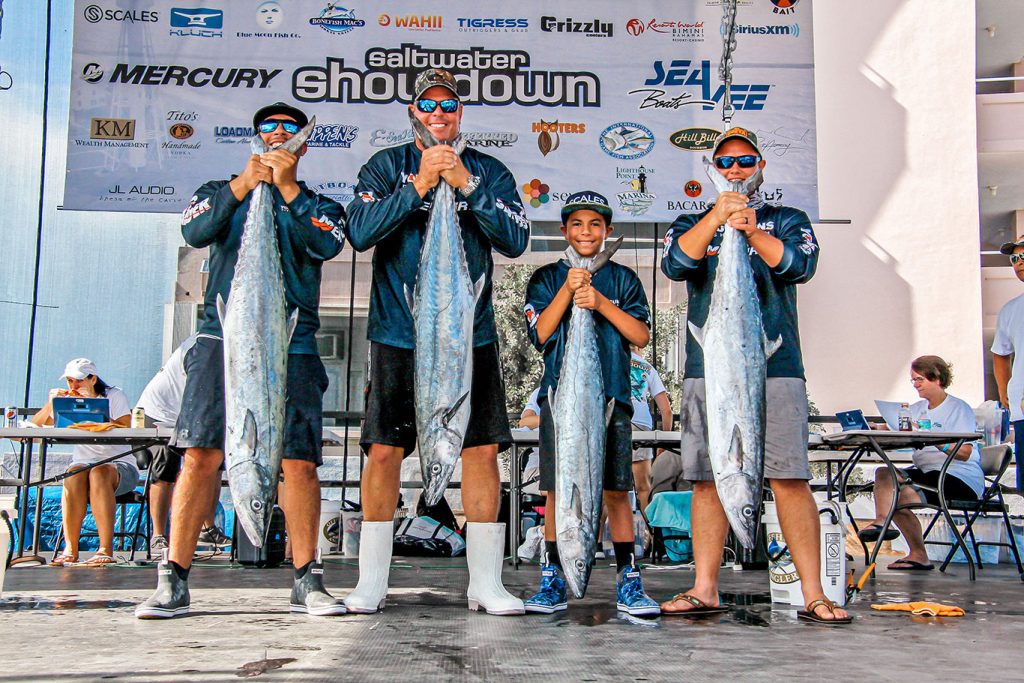 The Grand Finale of the PBSC is going to be a socially distant memorable event
Pompano Beach, Fl. (August 4, 2020) – The 22nd annual Mercury/SeaVee Pompano Beach Saltwater Showdown is only a week away and the anticipation couldn't be any higher to determine who will be crowned the 2020 Series Champions. Due to recent changes in Broward County policy regarding COVID-19, the Saltwater Showdown must be conducted in a 'fishing only' format. But the SHOWdown must go on! With an expected fleet of 80 boats, a handful in tight contention for the crown, non-pro teams climbing the ladder, and a great small boat battle in the works – teams will be ready to throw down at the Showdown!
In lieu of the canceled kickoff party, teams will be able to swing by the Bluewater Movements office on Thursday, August 13th and Friday, August 14th from 9am to 4pm to pick up their boat number, team bag, angler shirts, and sign off on registration forms. All registrations, angler changes, and calcutta payments must be completed online at: http://fish.bluewatermovements.com/. The DEADLINE to register and pay for calcuttas is Wednesday, August 12th at midnight.
Tournament competition will take place as scheduled on Saturday, August 15th with a 6:30am checkout check-out at Hillsboro Inlet and 7am bimini start to follow. Anglers are in for a NEW experience with the Showdown weigh-in! The weigh-in is headed north to Sullivan Park in Deerfield Beach. Sullivan Park is a beautiful 3.5-acre city park situated on the intracoastal water way between Deerfield Island Park and the landmark bar and restaurant, Two George's at the Cove. As an added bonus, teams will have the option to check-in by 4:30pm at Boca Inlet or Hillsboro Inlet on their way to weigh-in.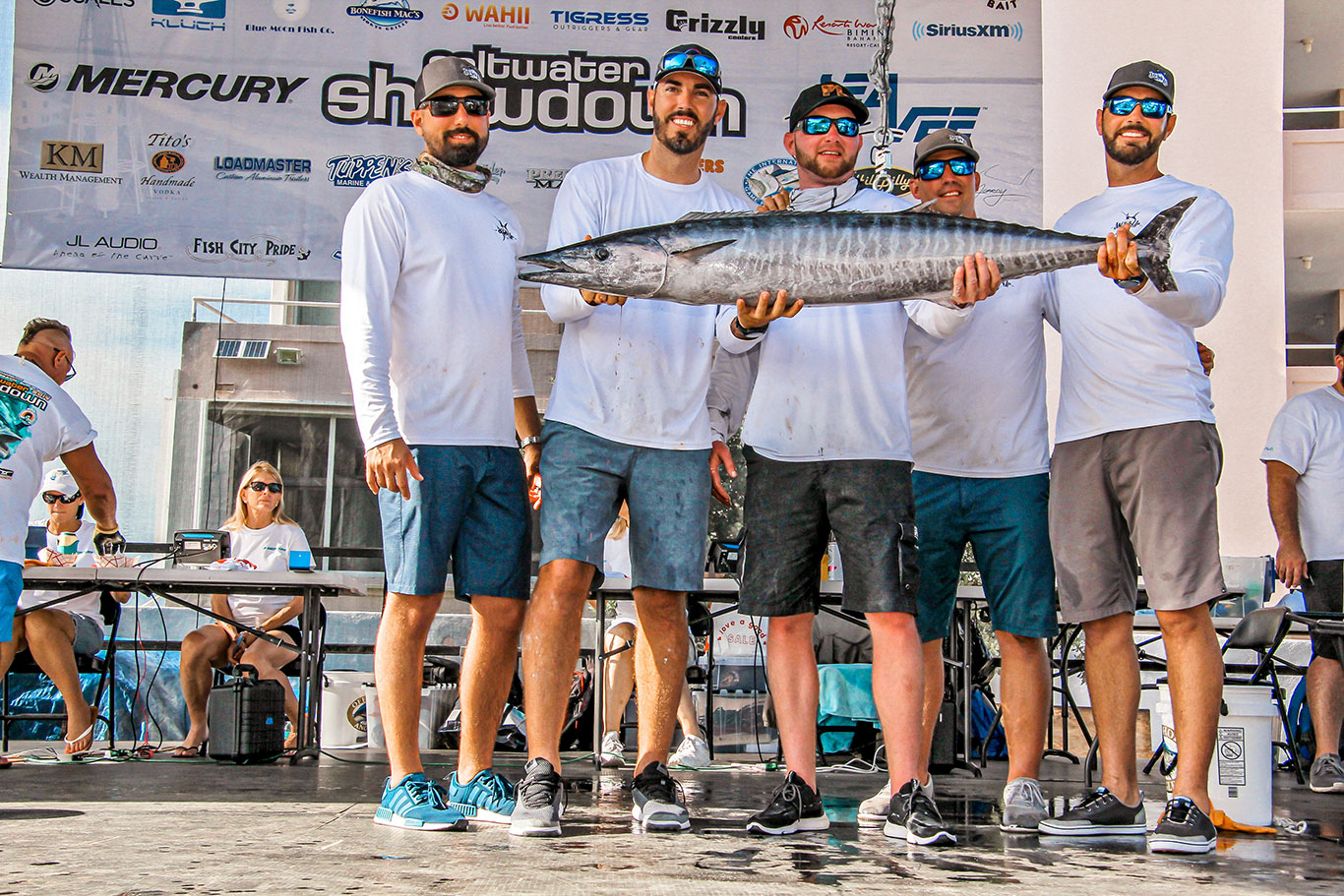 Major meat equals major money for the 22nd Annual Showdown.  The "KDW" Jackpot is expected to reach a $70,000 payout for the heaviest kingfish, dolphin, wahoo trio for a buy-in of only $200! It gets better. The "Pick 3" touts a payout near $100,000 for a $200 buy-in as well! In this signature category, the winning team will need to post the heaviest combination of the three random species that are selected prior to fishing on Saturday morning (watch the drawing LIVE on @FishBluewater Instagram). Eligible species are Dolphin, Wahoo, Kingfish, Blackfin Tuna, and Cobia.
Competition for the series title is tight heading into the final leg with Gator One sitting in first with a 6-point lead over the Palm Beach based Hot Suppah team. Lenny's Luck holds the lead in the small boat division on their 26' SeaVee and James DeMarco on Native Son is leading the pack for the Junior Master Angler title. Who will finish on top? We'll find out on August 15th!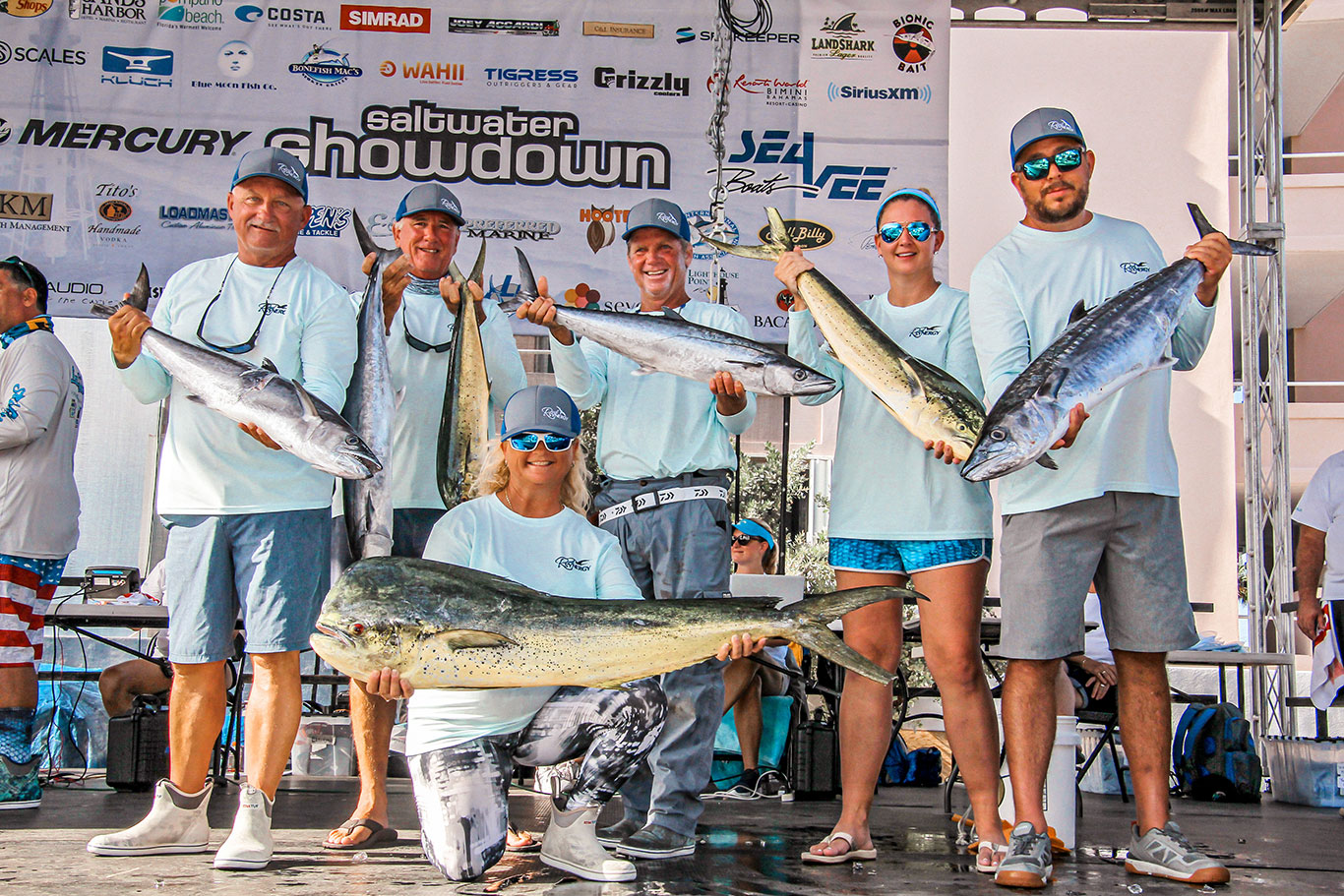 COVID can't hold us down forever! Once the pandemic is under control, and we can get back together, a post-season party is in the works to bring our anglers and teams back together for a true Bluewater Bash! Stay tuned for more details in the future. Remember that all registration and calcutta payments must be completed before the closing deadline next Wednesday, August 12th. For any questions or for help registering please drop us a line at the office open M-F between the hours of 8:30 A.M. – 4:30 P.M. or email us at Info@BLuewaterMovements.com and we'll be happy to assist you!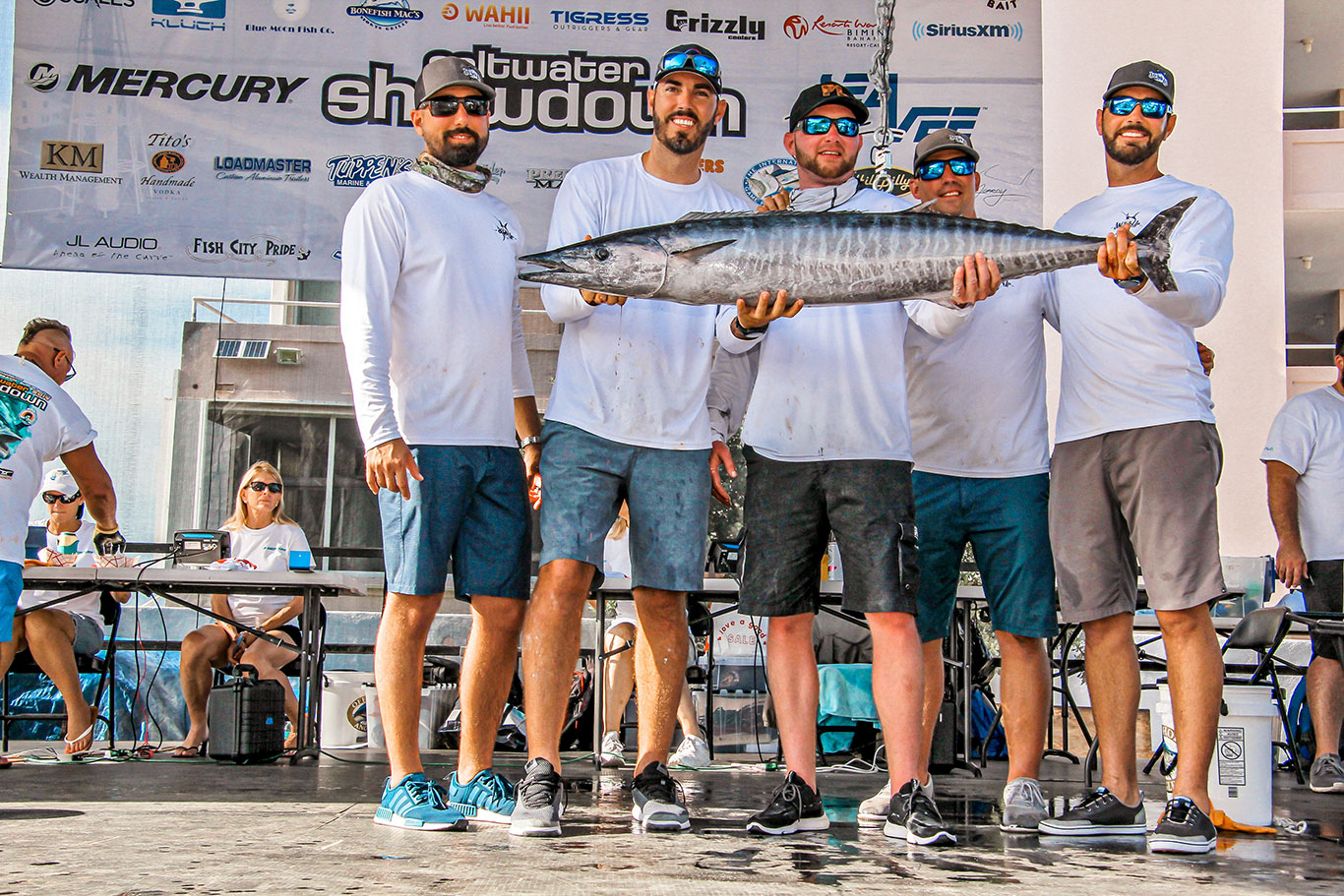 REGISTRATION:
Registration for the 2020 Mercury/SeaVee Pompano Beach Saltwater Showdown is $475 (+ tax). Registration ends Wednesday, August 12th at 11:59 P.M. Register here: https://fish.bluewatermovements.com/login.aspx?ReturnUrl=%2fHTMLClient%2f
For detailed information of the Saltwater Showdown, please visit: https://www.bluewatermovements.com/tournaments/summer-series/showdown/
For the Saltwater Showdown tournament schedule, please visit:      https://www.bluewatermovements.com/tournaments/summer-series/showdown/schedule/
CHARITY:
One of the unique aspects of any Bluewater Movements tournament is the connection to community and charity.  The Perry J. Cohen Foundation (PJCF) is the charitable beneficiary of the 2020 PBSC. Perry was a 14-year-old boy from Jupiter, FL who was tragically lost at sea on a fishing trip with a friend on July 24, 2015. The charitable partnership between Bluewater Movements and PJCF focuses on Boating Safety Education, one of the four pillars of the PJCF mission statement. Within that, a "Safety First" award has been established together with tournament sponsor, Bass Pro Shops, to present the Top Junior Angler in each leg of the series with a boating safety kit on behalf of the Perry J. Cohen Foundation. To learn more about how you can support PJCF, visit https://www.pjcf.org/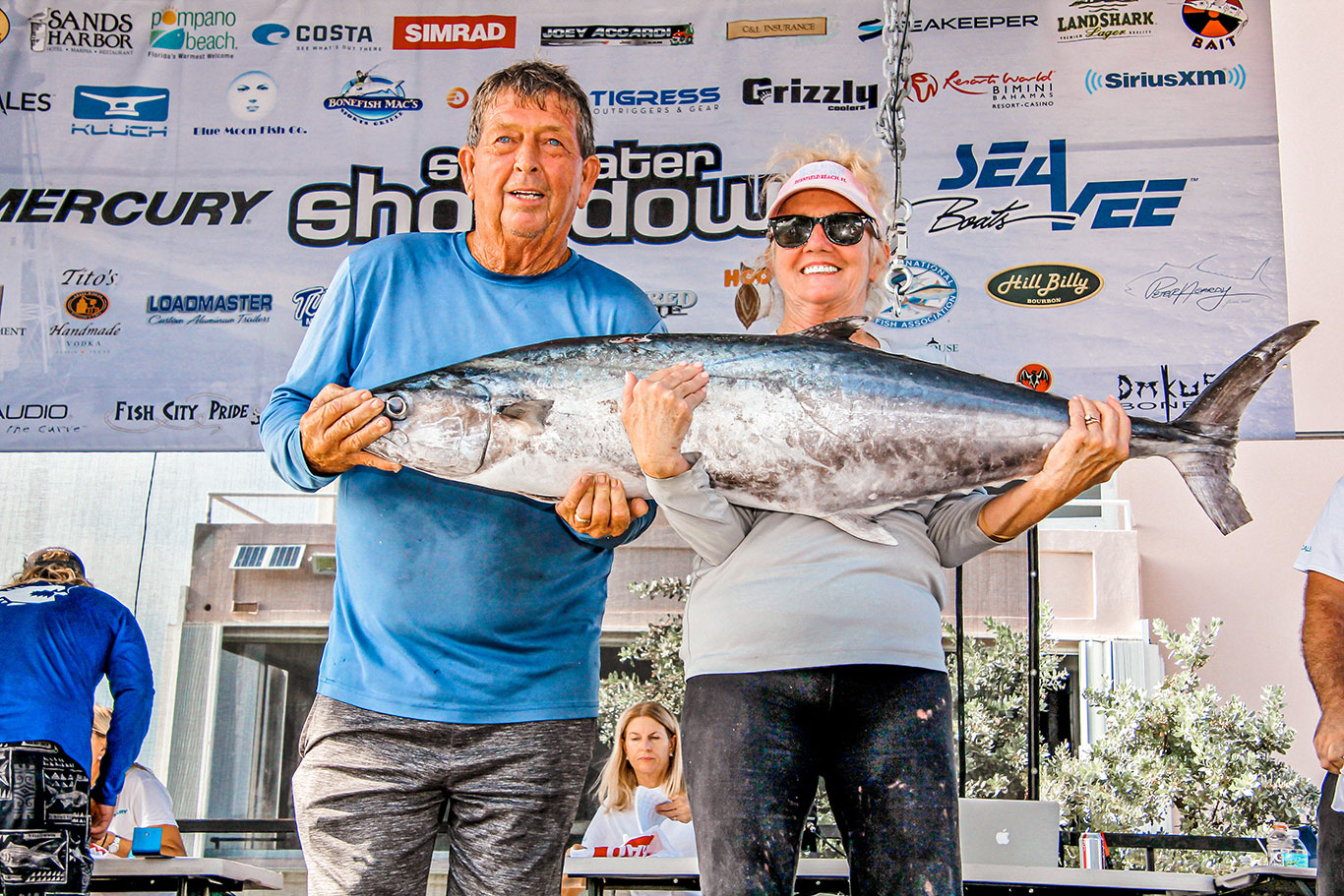 About Bluewater Movements:
Bluewater Movements, Inc., is a sport's marketing company based in South Florida, the sportfishing capital of the world. Throughout the past 25 years, our team has developed some of the most successful competitive fishing events in the industry. Our background in tournament fishing coupled with our expertise in event marketing has enabled a premium experience for tournament anglers and sponsors. Within our portfolio there are six wildly popular fishing tournaments, all hosted at various venues across South Florida.