The 23rd Annual Pompano Beach Saltwater Circuit set to kick off May 13th, 2021 with the Saltwater Shootout!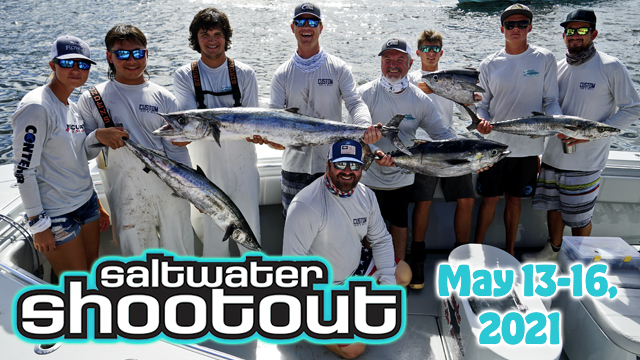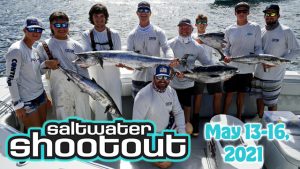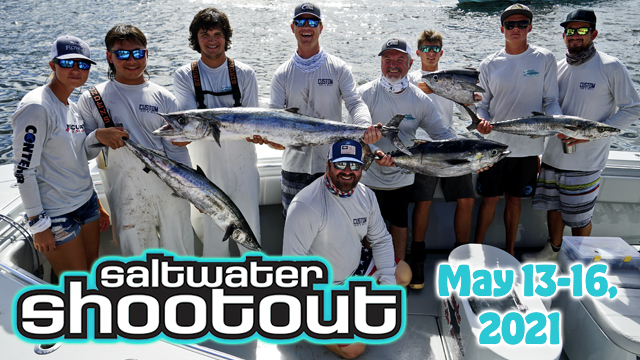 FOR IMMEDIATE RELEASE
MAY 2021
Contact: Jennifer Hoffman
Phone: 954-725-4010
Email: jennifer@bluewatermovements.com 
The 23rd Annual Pompano Beach Saltwater Circuit set to kick off May 13th, 2021 with the Saltwater Shootout!
South Florida's most popular meat fishing tournament is back! The first of three legs in the PBSC, the Mercury/SeaVee Pompano Beach Saltwater Shootout returns May 13th-16th, 2021. The Early Entry Discount Registration ($375+ tax) runs through Friday, April 30th. After the 30th, the price will jump to $475+ tax and will conclude at the kick off party on May 13th. Teams can register by visiting www.fish.bluewatermovements.com. With over $600,000 in cash and prizes and 4 prestigious meat-fishing titles up for grabs the 2021 PBSC is sure to be a blast!
The Pompano Beach Saltwater Circuit is one of the most popular series in the South Florida fishing community and proud to be one of the first events to reconnect anglers, their families, and friends with their passion.The target species in the PBSC series are Wahoo, Kingfish, Mahi, Cobia, and Blackfin Tuna. So, if you love meat fishing- this one's for you!! 
There are some serious incentives for teams to sign up early and register in advance for all THREE legs of the PBSC! The first 25 teams to register early for the Saltwater Shootout will receive a free pair of Costa Pro Series Sunglasses! And as an added bonus if your team fishes the PBSC sporting the Costa Pro Series shades you'll be automatically entered into a drawing to win $1,000 in Costa credit. If your team registers for all three legs of the series, you will automatically be entered into the Grand Prize Drawings which include, a Hog Hunt for 2 courtesy of Florida Hunting & Fishing Adventures, a Grizzly Cooler package, $500 gift card to Bass Pro Shops, a Costa Sunglass package, Taco Marine Outrigger package and $1,000 cash! 
In addition to the general prizes that your entry fee entitles you to, there are a slew of optional calcutta's to up your chances of taking home some cash! The highly anticipated "KDW" is estimated to be over $80,000 and the "Pick 3" is over $110,000! The "Small Boat Bonanza" calcutta is new to the summer series this year so if your boat is small but mighty listen up! Boats that are a maximum 400HP and 26 feet or less can enter into this category for additional ways to win.
With some sense of normalcy returning this summer, there are a lot of things to celebrate at this year's kick off party on Thursday, May 13th! Enjoy some food from our friends over at Blue Moon Fish Company and refreshing tequila seltzers from our new sponsor, Chido! There will also be a silent auction, a free fishing clinic for the kids and a Spin to Win Wheel full of fun prizes! Kickoff and award party events remain 'angler only' events due to continuing Covid-19 regulations.
Competition day is set for Saturday, May 15th, 2021. Alsdorf Park will be the new main weigh in station for this year's tournament. A new video based checkout format will enable boats to leave from any location with video verification that they are within tournament boundaries prior to lines in at 7:30am. The scales open at 4pm for the Bass Pro Shops sponsored weigh-in with the deadline to check-in at Hillsboro Inlet by 4:30pm. There is also the option for an express weigh in at Lighthouse Point Marina.
The tournament will conclude with an awards ceremony on Sunday, May 16th, 2021 at the Pompano Beach Civic Center. The event will start at 2pm with the awards presentation starting at 3pm. Come support your team and enjoy some food from local favorite Bonefish Macs! 
Bluewater Movements is proud to announce the partnership with Mission' Fishin as the charitable beneficiary of the Pompano Beach Saltwater Circuit. Mission Fishin' is a non profit organization in South Florida dedicated to improving the quality of life for children with special needs and their families. 
By partnering with local anglers, businesses, and organizations, Mission Fishin' provides these families and their children an unforgettable marine experience. The children and their 
families have a once in a lifetime opportunity to do a variety of fishing with some of the best boat captains and charters in the South Florida region. To learn more about Mission Fishin' and how you can get involved please click here. 
The Mercury/SeaVee sponsored Saltwater Shootout schedule of events is as follows:
Kick Off Party/ Captain's Meeting
When: Thursday, May 13th, 2021
Time: 6:00pm- 10:00pm
Where: Pompano Beach Civic Center
1801 NE 6th Street
Pompano Beach, FL, 33060
Fishing Day
When: Saturday, May 15th, 2021
Time: Lines in @ 7:30am
Main Weigh In: 4:00pm- 8:00pm
NEW Weigh In Location: Alsdorf Park
2974 NE 14th, Street
Pompano Beach, Florida 33062
Awards
When: Sunday May 16th, 2021
Time: 2pm
Where: Pompano Beach Civic Center
1801 NE 6th Street
Pompano Beach, FL, 33060
ABOUT THE POMPANO BEACH SALTWATER CIRCUIT:
If you like fishing for Dolphin, Wahoo, Kingfish, Tuna and Cobia, then you will love the format of the Pompano Beach Saltwater Circuit. The PBSC is a 3-leg tournament trail that takes place annually in South Florida from May to August. Leg 1 of the series begins in May with the Saltwater Shootout, followed by the Saltwater Slam in June and the Saltwater Showdown in August. In addition to a $550,000 purse, teams that register for the tournaments will enjoy premier hospitality including free drinks, great food, live entertainment, tournament shirts and a team bag loaded with sponsor swag! It's no wonder why the PBSC has become one of the most popular series on the east coast. Mark your calendars and join Bluewater Movements for the kickoff to the summer series in May! For more information on the PBSC series, visit: https://www.bluewatermovements.com/tournaments/summer-series/
About Bluewater Movements:
Bluewater Movements, Inc., is a sport's marketing company based in South Florida, the sportfishing capital of the world. Throughout the past 20 years, our team has developed some of the most successful competitive fishing events in the industry. Our background in tournament fishing coupled with our expertise in event marketing has enabled a premium experience for tournament anglers and sponsors. Within our portfolio there are six wildly popular fishing tournaments, all hosted at various venues across South Florida.
###