The 23rd Annual Pompano Beach Saltwater Circuit Concludes on August 15th, 2021 with the Saltwater Showdown!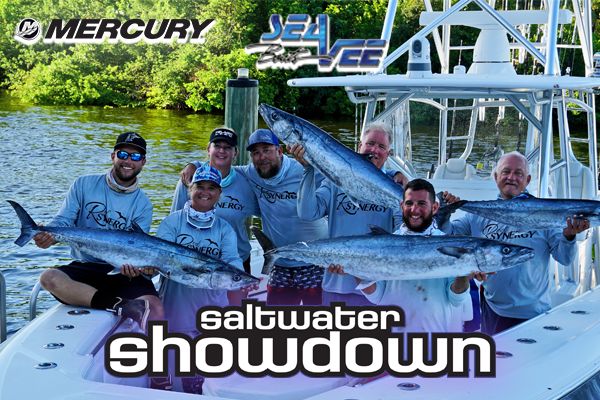 FOR IMMEDIATE RELEASE
AUGUST 2021
Contact: Jennifer Hoffman
Phone: 954-725-4010
Email: jennifer@bluewatermovements.com 
The 23rd Annual Pompano Beach Saltwater Circuit Concludes on August 15th, 2021 with the Saltwater Showdown!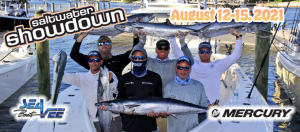 Summer is slowly winding down and the third and final leg of the Mercury/ SeaVee Pompano Beach Saltwater Circuit is right around the corner. The Saltwater Showdown will take place on Saturday August 14th as teams line up for the last major meatfish tournament of the season. With a handful of teams in the hunt for the coveted Showdown Crown title, the third leg of the PBSC is sure to be a treat! 
Teams in the running for the 2021 Showdown Crown sponsored by Simrad Electronics are, 
Digger Rich …54 points
Tax Relief…52 points
Blue Moon…51 points
Young Guns…48 points
Mow Money…47 points
Reel Synergy…45 points
Slob City…44 points
Off The Wall…38 points
Living Water/Makin' Time…35 points
Spiced Rum III…34 points
The  Saltwater Showdown is open to all fishing teams regardless of whether they participated in a previous leg of the PBSC series. On Thursday, August 12th, 2021 a kick off party/ captain's meeting will be held at the Pompano Beach Civic Center. Come check out the last get together of the summer series and enjoy drinks from Landshark Lager, Chido Tequila Seltzers and meet some of our sponsors like Florida Marine Mats and Florida Hunting and Fishing Adventures. 
Competition day is set for Saturday, August 14th, 2021. The weigh-in will be held at Sullivan Park in Deerfield Beach. There is no check out for this year's event. Your time, date & gps coordinates must be recorded on video to confirm you are in the stated boundaries at the 7:30am start time.The scales open at 4:00pm and the weigh-in is open to the public! Enjoy music from DJ Select, meet the Chido girls, grab a cocktail or sandwich from Galuppi's and best of all get a front row seat to the weigh in and watch the big fish hit the scales! Tournament anglers can also look forward to complimentary Hooter's wings and Landshark beer!
With a wide variety of prize categories including a small boat division, non-pro division, big fish payouts, and more, there will be no shortage of ways for teams to cash a hefty check at the Showdown. An awards ceremony will be held to dish out those checks on Sunday, August 15th, 2021 at the Pompano Beach Civic Center from 2:00pm-5:00pm. Food will be provided from Bonefish Mac's and be sure to tip generously at the tournament bar with proceeds going directly to the official charity of the PBSC, Mission Fishin. 
Mission Fishin' is dedicated to improving the quality of life for children with special needs and their families, as they know and understand the hardships these families and their children face every day. Founder Tony Davis' son Joshua is confined to a wheelchair with multiple disabilities both physically and cognitively and was the inspiration behind all that Mission Fishin' stands for. 
By partnering with local anglers, businesses, and organizations, Mission Fishin' provides these families and their children an unforgettable marine experience. The children and their  families have a once in a lifetime opportunity to do a variety of fishing with some of the best boat captains and charters in the South Florida region. To learn more about Mission Fishin' and how you can get involved please click here.  They are always looking for new boats who would love to host a family for the day so if you are interested in this opportunity please contact Tony Davis directly at tonydavis@missionfishin.org
The Mercury/SeaVee sponsored Saltwater Showdown schedule of events is as follows:
Kick Off Party/ Captain's Meeting
When: Thursday, August 12th, 2021
Time: 6:00pm- 10:00pm
Where: Pompano Beach Civic Center
1801 NE 6th Street
Pompano Beach, FL, 33060
Fishing Day
When: Saturday, August 14th, 2021
Time: Lines in @ 7:30am
Main Weigh In: 4:00pm- 7:00pm
Weigh In Location: Sullivan Park
1633 Riverview Road
Deerfield Beach, FL 33441
Awards
When: Sunday August 15th, 2021
Time: 2:00pm-5:00pm
Where: Pompano Beach Civic Center
1801 NE 6th Street
Pompano Beach, FL, 33060
ABOUT THE POMPANO BEACH SALTWATER CIRCUIT:
If you like fishing for Dolphin, Wahoo, Kingfish, Tuna and Cobia, then you will love the format of the Pompano Beach Saltwater Circuit. The PBSC is a 3-leg tournament that takes place annually in South Florida from May to August. Leg 1 of the series begins in May with the Saltwater Shootout, followed by the Saltwater Slam in June and the Saltwater Showdown in August. In addition to a $550,000 purse, teams that register for the tournaments will enjoy premier hospitality including free drinks, great food, live entertainment, tournament shirts and a team bag loaded with sponsor swag! It's no wonder why the PBSC has become one of the most popular series on the east coast. Mark your calendars and join Bluewater Movements for the kickoff to the summer series in May! For more information on the PBSC series, visit: https://www.bluewatermovements.com/tournaments/summer-series/
About Bluewater Movements:
Bluewater Movements, Inc., is a sport's marketing company based in South Florida, the sportfishing capital of the world. Throughout the past 20 years, our team has developed some of 
the most successful competitive fishing events in the industry. Our background in tournament fishing coupled with our expertise in event marketing has enabled a premium experience for tournament anglers and sponsors. Within our portfolio there are six wildly popular fishing tournaments, all hosted at various venues across South Florida.
###