Team "Reel Synergy" owned the Showdown and "Living Water/Making Time" captured the Showdown Crown!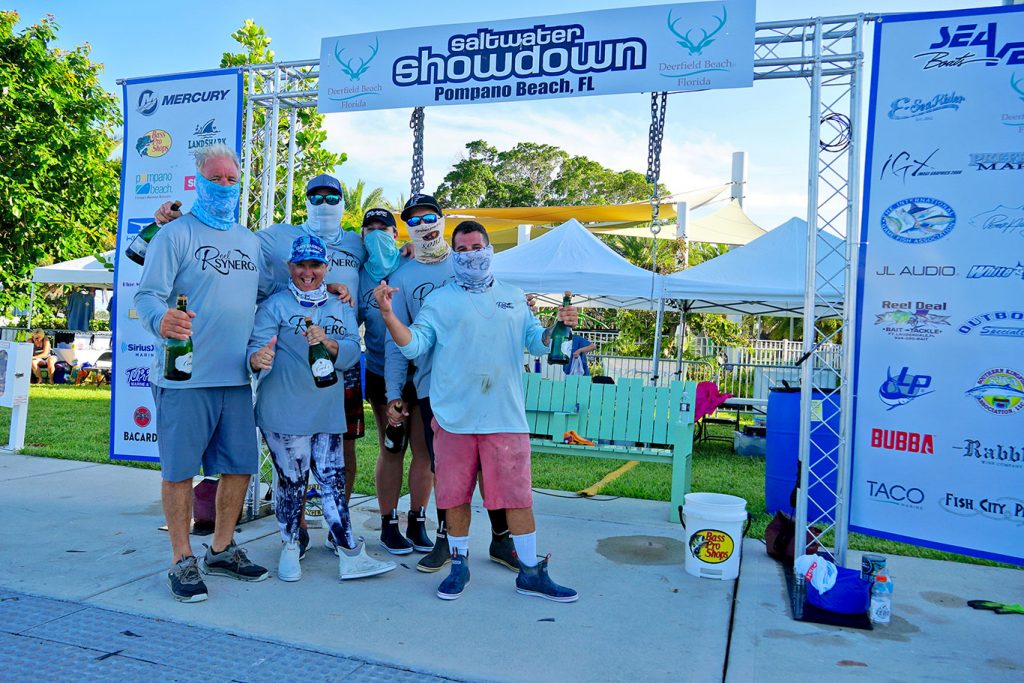 And that's a wrap for the 2020 Pompano Beach Saltwater Circuit!
Pompano Beach, Fl. (August 18, 2020) – Last weekend's 22nd annual Mercury/SeaVee Pompano Beach Saltwater Showdown was an unforgettable tournament and a banner ending to the meat-fishing season. A total of 78 boats showed up at the Showdown and competed not only for the Champions title of leg 3, but also to determine the overall winner for Showdown Crown series Champions. There were much more than the prestigious titles on the line. The calcutta payouts rolled over to the largest purse in PBSC history with the "KDW" calcutta sitting at $75,060 and the "Pick 3" at $100,080! A substantial $256,718 In total was up for grabs for the top teams in the Saltwater Showdown.
The fishing conditions were perfect, and the competition was neck-and-neck, but it was Captain/Owner Ryan Davis and his Mercury powered team, "Reel Synergy" who took home the gold at the Saltwater Showdown with a total on 135.6 lbs. weighed, winning 1st place Overall and 7 other categories for a grand total of $21,677!! SeaVee/Mercury powered Team "Living Water/Making Time" secured 2nd place with 131.3 lbs which bumped up their series points to earn them the prestigious title of 2020 PBSC Showdown Crown Champions!! Captain/Owner Mark Miller and his team missed 1st place by 4.3 lbs. but secured 4 categories including 2nd place wahoo (36 lbs.) for a grand total of $10,280. Not far behind was the 5x previous PBSC champions. Captain/Owner Art Sapp and his SeaVee/Mercury powered team "Native Son" took home 3rd place, with 115.3 lbs., winning 8 categories in all including heaviest kingfish (43.7 lbs), and 1st place in the Bluewater Challenge.  With a 3rd place finish in the Showdown, they jumped up to 2nd place in the Crown standings as well (1 point behind "Living Water/Making Time") and their winnings totaled $21,603! Previous Showdown crown winners, Captain Bryce Statham and his SeaVee/Mercury powered team "Blue Moon" were tough contenders on the leaderboard with some heavy kingfish on the scales for a total weigh of 113.4 lbs in 4th place. "Sir Pop a Reel Top" rounded out the top 5 with 106.4 pounds in 4 kingfish.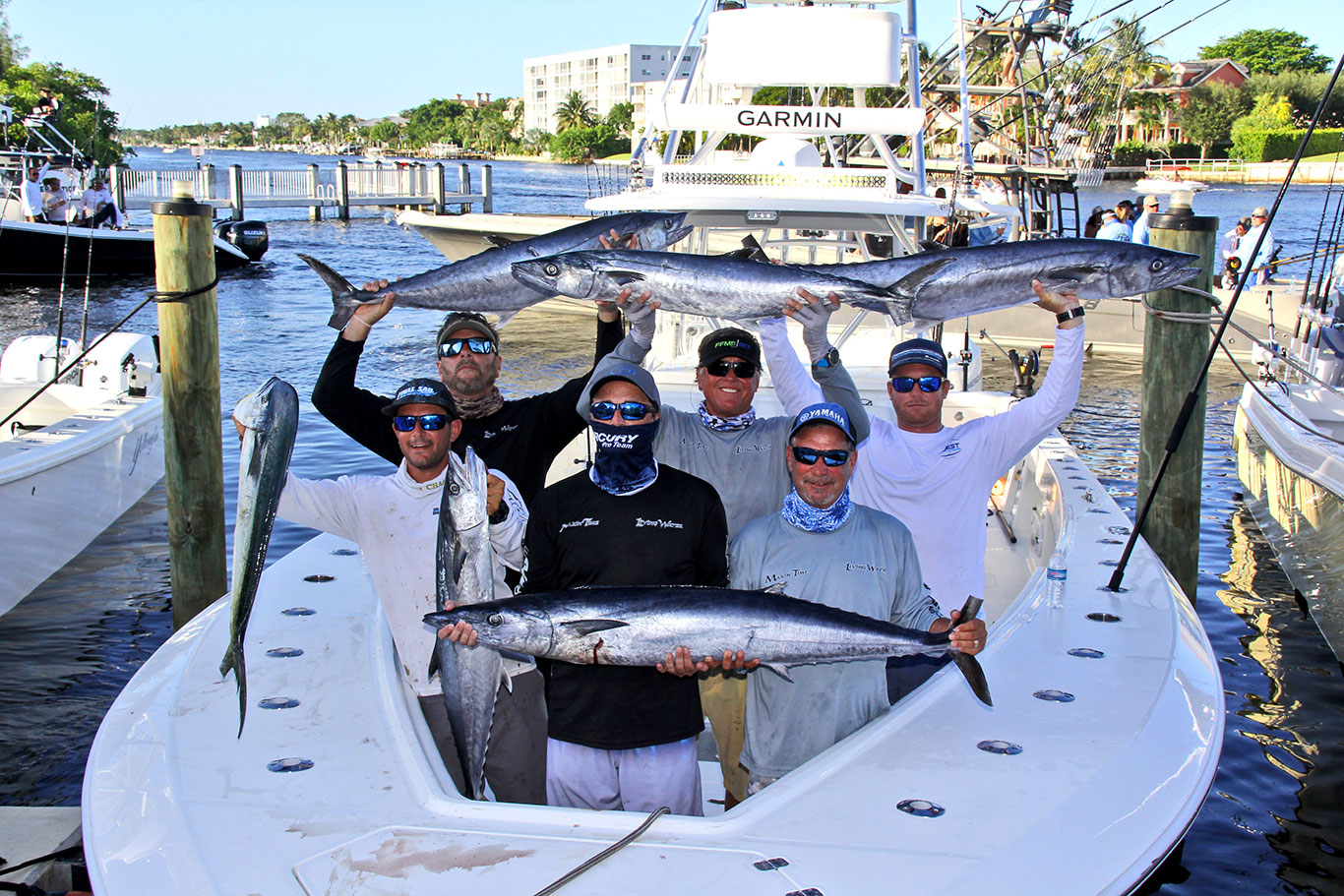 In a year full of new changes, the Saltwater Showdown had a new weigh-in location at Sullivan Park in Deerfield Beach! Unfortunately, the kick-off party and awards had to be cancelled due to COVID-19 county regulations, however, teams were still excited to be able to get out on the water and fish! The gorgeous new water-front park features several finger docks for multiple boats to tie up and a spacious property that allowed all teams to stay socially distanced while fish were being weighed.
The $1,000 "Grand Daddy" award sponsored by Grizzly Coolers for the heaviest fish of the tournament was a 46.6 lb wahoo caught by angler Joe Caracione from team "Wire Bender", which also won them $6,038 for 1st place in the "Big Three and the Heaviest Wahoo". Top Male Angler went to Ryan Goldman from team "Living Water/Making Time" who weighed a total of 97.4 lbs. Ryan caught 2 kingfish (37.1 lbs. and 24.3 lbs.) as well as the 2nd heaviest Wahoo (36 lbs.) of the tournament. The Female Angler title went to PBSC veteran Katrina Langdon from team "Kat's Rival" who weighed a total of 49.1 lbs in 2 kingfish. Top Junior Angler went to Jonah Bennett from team "Finsanity II" with a total of 53.5 lbs. from his 2 kingfish (25.7 lbs. and 14.5 lbs.) along with the 3rd heaviest dolphin of the tournament (13.3 lbs). The mini me anglers are coming up in the ranks too! Top PeeWee angler went to Chase Bradley from team "Cache Money/Bionic Bait" who caught 5 fish for a total weight of 32.6 lbs.
Captain Christian Rec and his team "The Program" won the SIMRAD sponsored small boat division with a total weight of 74.5 lbs. They also came out on top as the top small boat of the series to earn a bonus $1,000 and a multifunction unit from SIMRAD. Top Non-Pro team went to "Finsanity II". Comprised of mostly junior anglers, they finished the season strong, weighing a total of 77.6 lbs. at the Showdown and winning $3,673. The heaviest dolphin of the tournament was 15.3 lbs. caught by female angler Lindsey Way from team "Dog House". They also had the heaviest blackfin tuna at 16 lbs, caught by teammate Adam Weins.  Junior Angler, James DeMarco of team "Native Son" claimed the Junior Master Angler title of the series with a total of 109.3 lbs. weighed during the 3-tournaments.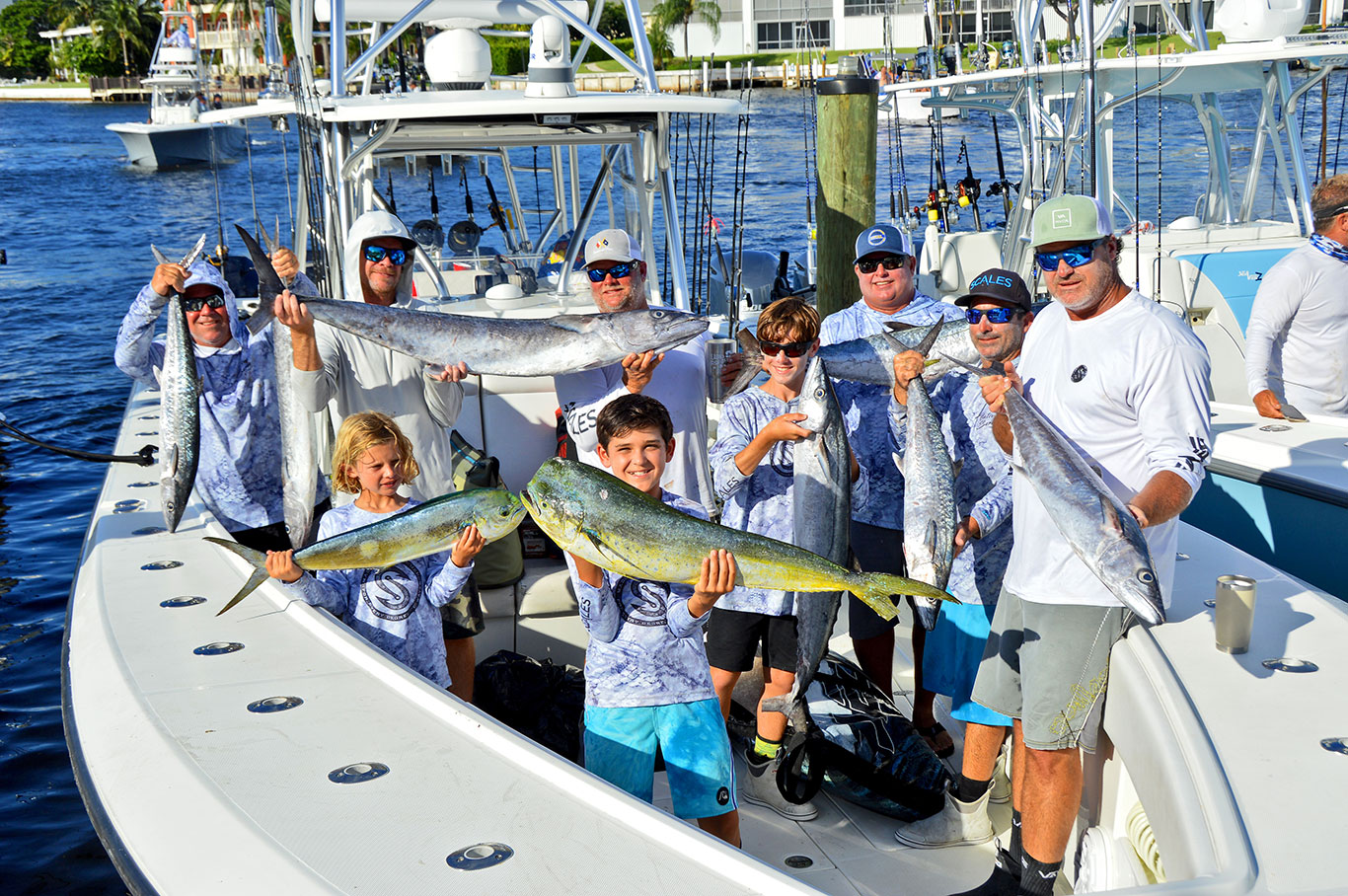 Despite the onset of a pandemic only 2 months prior to the start of the 2020 Pompano Beach Saltwater Circuit, and many obstacles to overcome as a result, we were still able to persevere and bring our fishing community together for three great PBSC tournaments this summer. Thank you to all who participated! 2020 will definitely be a season we will never forget. We can't wait when the day arrives that we can remove "social distancing" from our vocabulary. And when that day comes, we will all get together for handshakes, hugs and a post season party for the ages!!
SALTWATER SHOWDOWN:
To view the official 2020 Saltwater Showdown results, check out the Live Scoring page here: https://fish.bluewatermovements.com/Leaders/Boat/48?boatId=2593
For detailed information of the Saltwater Showdown, please visit: https://www.bluewatermovements.com/tournaments/summer-series/showdown/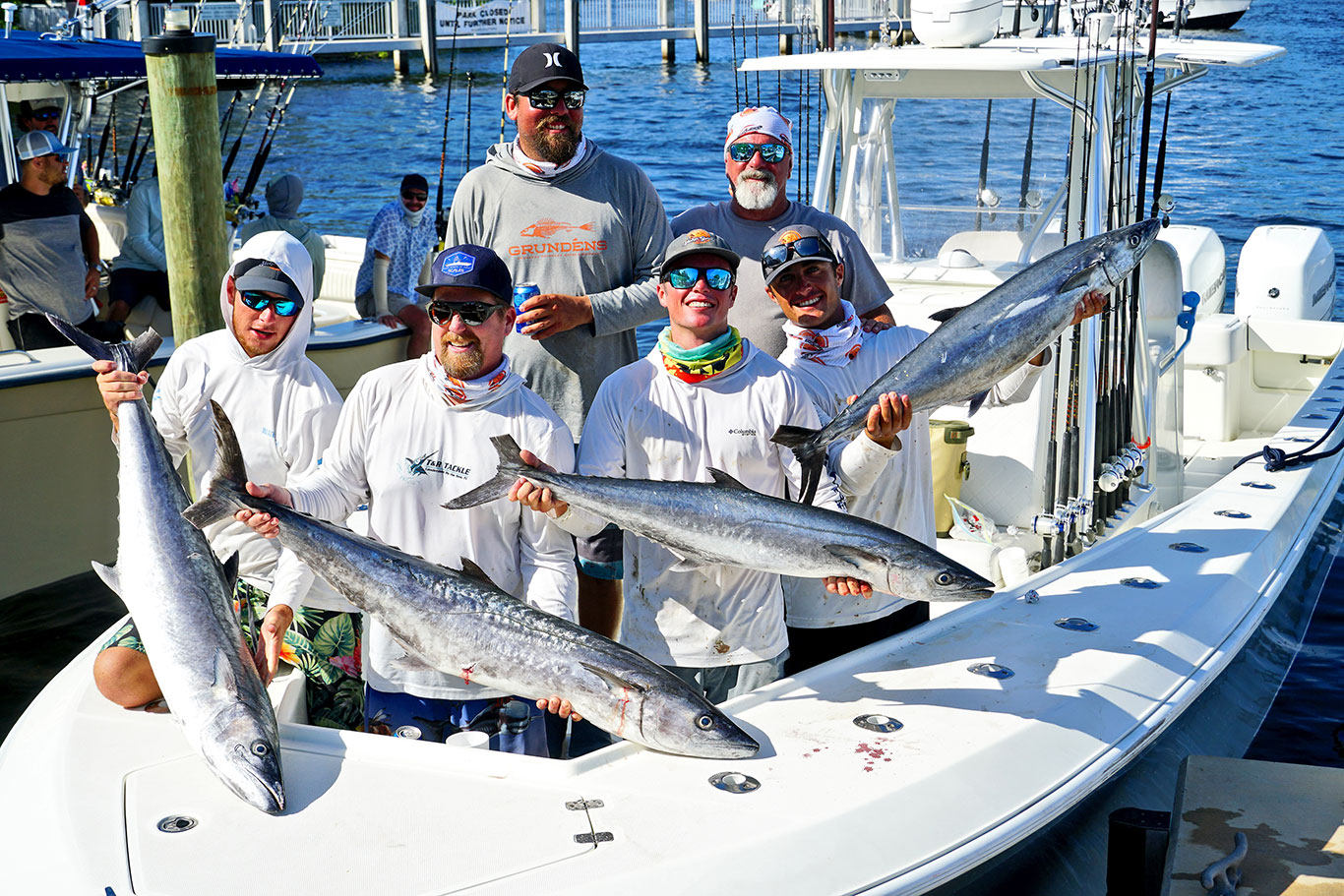 CHARITY:
One of the unique aspects of any Bluewater Movements tournament is the connection to community and charity.  The Perry J. Cohen Foundation (PJCF) is the charitable beneficiary of the 2020 PBSC. Perry was a 14-year-old boy from Jupiter, FL who was tragically lost at sea on a fishing trip with a friend on July 24, 2015. The charitable partnership between Bluewater Movements and PJCF focuses on Boating Safety Education, one of the four pillars of the PJCF mission statement. Within that, a "Safety First" award has been established together with tournament sponsor, Bass Pro Shops, to present the Top Junior Angler in each leg of the series with a boating safety kit on behalf of the Perry J. Cohen Foundation. To learn more about how you can support PJCF, visit https://www.pjcf.org/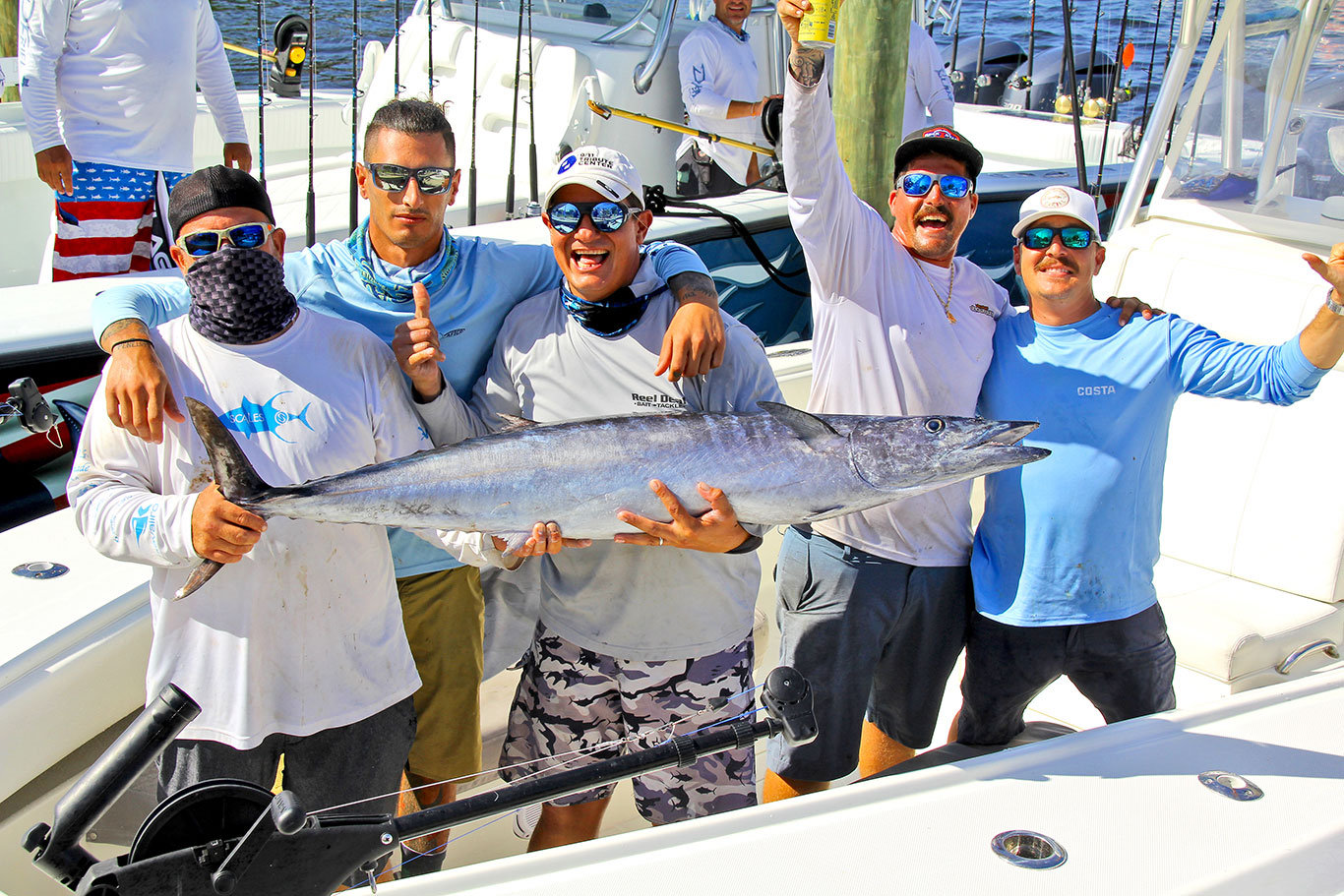 About Bluewater Movements:
Bluewater Movements, Inc., is a sport's marketing company based in South Florida, the sportfishing capital of the world. Throughout the past 25 years, our team has developed some of the most successful competitive fishing events in the industry. Our background in tournament fishing coupled with our expertise in event marketing has enabled a premium experience for tournament anglers and sponsors. Within our portfolio there are six wildly popular fishing tournaments, all hosted at various venues across South Florida.