Slob City Wins The 24th Annual Mercury/SeaVee Saltwater Shootout!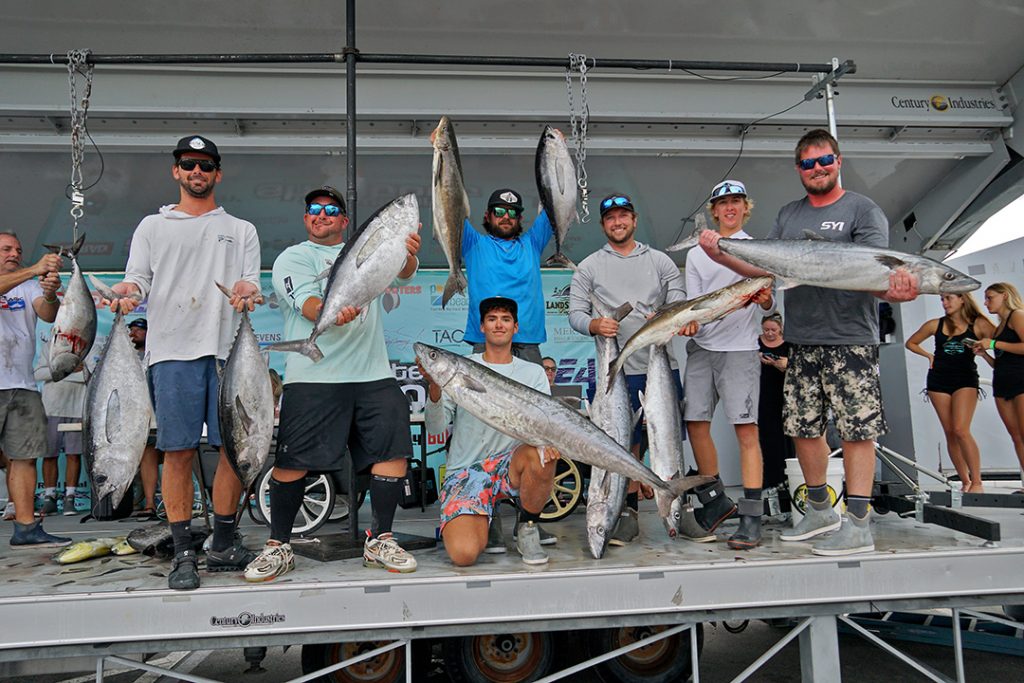 FOR IMMEDIATE RELEASE
MAY 2022
Contact: Jennifer Hoffman
Phone: 954-725-4010
Email: jennifer@bluewatermovements.com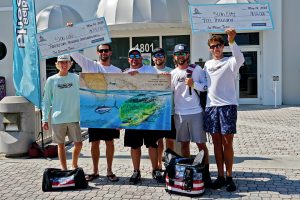 Slob City Wins The 24th Annual Mercury/SeaVee Saltwater Shootout!
You can say Meat Fish Season is BACK! The 24th Annual Mercury/SeaVee Pompano Beach Saltwater Shootout went off without a hitch May 12-15, 2022. The first leg of the PBSC kicked off Thursday night with a Kick Off Party/Captain's Meeting at the Pompano Beach Civic Center where teams had the opportunity to mingle with each other, meet new PBSC sponsors in attendance like Pelagic, Unlimited Marine, RMK Merrill Stevens and others while enjoying some great food from local favorite Bonefish Macs, complimentary drinks at the Hooters hospitality bars stocked full of Landshark Lager and new sponsor Islamorada Brewery & Distillery full line of spirits and spiked seltzers and check out some custom artwork from Eddie Forbes (official trophy artist of the 2022 PBSC) and Mokie Burns (official trophy artist of the Florida Sailfish Cup). 
78 boats registered for the first leg of the series to battle it out for the chance to take home a piece of the $124,000  cash purse. New and old teams alike departed from their docks on Saturday May 14th and weighed in at Alsdorf Park where the party was poppin'!! Islamorada Brewery & Distillery brought the island vibes to the 14th street boat ramp, serving up their signature craft beers and Crooked Palm Seltzers, Galuppi's bar was packed all afternoon and the Hooters girls were passing out wings to anglers and spectators for a tasty treat. 
Title sponsor SeaVee Boats, gave their SeaVee teams the gold star treatment on Saturday as the teams had the opportunity to raft up at Merritt's and had their very own complimentary food truck, Old Skool who were whipping up cheesesteaks, tacos and their famous Chicken and Waffles.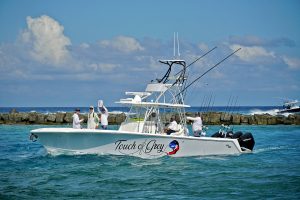 Out of the 78 boat fleet, 64 teams weighed fish and the scales at Alsdorf park got a major work out all day! However it would be team Slob City finishing in First Place Overall weighing in a total of 249.1lbs of fish! This is the second highest total combined weight since Makin Time/Living Water won in 2014 with a total of 252.4lbs. Slob City has been consistent in the PBSC, finishing in 10th place overall in 2021 and finally getting over the hump this year and landing themselves in the winner's circle!!!! In addition to finishing in first place, Slob City was the highest earning team of the Shootout and had the third largest Kingfish (40.9), First Place Bluewater Bonanza, Third Place in the Big Three, First Place Ante Up, and the Charity calcutta benefiting Mission Fishin' for a grand total of $23,170.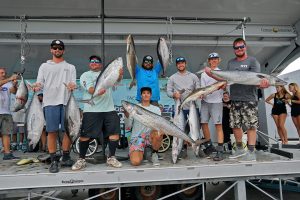 Team Seapremacy finished in 2nd place in last year's Shootout and finished in second place again in this year's tournament weighing in 225 lbs of fish. Seapremacy also finished Second Place in the Bluewater Bonanza, Second Place Holy Mac and Second Place Ante Up for a total of $9,877!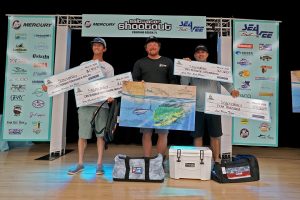 Finsanity II finished in Third Place overall weighing 218.3lbs of fish, taking the top spot for the Heaviest Tuna (34.4) and the Bluewater Bonanza Third Place. Finsanity II angler Chris Wedgewood was also the top Male Angler (115.5pts). Other Top Anglers included Lauren David (Top Female) with 70 points on Good Hit, Dominick Palandro (Top Junior) with 44.4 points on Reel Conchy and Cooper Bradley (Top Pee Wee) with 64.1 points on Off the Wall.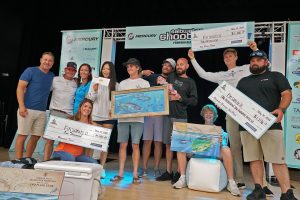 Captain Ryan Lucas and his crew on Bobber's Under hit the big fish jackpot in the Shootout with a 46.3 pound kingfish that was the heaviest fish weighed in the tournament! The hefty king earned them a hefty payout in the winner take all and 50/30/20 big fish calcuttas and they also claimed 3rd place in the non-pro division of the tournament for total winnings of $16,168! Hoo We Billin swept the Small Boat Division and Small Boat Bonanza finishing in First Place with total winnings of $2,918.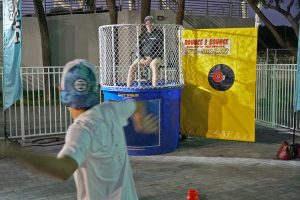 Mission Fishin' remains the official charity of the Pompano Beach Saltwater Circuit for 2022. Last year, through a variety of fundraisers, the PBSC raised over $10,000 for Mission Fishin'. For 2022, Bluewater Movements has set a goal to exceed that number! Mission Fishin's initiative for this year is to improve their Special Needs School Programs in Broward County Schools. The fundraiser during the Shootout was a "Dunks for Dollars" Dunk Tank where teams had the opportunity to vote in the team of their choice to take the plunge in the tank!! The Skinny/Rockford Fosgate, Chips Ahoy Too and Gator One were the teams that made it in the tank for teams to take their best shot at them all in the name of charity. Over $2,000 was raised for Mission Fishin' when it was all said and done and all three teams were awarded a $500 gift card from PELAGIC as thank you for being a great sport and helping to raise money for a great cause.
FULL RESULTS: https://fish.bluewatermovements.com/Leaders/Overall/60 
SAVE THE DATE! 
Attention all meatfish teams! The second leg of the Pompano Beach Saltwater Circuit, the Saltwater Slam returns June 9th-12, 2022!  Early Registration closes 5/27/22, 
register early to save $100! After the 28th, the price jumps to $475+ tax! Click here to register https://fish.bluewatermovements.com/app/ 
More information can be found by visiting, https://www.bluewatermovements.com/tournaments/summer-series/slam/ 
About Bluewater Movements:
Bluewater Movements, Inc., is a sports marketing company based in South Florida, the sportfishing capital of the world. Throughout the past 27 years, our team has developed some of the most successful competitive fishing events in the industry. Our background in tournament fishing coupled with our expertise in event marketing has enabled a premium experience for tournament anglers and sponsors. Within our portfolio there are seven wildly popular fishing tournaments, all hosted at various venues across South Florida.
###