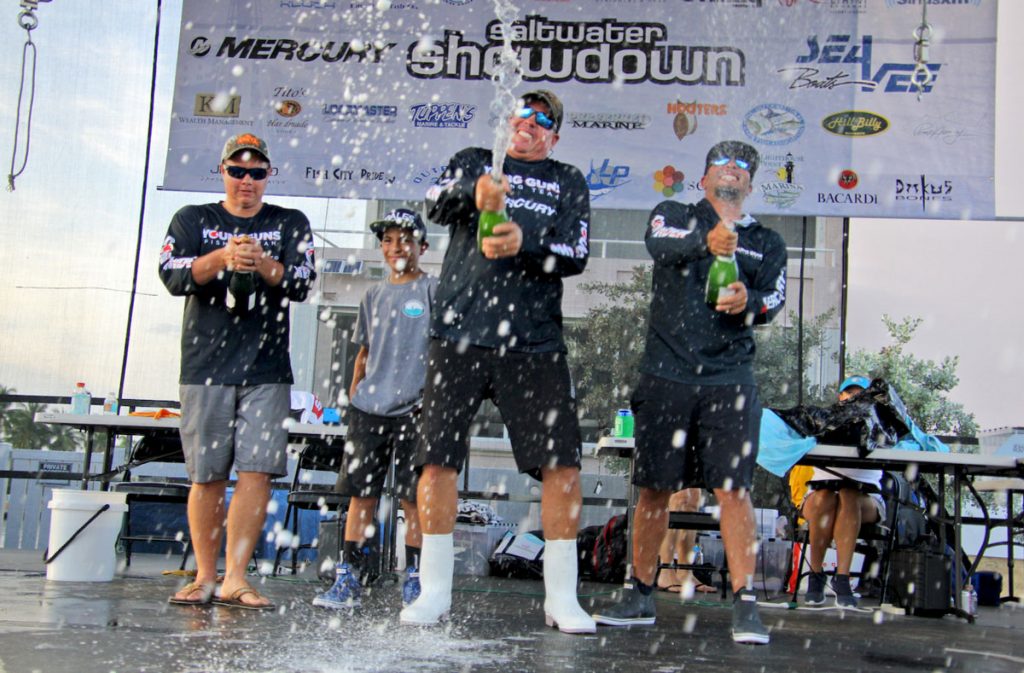 Young Guns & Blue Moon Win Big at the
21st annual Saltwater Showdown
Two Massive Jackpots Roll Over into 2020 Saltwater Shootout!
Pompano Beach, Fla. (August 21, 2019) – The 2019 Mercury/SeaVee Pompano Beach Saltwater Showdown was a memorable tournament with a total of 83 boats fishing and the battle for the crown was a tough fight to the end. Highly anticipated grand prize giveaways were the highlight of the kickoff party with teams who signed up for all three legs eligible to win big! Some of the nights big winners were teams such as, Slob City who won a $4,000 certificate for a Loadmaster Custom Trailer, team Reel Line won a luxury vacation package to Resorts World Bimini, team Miss Michelle won a $500 Bass Pro Shopping Spree, and team Salty Dawgs won a 3-year RAM truck lease from Joey Accardi!

Summer thunderstorms stayed west all afternoon, making for ideal conditions and a packed weigh-in. The bite might have been slow, but the competition was tight. As teams arrived at Sands Harbor Marina for the weigh-in, the adrenaline was high for what would be the final weigh-in of the summer. Pompano fishing veterans, Captain Lance Irvine and his Mercury Marine sponsored team Young Guns took the top spot in the Showdown with 4 kings totaling a weight of 110.3 lbs. and a check for $11,150!! In a close 2nd was Captain Chip Sheehan and his Tigress Outriggers & Gear sponsored team Chips Ahoy Too who has a total weigh of 107.8 lbs. earning them a hefty paycheck for $15,242 for finishing 4th overall in the series. The 3rd place spot in the Showdown went to Captain Ryan Davis and his team Reel Synergy who weighed in the top two Dolphin and four kings for a total weight of 95.9 lbs. and $7,053 in winnings. Reel Synergy added a bonus $2,500 from the grand prize drawings at the kickoff party also!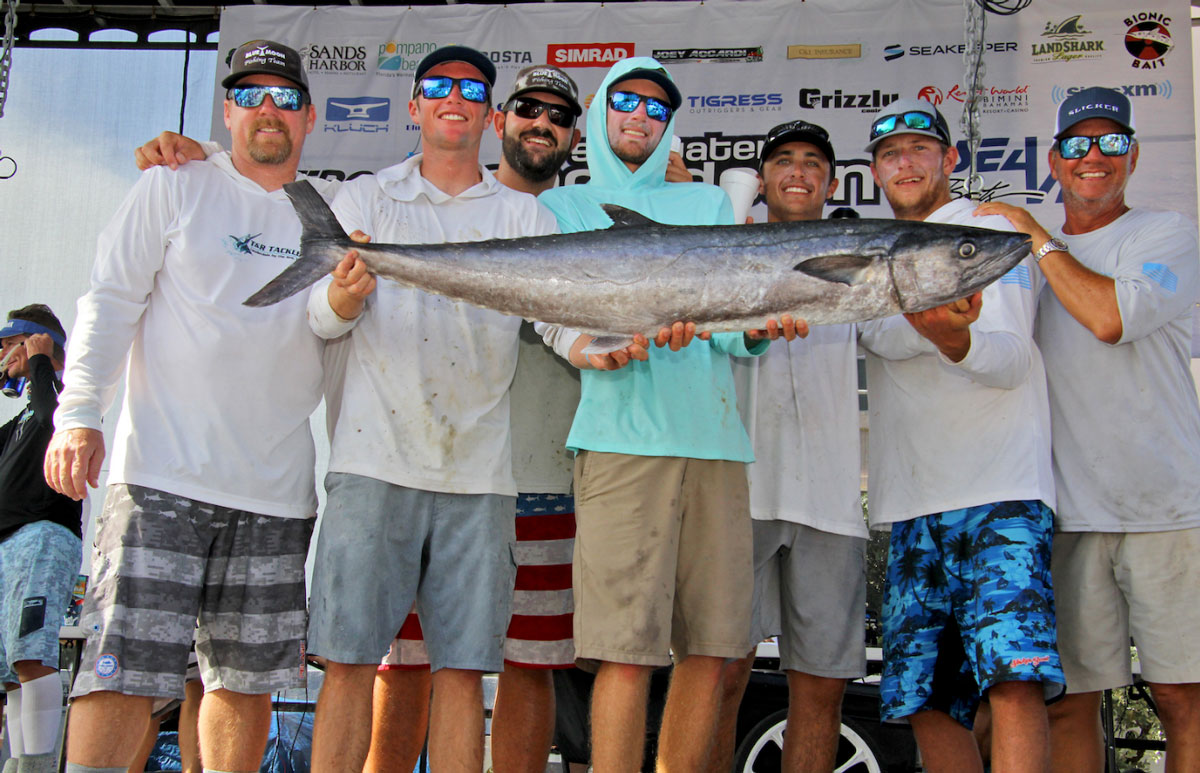 Heading into the final leg, the Top 3 contenders for the Simrad Electronics sponsored Showdown Crown title were unquestionably teams: Slob City, Blue Moon and Native Son. With 7 titles represented between Native Son and Blue Moon, Captain Carl Torresson knew that despite a small lead they would have to bring their "A-game" to win it all. When the salt spray settled, a strong 4th place finish by Blue Moon was enough to secure their 3rd Showdown Crown championship! Native Son finished 5th in the Showdown and bumped themselves into 2nd place overall in the series, followed by Slob City in 3rd. Team Blue Moon also had the heaviest fish of the Showdown, a 43 lb. king that helped to catapult the team to a $25,090 payday!

Other noteworthy Showdown performances included Runnin' Game winning the Non-Pro Division with 69.4 points. The Top Family was the father/son fishing duo, Joe Lacalamita Sr and Jr on Double Diamond with a total of 70.8 lbs. The Top Male Angler was Doug Perez from the winning team, Young Guns with 61.5 points and the Top Female Angler was Katrina Langdon from Kat's Rival with 51.1 points. The youngsters showed up at the Showdown with some serious fish too! Sponsored by Bass Pro Shops, the Top Junior Angler and Safety-First award went to Jonah Bennett from team Loan Shark with 28 points and Parker Steel from Native Son conquered the Pee-Wee division with 68.4 points.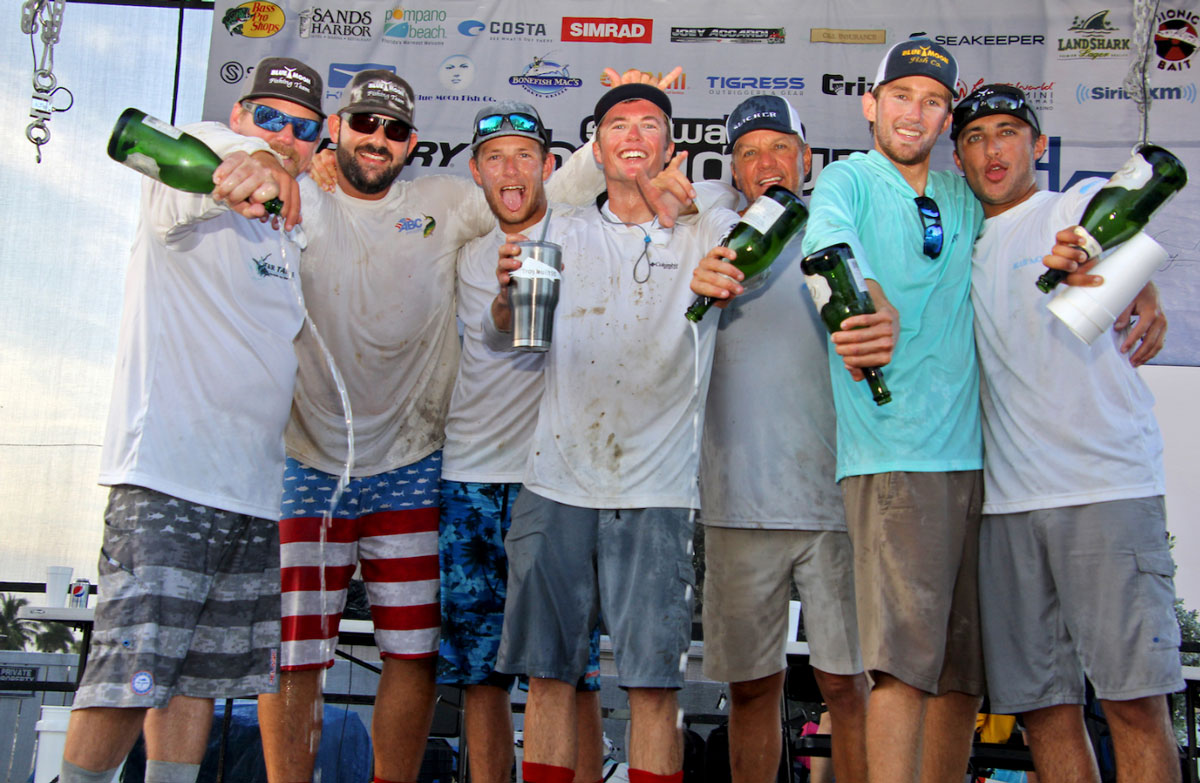 Looking ahead to 2020, make sure to block out the dates for leg 1 of the PBSC series, May 14-17 on your calendar. Two massive jackpots, the Pick 3 and the KDW, have rolled over from the 2019 Showdown. The Pick 3 jackpot currently sits at $67,860 and the KDW is at $41,760 with both expected to reach a collective $130,000 payout at the 2020 Shootout on May 16th. Add that to all of the other amazing prize categories, top-notch hospitality, and you've got a record tournament on the horizon! The Saltwater Slam will be celebrating its 25th anniversary in 2020 as well, so stay tuned for some exciting updates. Many thanks to all of the teams and sponsors that make this premier series possible, we can't wait to see you next year!

For complete Saltwater Showdown results, visit https://www.bluewatermovements.com/tournaments/summer-series/showdown/results/

For final standings in the PBSC series visit https://www.bluewatermovements.com/tournaments/summer-series/summer-series-standing/

About Bluewater Movements:
Bluewater Movements, Inc., is a sport's marketing company based in South Florida, the sportfishing capital of the world. Throughout the past 24 years, our team has developed some of the most successful competitive fishing events in the industry. Our background in tournament fishing coupled with our expertise in event marketing has enabled a premium experience for tournament anglers and sponsors. Within our portfolio there are six wildly popular fishing tournaments, all hosted at various venues across South Florida.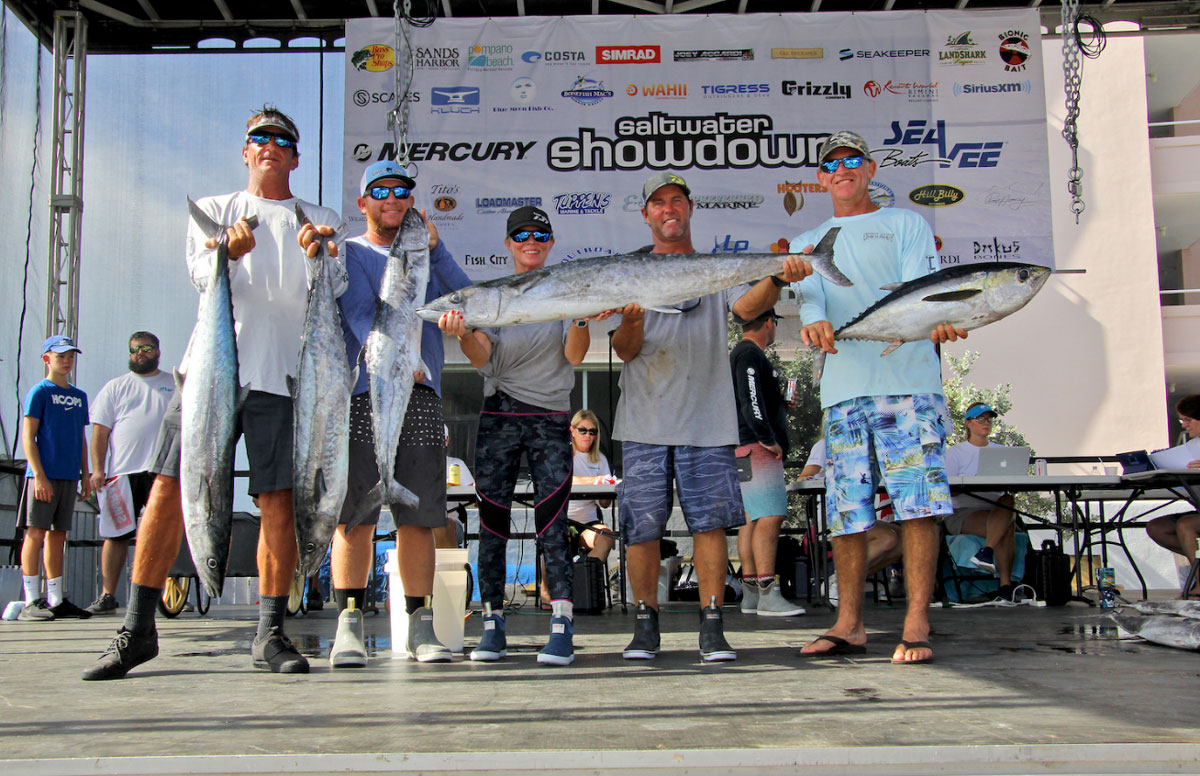 Our Charity – The Perry J. Cohen Foundation (PJCF):
One of the unique aspects of any Bluewater Movements tournament is the connection to community and charity. The Perry J. Cohen Foundation (PJCF) is the charitable beneficiary of the 2019 PBSC. Perry was a 14-year-old boy from Jupiter, FL who was tragically lost at sea on a fishing trip with a friend on July 24, 2015. The charitable partnership between Bluewater Movements and PJCF focuses on Boating Safety Education, one of the four pillars of the PJCF mission statement. Within that, a "Safety First" award has been established together with tournament sponsor, Bass Pro Shops, to present the Top Junior Angler in each leg of the series with a boating safety kit on behalf of the Perry J. Cohen Foundation. A check for $5,500 was presented to PJCF at the Showdown awards ceremony to help support their mission to keep boater's safe on the water. To learn more about how you can support PJCF, visit https://www.pjcf.org/