SeaVee Boats Win Top Small Boat of the PBSC Circuit & Claim Third Straight Showdown Crown Title!
FOR IMMEDIATE RELEASE
AUGUST 2021
Contact: Jennifer Hoffman
Phone: 954-725-4010
Email: jennifer@bluewatermovements.com 
SeaVee Boats Win Top Small Boat of the PBSC Circuit & Claim Third Straight Showdown Crown Title!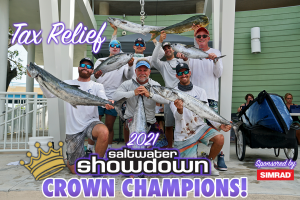 The third and final leg of the Mercury/SeaVee sponsored Pompano Beach Saltwater Circuit crowned two champions this past weekend. The tournament which was originally scheduled for August 14th was postponed due to the impending tropical storm. So on August 22nd, 2021 55 boats rounded out the fleet for the last leg of the summer series with a total purse of $96,682 up for grabs.
Mark Miller and his team are no strangers to poppin' bottles on the Showdown stage as team Living Water/Makin' Time finished in second place in the Showdown last year and claimed the coveted Showdown Crown title for 2020. This year was no different. Weighing in 124.8 lbs of fish including a first place tuna (23.6) and tying for second place tuna (20.2) was enough for them to get ahead of the pack and finish in first place overall and earn the title of Saltwater Showdown Champions! Other notable winnings include, Top Male Angler (Ryan Goldman) first place Bluewater Bonanza, first place Ante Up, Charity calcutta (which was donated back to Mission Fishin') for a grand total of $16,480.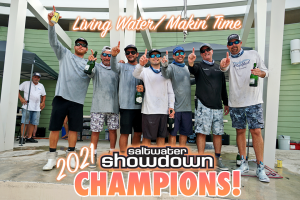 Tax Relief won the first leg of the 2021 PBSC, the Shootout in May and were sitting in second place (52 points) for the Showdown Crown going into the Showdown. Digger Rich was in first place with 54 points for the Showdown Crown. The race for the crown was tight and every fish that was weighed during the Showdown held a much greater impact. Digger Rich brought 108.8 lbs of fish to the scales and Tax Relief weighed 114.3lbs, bringing each team's total points for the series to 81. For just the second time in the history of the PBSC there was a tie! The tie breaker was determined by total weight for the season. Fishing on board their 39' Contender, Digger Rich had a total of 420.4 pounds for the season while Tax Relief posted 458.7 pounds on their 34' SeaVee to claim their first ever Showdown Crown Champions title!! In addition to taking home the coveted crown title, they finished in second place overall, second place in the Bluewater Bonanza, second place in Ante Up for a grand total of $9,344. 
Digger Rich finished in fourth place overall, Heaviest King (46.6), Bluewater Challenge, first place Big Three, first place Holy Mac and second place for the Showdown Crown for a total of $14,710!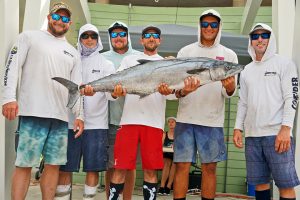 Lenny's Luck swept the Small Boat category on their 26' SeaVee, finishing in first place overall for the series, first place Small Boat Bonanza and Division, ninth place overall and Heaviest Wahoo for a grand total of $4,673.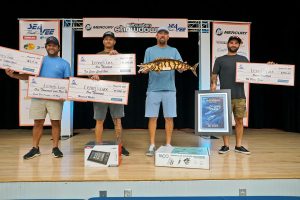 Congratulations to Cheyenne Considine for claiming the Top Female Angler title on board Miss Michelle with 62.7 points. Brother's Chris Miller and Brian Miller weighed 62.7 pounds to earn the Top Family trophy. In the Pee Wee division, Gracie Johnston weighed more pounds of fish than any other angler in the tournament and earned the Top Pee Wee title with 68.9 pounds on Finsanity II. James Demarco caught one of the heaviest kingfish of the tournament at 38 pounds that was big enough to earn him the Top Junior Angler title on board Native Son. But it was Wyatt Bergeron who had the standout Junior Angler season weighing a total of 73.6 pounds to claim the Junior Master Angler of the series title and earn himself a Grizzly cooler loaded full of goodies along with a weekend invite to Florida Hunting Adventures ranch in Okeechobee, FL to enjoy a new hunter education course as well as a guided hog hunt! 
Throughout the summer series Bluewater Movements teamed up with Mission Fishin', a non profit organization, and was proud to present founder Tony Davis with a check for $10,000! Fundraising efforts included a Darts For Dollars contest, Bubba Twist & Shout competition, fish donation and charity calcuttas at each tournament, with every dollar raised going directly to support Mission Fishin programs. Mission Fishin' is dedicated to improving the quality of life for children with special needs and their families, as they know and understand the hardships these families and their children face every day. Founder Tony Davis' son Joshua is confined to a wheelchair with multiple disabilities both physically and cognitively and was the inspiration behind all that Mission Fishin' stands for. 
By partnering with local anglers, businesses, and organizations, Mission Fishin' provides these families and their children an unforgettable marine experience. The children and their families have a once in a lifetime opportunity to do a variety of fishing with some of the best boat captains and charters in the South Florida region. To learn more about Mission Fishin' and how you can get involved please click here.  They are always looking for new boats who would love to host a family for the day so if you are interested in this opportunity please contact Tony Davis directly at tonydavis@missionfishin.org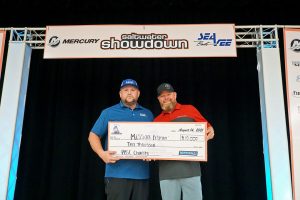 Pompano Beach Saltwater Showdown Top 5 Overall Teams:
Living Water/Makin' Time – 124.8 points
Tax Relief – 114.3 points
Native Son – 113.6 points
Digger Rich – 108.8 points
Miss Michelle – 108.3 points
Showdown Crown Top 5 Teams
Tax Relief – 81 points
Digger Rich – 81 points
Slob City – 67 points
Reel Synergy – 66 points
Living Water/Makin' Time – 66 points
Other Notable Results: 
Native Son: Third Place Overall, Third Place Kingfish (38lbs), Third Place Bluewater Bonanza, Third Place Holy Mac, First Place Junior Angler (James DeMarco)- $5,400
NautiNoles: First Place Non Pro Division & Bonanza, Second Place Junior Angler (Cole Houston) –$3,148
Miss Michelle: Fifth Place Overall, Second Place Kingfish (40.7) Second Place The Big Three, Second Place Holy Mac, Top Female Angler (Cheyenne Considine)- $5,341
Full Results can be found here, 
https://fish.bluewatermovements.com/Leaders/Overall/54
SAVE THE DATE!
The jig is up, the news is out, our 7th tournament is here! Introducing to you, the Florida Sailfish Cup! From November 1 to May 31, teams have 5 days of fishing entirely up to their choosing on when and where they fish! From Fernandina Beach to Key West, teams can fish literally wherever they want within each zone's stated boundaries. A Kick Off Party is scheduled for Friday October 15th at Pirate's Cove Marina & Resort in Stuart, Florida. Registration for the tournament opens September 1, 2021. For more information please visit www.sailfishcup.com or call 954-725-4010 or email info@sailfishcup.com!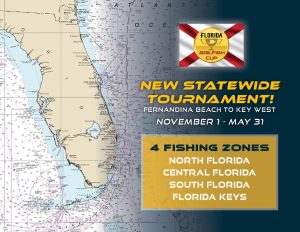 About Bluewater Movements:
Bluewater Movements, Inc., is a sport's marketing company based in South Florida, the sportfishing capital of the world. Throughout the past 20 years, our team has developed some of the most successful competitive fishing events in the industry. Our background in tournament fishing coupled with our expertise in event marketing has enabled a 
premium experience for tournament anglers and sponsors. Within our portfolio there are six wildly popular fishing tournaments, all hosted at various venues across South Florida.
###