Sea Vee Boats introduces the all NEW "Flagship 450Z" Center Console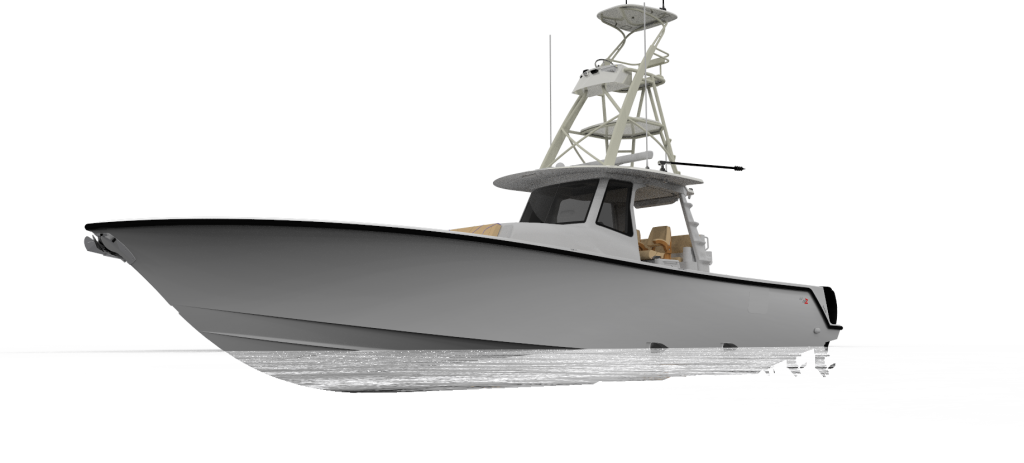 450Z price – $982,000 with quad Mercury Verado 400 hp engines
Title sponsor of both Bluewater Movements series, the Quest for the Crest Sailfish Series and Pompano Beach Saltwater Circuit, Sea Vee Boats is introducing an all NEW boat this coming year. Pleased to announce, Sea Vee Boats has debuted the digital renderings of the new 450Z center console model. The 450Z is the definition of style, balance, and substance in a world-class recreational boat. To achieve the highest performance possible, the 450Z features multiple lifting bodies with unique geometry that results in a fixed running trim angle.
The lifting bodies, along with the carefully engineered weight distribution arrangement, ensure the optimum angle of attack that produces maximum hull lift with minimum resistance regardless of speed or sea conditions. The boat simply accelerates as power is applied, with no dangerous bow rise, or undesirable bow dipping. In essence, the 450Z hull has two inherent gears that allow it to achieve remarkable performance throughout a broader range of speed than traditional stepped hull boats.
Standard equipment includes a robust diesel generator with a Seakeeper 6 gyro stabilizer system both safely housed in an aft cockpit deck compartment. This state-of the-art system helps to improve an 'already impressively stable presence on the water' when sea conditions worsen.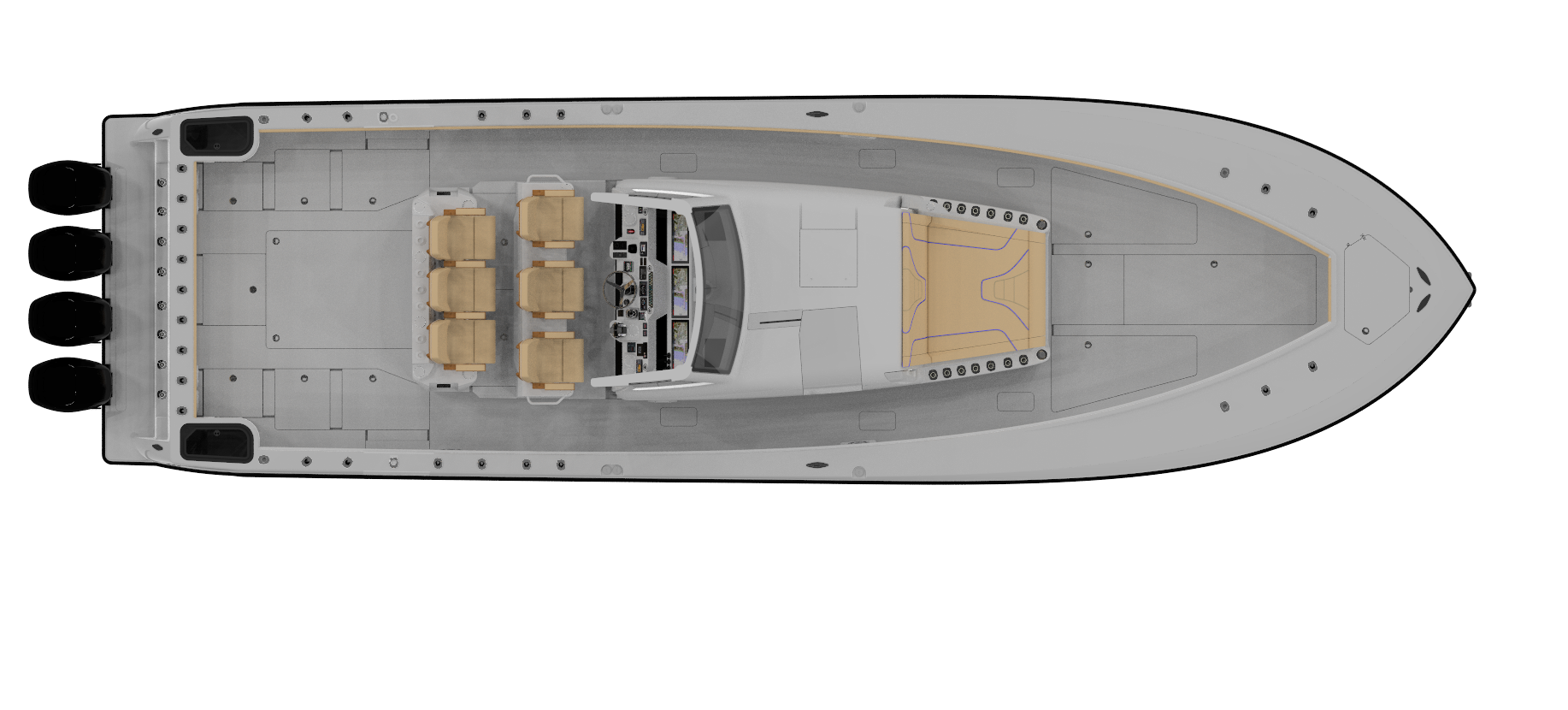 FISHING:
With nearly 10' of aft cockpit space, there's plenty of wide-open space to play. Fisherman will appreciate the large 150 gal. and 100 gal. insulated fish boxes along with twin rod lockers at the bow that can stow a dozen rods or hold 5-gallons buckets safely below deck. The smaller fish box can be optioned as a forward live well to create a fully independent forward fishing station. Twin 100 gal. insulated fish boxes reside in the aft cockpit along with four 40 gal. live wells – two in the transom deck corners, and two more below deck. That is a total of up to five on board independently operated live wells.
The ingenious live well pump system, equipped with a sea chest and dual water pickups, keeps bait alive and healthy by virtually eliminating the aeration problem typically found with stepped hull boats. A dedicated transducer pad allows for flush mounting large commercially rated transducers that are capable of marking bottom in very deep water while underway.
Rod and tackle storage abound throughout the boat. Order a nearly limitless amount of rod holders on the gunnel, console, hardtop, tower, transom and nearly anywhere else. A comprehensive tackle station neatly stores your gear and facilitates rigging while keeping everything neat and organized. Fresh and saltwater washdown systems, at the bow and stern, help to keep the boat tidy and expensive tackle sparkling clean.
Port and starboard side doors help make hauling in big catches a simple task, and the built-in dive ladders make going in and out of the water easy and convenient.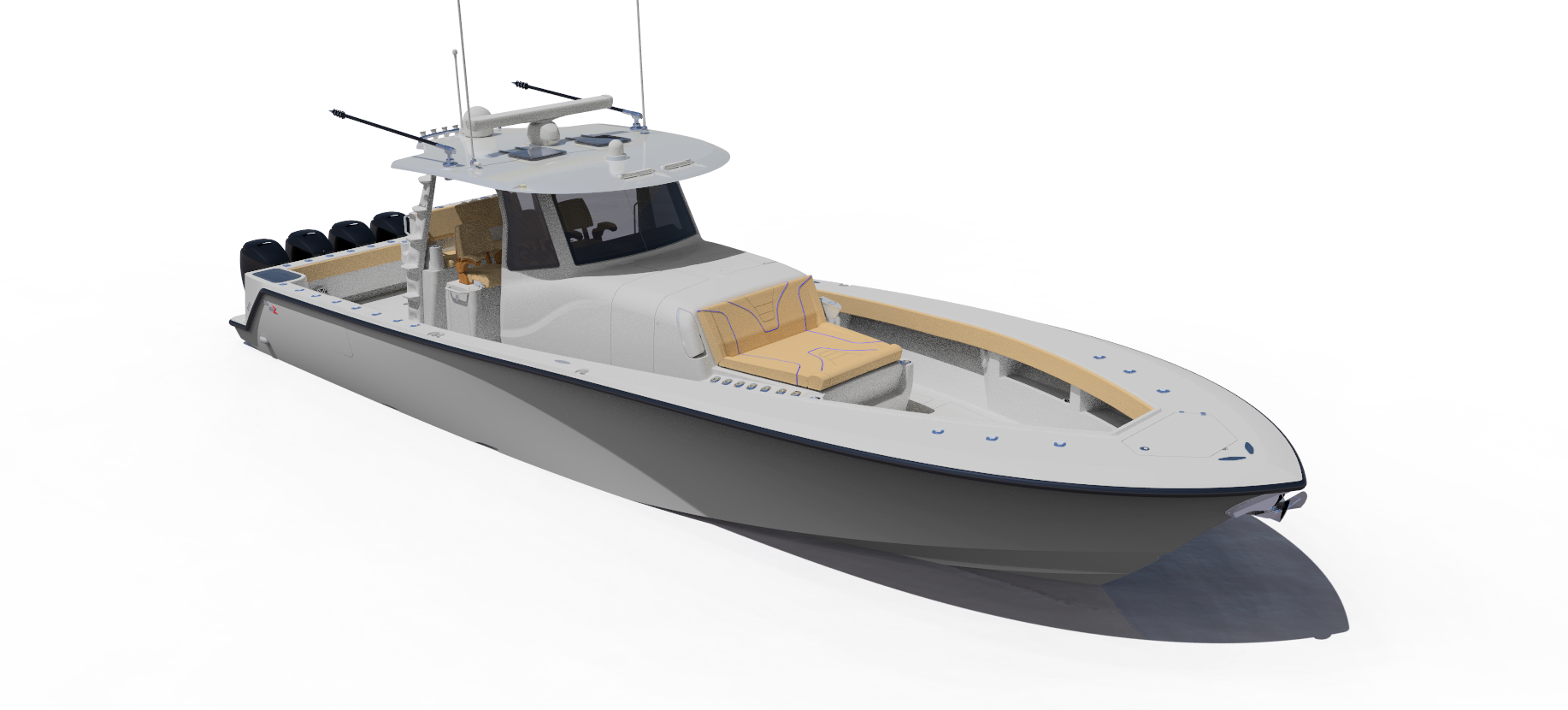 DETAILS:
LOA – 45'
Beam – 12'6" Hull Dry
Weight* – 16,000 lbs. (no engines)
Hull Draft – 26" Hull Deadrise – 22˚
Fuel Capacity (Gasoline) – 750 gal Fuel Capacity (Diesel for Genset) – 48 gal
Fresh Water Capacity – 100 gal.
Price and specifications subject to change without notice