Makin' Time/Living Water Win the 25th Annual Mercury/Seavee Pompano Beach Saltwater Showdown!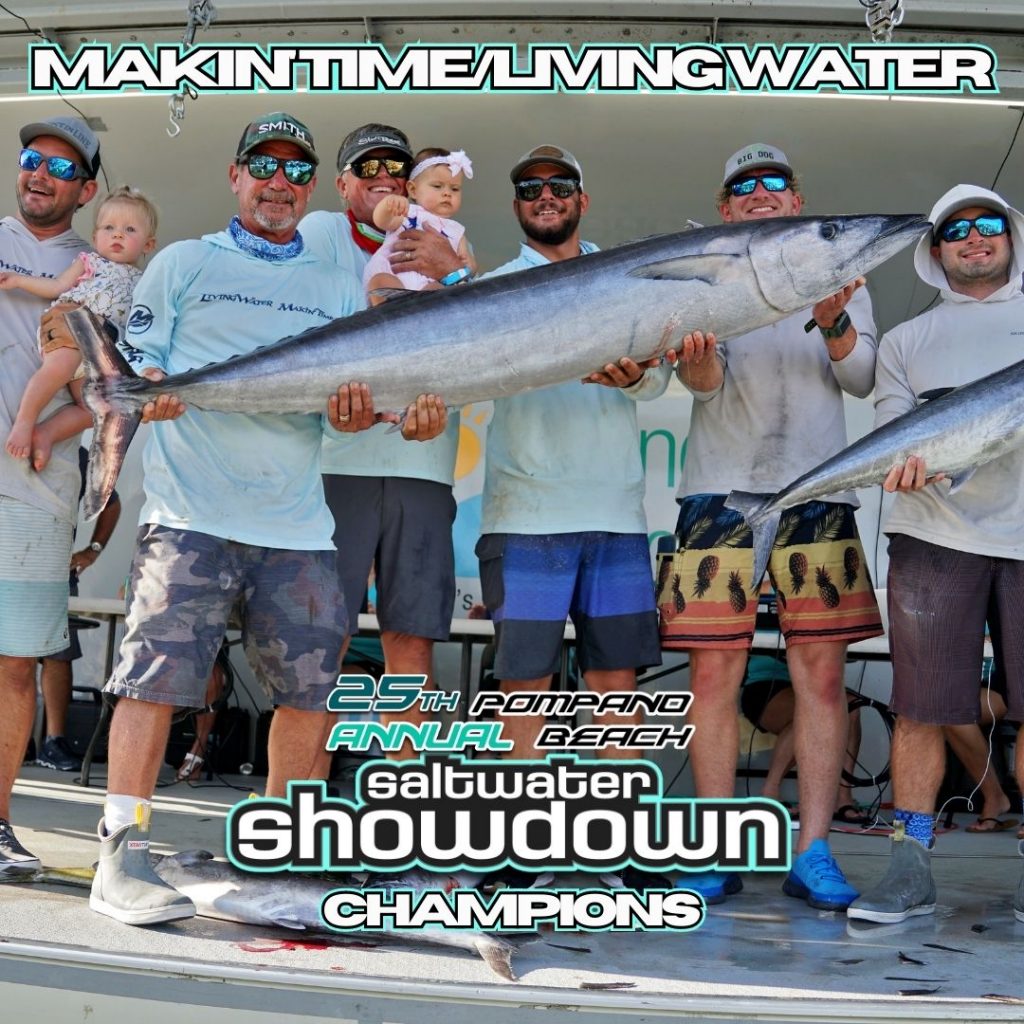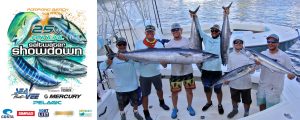 FOR IMMEDIATE RELEASE
August 2023
Contact: Chris Caravello
Email: Chris@bluewatermovements.com
Phone: 954-725-4010
Kicking Off The 25th Annual Mercury/Seavee Pompano Beach Saltwater Showdown
Captains, teams, and families gathered for the 25th Annual Mercury/Seavee Pompano Beach Saltwater Showdown alongside tournament sponsors, which included names like Islamorada Beverages, Hooters of South Florida, PELAGIC, and Eddie Forbes Art, to celebrate the weekend of competition ahead. 
Taking center stage once more was the Over/Under Game, built by Taylor Builders. The proceeds from the game benefit our charitable partner, Mission Fishin'. The event also held an educational charm for the younger attendees. The Bass Pro sponsored Kids Fishing Clinic hosted special guests from Painting Passports and added an artistic touch to the occasion.
Showdown Recap
The atmosphere was charged with anticipation in the weeks leading up to the third leg of the Pompano Beach Saltwater Circuit. The race for the Showdown Crown Presented By SIMRAD was tighter than ever, with just eight points separating the top seven teams vying for the Championship Rings. Adding to the excitement, a remarkable $112,040 was up for grabs in two massive jackpots, drawing new teams into the final leg of the series.
As the weekend kicked off, a field of 67 teams were all eyeing to claim a piece of the impressive $199,702 purse. On the tournament day, the scales at Sailfish Marina and the Cove saw a total of 179 fish, collectively weighing in at 3,393.2 pounds.
Securing the 5th place spot were the 2023 Showdown Crown Champions, team Seapremacy. Their 29' Mercury Powered SeaVee proved its prowess as they maxed out on Kings, totaling a solid 109.9 points. Their performance not only secured them a notable position on the overall leaderboard but also earned them the 2nd spot in the mid-range division, adding $4,950 to their accomplishments for the season. 
Claiming 4th place was team Spiced Rum III, who came in hot to the scales at Sailfish Marina with four kingfish for a total of 111 points. Their showing earned them a respectable prize of $1,500. Notably, their 4th place finish in the Showdown pushed them into the top 10 ranks of the Series standings, with a total of 57 points.
Finishing in 3rd place were the reigning Showdown Crown champions, team SLOB City. Their performance featured four kingfish that tallied up to 111.1 points. The team landed the third-heaviest king of the tournament, weighing in at 37 lbs. Other noteworthy achievements included 2nd place overall in the series, plus 3rd place in the Bluewater Bonanza and Holy Mackerel Calcuttas. Their accomplishments earned them a reward of $5,820.
Coming in 2nd was team Gator One, by reeling in four kingfish totaling 136.6 points. Among their remarkable catches was a colossal 57.7-pound kingfish, securing their place as winners of the heaviest and second-heaviest kings (Second heaviest king, caught by top Junior Angler Wyatt Bergeron) of the tournament. Dominating various Calcuttas, they clinched 1st and 2nd spots in the Holy Mackerel, Ante up, and Bluewater Bonanza categories and their junior angler Wyatt Bergeron also claimed the Junior Master Angler title of the series. Their commitment to charitable causes was also recognized with a 1st place finish in the Charity Calcutta. Their performance earned them a total of $18,088.
Top Small Boat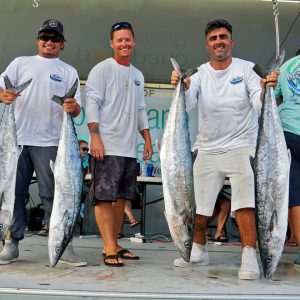 Taking the spotlight as the undisputed Top Small Boat in the Summer series was none other than team Hoo We BiLLiN, on their 25' SeaVee. Fresh off their triumph in last year's Small Boat category, these guys left no room for doubt that they could do it again. By reeling in an impressive 86.4 pounds of Kingfish, they secured their victory in the Showdown and solidified their reign as the unchallenged Small Boat champions in the Series.
Congratulations to Hoo We BiLLiN, back-to-back Series Small Boat Champions earning $1,000 and a SIMRAD NSS Evo3!
Small Boat Division
1st Place – Hoo We BiLLiN – 86.4 Points – $2,500
2nd Place – Rebel – 65.8 Points – $1,250
3rd Place– Lenn's Luck– 63.2 Points – $500
Top Semi-Pro
Standing at the top of the Semi-Pro Category in the Showdown was Bobbers Under.  Their performance placed them in 6th overall with a total of 106.7 pounds of Kingfish. The team clinched 3rd place in the Mid-Range Division and 1st in the Semi-Pro Bonanza Calcutta, which solidified them as the Semi-Pro Champions of the series!
Semi-Pro Division
1st Place – Bobbers under – 106.7 Points – $2,000
2nd Place– Vescape – 103.1 Points – $1,500
3rd Place– Reel Conchy – 96.3 Points – $750
4th Place– Reel Line – 92.7 Points – $500
5th Place– Reel Fantasea – 68.2 Points – $250
Other Notable Top Finishes
Top Male Angler
Thomas Fengler – Makin' Time / Living Water – 114 Points
Top Female Angler
Cailin Reckwerydt – Slimyfive – 47.7 Points
Top Junior Angler
Wyatt Bergeron – Gator One – 56.4 Points
Top Pee Wee Angler
Hunter Waldo – Highly Unlikely – 49 Points
Top Family
The Miller Family – Reel Line – 92.7 Points
Big Fish Division – Dolphin
Akula – 10.5 Points – $1,000
Big Fish Division – Wahoo
Makin' Time / Living Water – 88.1 Points – $1,000
Big Fish Division – Kingfish
Gator One – 57.7 Points – $1,000
Big Fish Division – Tuna
Cool Runnings – 19.1 Points – $1,000
Mid Range Division (27 to 32 feet)
1st Place – Makin' Time / Living Water – 168.4 Points – $2,500
2nd Place– Seapremacy – 109.3 Points – $1,250
3rd Place– Bobbers Under – 106.7 Points – $500
Champions of the 25th Annual Mercury Seavee Pompano Beach Saltwater Showdown: Makin' Time / Living Water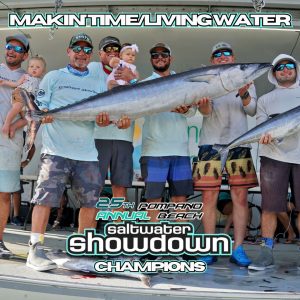 Team Makin' Time/Living Water, a mainstay in the PBSC from the very beginning, fittingly concluded our electrifying 25th season with a resounding victory as they returned to the arena with the boat they fished on years ago.
Makin' Time/Living Water has always posed a challenge to competitors, consistently placing themselves among other competitors on the leaderboard. However, it was this year's showdown where the stars seemed to align, giving them the opportunity to rekindle the magic that ignited their journey.
Guided by Captain Steve Fishman and the angling finesse of top Male angler Thomas Fengler, the team landed an 88.1lb wahoo, and a haul of kings, amounting to an impressive total of 156.8lbs.
Makin' Time/Living Water roared back to the forefront, not just in a familiar boat, but in one that had been retired—a true testament to their teamwork and experience. As they claimed 1st place overall, 1st place in the wahoo category, 1st place in the mid-range division, and a string of other victories across various calcuttas, bringing their total earnings to $35,258.
About The Pompano Beach Saltwater Circuit
If you like fishing for Dolphin, Wahoo, Kingfish, Tuna and Cobia, then you will love the format of the Pompano Beach Saltwater Circuit. The PBSC is a 3-leg tournament that takes place annually in South Florida from May to August. Leg 1 of the series begins in May with the Saltwater Shootout, followed by the Saltwater Slam in June and the Saltwater Showdown in August. In addition to a $600,000 purse, teams that register for the tournaments will enjoy premier hospitality, including free drinks, great food, live entertainment, tournament shirts and a team bag loaded with sponsor swag! It's no wonder why the PBSC has become one of the most popular series on the east coast.
About Bluewater Movements
Bluewater Movements, Inc., is a sports marketing company based in South Florida, the sport fishing capital of the world. Throughout the past 27 years, our team has developed some of the most successful competitive fishing events in the industry. Our background in tournament fishing, coupled with our expertise in event marketing, has enabled a premium experience for tournament anglers and sponsors. Within our portfolio, there are seven wildly popular fishing tournaments, all hosted at various venues across South Florida.