Gear Up For the Second Leg of the PBSC, the Saltwater Slam!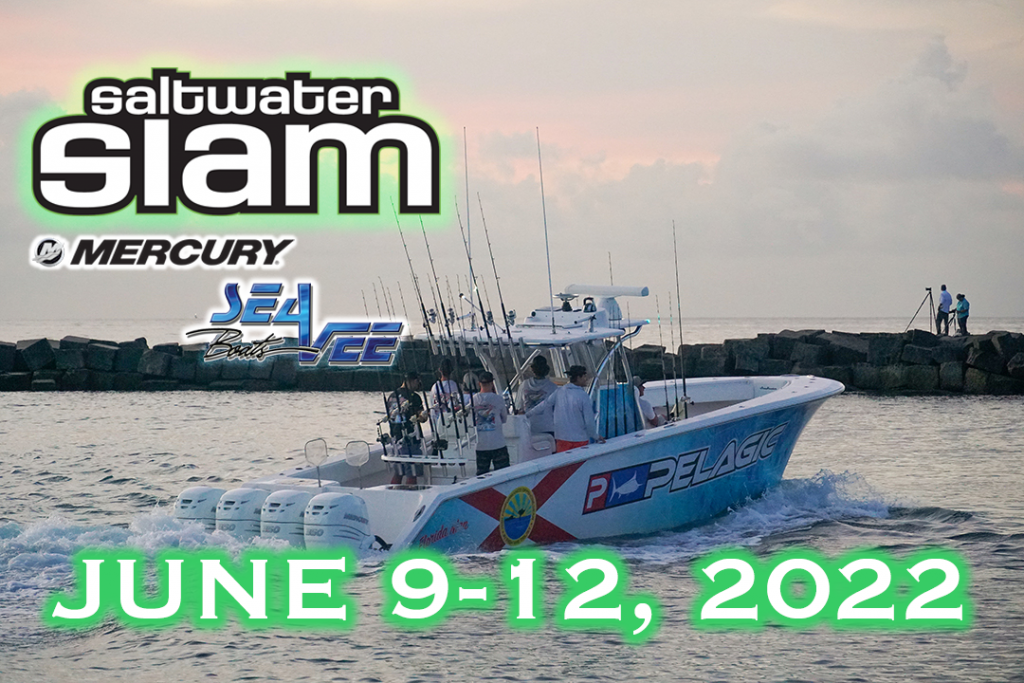 FOR IMMEDIATE RELEASE
JUNE 2022
Contact: Jennifer Hoffman
Phone: 954-725-4010
Email: jennifer@bluewatermovements.com 
Gear Up For the Second Leg of the PBSC, the Saltwater Slam!
Over 50 boats have pre-registered for the second leg of the Pompano Beach Saltwater Circuit. The Mercury/SeaVee Pompano Beach Saltwater Slam kicks off June 9th, 2022 and runs through Sunday June 12, 2022 with an awards ceremony at the Pompano Beach Civic Center. Over $200,000 in cash and prizes is up for grabs during the Slam! Teams can register up until Thursday June 9th, 2022 and pre registration online is encouraged. Registration is $575 per boat and teams can register online here.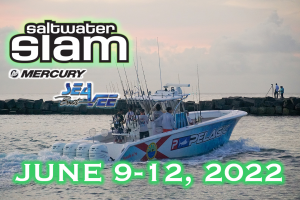 The Captain's Meeting/ Kick Off Party will be held on Thursday, June 9, 2022 from 6pm-10pm at the Pompano Beach Civic Center. The Saltwater Slam kickoff party will bring the exciting vibe that all PBSC kickoff parties are known for with complimentary drinks and food for anglers from Bonefish Mac's and Islamorada Brewery & Distillery, DJ Select spinning the beats and tournament sponsor, BUBBA is contributing to the Mission Fishin' fundraising effort with a 'Cast for Cash' casting contest where anglers and guests can test their casting skills while helping to raise money for Mission Fishin' at the same time. A BUBBA prize package will be awarded to the participant with the highest score also.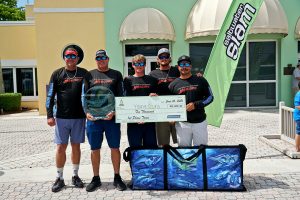 In addition to the casting contest, the popular Kids Fishing Clinic held during the kickoff party will offer a unique twist with artist Rio Saress leading a class where the kids will learn how to paint fish! 
Competition day is set for Saturday, June 11, 2022. Sullivan Park in Deerfield Beach will be the main weigh-in station for this year's tournament. A number of sponsors will be on site with displays, and the Hooter's girls will be greeting the teams with their famous wings and ice cold beverages from Landshark and Islamorada Brewery. Galuppis will have a satellite bar set up for spectators to enjoy cold drinks while the big fish hit the scales . The scales open at 4pm for weigh-in with the deadline to check-in at Boca Inlet or Hillsboro Inlet by 4:30pm. There is also the option for an express weigh in at Lighthouse Point Marina. Will any teams be successful in claiming the KDW or Pick 3 mega jackpots? Who will be the team to weigh the heaviest fish and cash in on a huge payout? Join us at Sullivan Park on Saturday, June 11th to find out!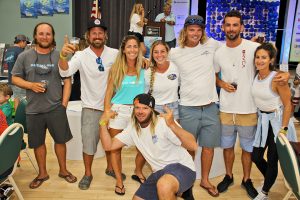 The tournament concludes with an awards ceremony on Sunday, June 12th, 2022 at the Pompano Beach Civic Center. The event will start at 2pm with the awards presentation starting at 3pm. Come support your team and enjoy some incredible eats from our new sponsor Boca Fish House! 
The Mercury/SeaVee sponsored Saltwater Shootout schedule of events is as follows:
Kick Off Party/ Captain's Meeting
When: Thursday, June 9th, 2022
Time: 6:00pm- 10:00pm
Where: Pompano Beach Civic Center
1801 NE 6th Street
Pompano Beach, FL, 33060
Fishing Day
When: Saturday, June 11th, 2022
Time: Lines in @ 7:30am
Main Weigh In: 4:00pm- 7:00pm
Weigh In Location: Sullivan Park
                                 1633 Riverview Rd
                                 Deerfield Beach, FL 33441
Awards
When: Sunday June 12th, 2022
Time: 2pm-5pm
Where: Pompano Beach Civic Center
1801 NE 6th Street
Pompano Beach, FL, 33060
ABOUT THE POMPANO BEACH SALTWATER CIRCUIT:
If you like fishing for Dolphin, Wahoo, Kingfish, Tuna and Cobia, then you will love the format of the Pompano Beach Saltwater Circuit. The PBSC is a 3-leg tournament that takes place annually in South Florida from May to August. Leg 1 of the series begins in May with the Saltwater Shootout, followed by the Saltwater Slam in June and the Saltwater Showdown in August. In addition to a $550,000 purse, teams that register for the tournaments will enjoy premier hospitality including free drinks, great food, live entertainment, tournament shirts and a team bag loaded with sponsor swag! It's no wonder why the PBSC has become one of the most popular series on the east coast. Learn more by visiting our website, https://www.bluewatermovements.com/tournaments/summer-series/
About Bluewater Movements:
Bluewater Movements, Inc., is a sport's marketing company based in South Florida, the sportfishing capital of the world. Throughout the past 20 years, our team has developed some of the most successful competitive fishing events in the industry. Our background in tournament fishing coupled with our expertise in event marketing has enabled a premium experience for tournament anglers and sponsors. Within our portfolio there are seven wildly popular fishing tournaments, all hosted at various venues across South Florida.
###