Final Sail, The 3rd and Final Leg of the 2023 Quest for the Crest Sailfish Series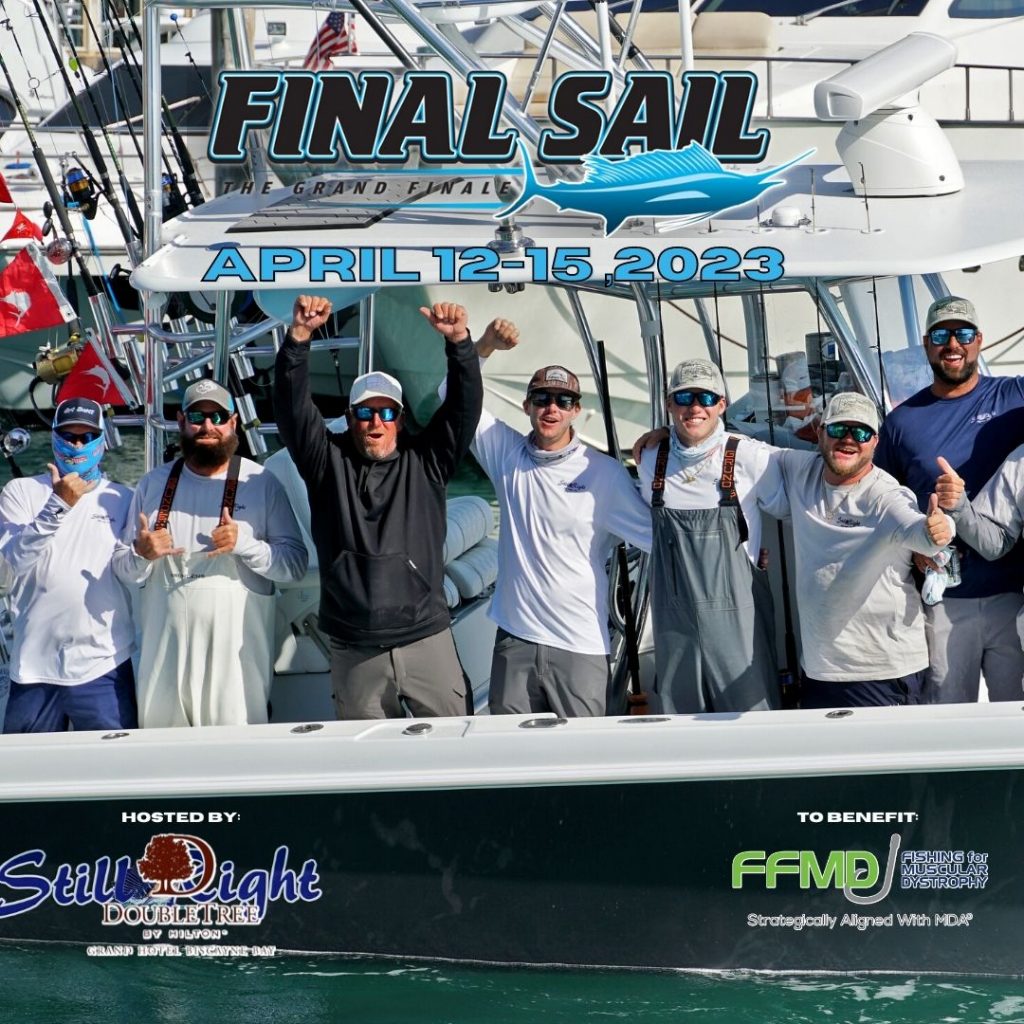 FOR IMMEDIATE RELEASE
March 2023
Contact: Chris Caravello 
Phone: 954-725-4010
Email: Chris@bluewatermovements.com
Final Sail: The Grand Finale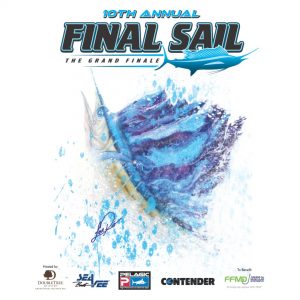 Final Sail, the culminating leg of the Quest for the Crest Sailfish Series, held in South Florida's 'Magic City', hosted by DoubleTree Grand Biscayne Bay, benefiting Fishing For Muscular Dystrophy (FFMD) is set for April 12-15, 2023. With a world title on the line, teams will be looking to make a little magic of their own. Landing in Miami at the peak of sailfish season, red-hot sailfishing is the norm for Final Sail teams. 
The tournament also brings a fun twist inspired by its name. The confirmation # for each team's final sailfish release in the tournament is recorded and entered into a drawing where teams have the chance to win a free entry into the tournament for the following year!
Next Up To Enter Quest for The Crest Hall of Fame
The crown jewel of billfishing, the burgundy jacket, is presented to just one team at the conclusion of the Quest series each year. Both the jacket and the Crest that resides on it, represent the highest achievement in the sport. Privilege is earned in this series, where teams go all in to become the #1 sailfishing team in the world.
It's a tight race for teams gunning for the burgundy jacking going into Final Sail. After a 9th place finish at Operation Sailfish and victory at Sailfish Challenge, team Remix burst into the top spot of the Quest for the Crest Overall Leaderboard, accumulating 53 points. Captain of the team, James "JC" Cleare, is now eyeing his fourth burgundy jacket with a 10-point lead over the second and third-place teams Big Ben & MDALA with 43 points each ready to claim their first. 
Teams Weez in the Keys & Fish On are also in contention to claim their first burgundy jacket this year. Fish On had an incredible start to the season, carrying their momentum into a victory at Operation Sailfish after their third-place finish fishing in the historic Silver Sailfish Derby. While the fishing in Palm Beach slowed down during Sailfish Challenge, they made a move on day one of the tournament, with five releases, to award them some valuable points in the overall standings leaderboard, putting them in fourth-place with a total of 38 points. Weez in the Keys isn't far behind fourth-place Fish On, sneaking into 5th place with 37 points after a 14th and 10th-place finish in legs 1 & 2 of the series. 
2023 Quest for the Crest Leaders
1st – Remix – 53 Points
2nd – Big Ben – 43 Points
3rd – MDALA – 43 Points
4th – Weez in the Keys – 38 Points
5th – Fish On – 37 Points
It's anyone's game for the teams in contention. Will one of these top 5 teams earn the privilege to etch their names in the Quest for the Crest Hall of Fame? Or will the stars align to allow the others in contention to claim victory? 
The burgundy jacket isn't the only prestigious award being presented at Final Sail. Compliments of Altier Jewelers of Boca Raton, the top female angler of the series will receive a stunning Patek 10~24 watch valued at $15,000. Sarah Cleare, from team Remix, currently holds the lead with 4 releases followed by Jen Copeland, Amanda Sabin, Emily De Pena and Devin Page all in a four way tie with three releases. A Cartier watch is up for grabs for the top captain of the series where Captain JC Cleare has a commanding lead heading into the grand finale. Could it be a husband & wife win for the Cleare family and these two incredible titles at Final Sail? Time will tell!
Aside from the teams in the race for the Crest there is still plenty of opportunity to win big at Final Sail for the teams sitting further back on the leaderboard, with an estimated purse of over $500,000 on the line including solid daily payouts and a Release Roundup calcutta with a payout anticipated to exceed $70,000.
Final Sail Benefiting Fishing For Muscular Dystrophy
FFMD is a 501(c)(3) nonprofit offshore fishing team that has a strategic alliance with the Muscular Dystrophy Association (MDA) whose purpose is "Fighting Muscle Disease". Through fundraising activities, sponsorships and tournament winnings, FFMD aims to increase awareness for
 muscular dystrophy and related diseases that limit strength and mobility, while raising money to help MDA fund lifesaving research and support programs that will help kids and adults affected live longer and grow stronger.
The organization was founded by Paul Robertson, a native of Maryland and successful entrepreneur and businessman, who has also been diagnosed with Muscular Dystrophy (MD). Paul was diagnosed with Limb-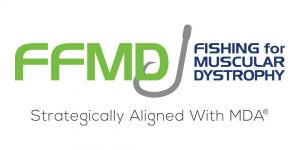 Girdle Muscular Dystrophy (LGMD) 15 years ago, but that has not stopped him. After dealing with mobility challenges, Paul decided it was time to not only become a champion and spokesperson for muscular dystrophy, but also use his talent and passion for fishing and align it with his dedication to increasing research funding, awareness, and support for the Muscular Dystrophy Association (MDA).
FFMD is a professional full-time offshore fishing team that competes at the highest attended and most publicized events on the East Coast and Gulf of Mexico, and attends numerous events to support our partner network of top tier corporations. In the future, FFMD will add to the program with a salt water in-shore team and freshwater bass team, each led by another person with a muscle disease and passion for fishing.
Ultimately, FFMD is the vision of a real person with the disease who is living life, inspiring hope, and giving back to fight muscle disease by combining personal experience with a personal hobby. It combines his inner creativity and hunger to help others, as well as Paul's undying passion for fishing, all for a cause.
*To learn more or donate, please visit www.fishingformd.com* 
DoubleTree Grand Biscayne Bay Accommodations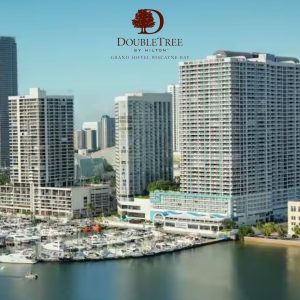 Located in the heart of downtown Miami, anglers will find everything they need on property during their stay for the tournament. Sea Isle Marina is located immediately behind the hotel for a short walk from your boat to the comfort of your room or condo. There are an array of dining options, including fresh seafood at Casablanca On The Bay, Chinese cuisine at Tony Chan's Zagat awarded Waterclub, authentic Italian dishes at Primo's, and the flavorful menu at Los Gauchitos Argentinian Steak House.
A discounted room block is available on a first-come, first-serve basis through March 22, 2023, or when the block is full, whichever comes first. View prices per room here
*Visit this link, or contact Ana Zepeda at 305-523-3310 or Ana.Zepeda2@hilton.com to reserve rooms for Final Sail.*
Tournament Entry Tips
Early registration for Final Sail is $1200 per boat through March 29, 2023. After March 29, 2023, the late registration fee is $1700. In addition to the first-place title, there will be several other opportunities for anglers to cash out through a variety of general and optional entry categories and Calcuttas, so you may want to take some notes!
General Entry Divisions
Calling all meatfish teams, don't sleep on Final Sail; you can win the big bucks too! With three meatfish divisions in Final Sail – Meatfish Aggerate, the Heaviest Fish Divisions for Dolphin, Wahoo, Kingfish, Cobia, and Tuna, and The Grand Daddy: Heaviest Fish Overall, plus 3 meatfish calcuttas, teams can win over $50,000 like we saw with REEL E SEA at Operation Sailfish this year, without landing a single sail! Makin' bills without catchin' bills never sounded so good! 
No Boat, No Problem! From the beginning, fishing tournaments were created to help promote the charter boat industry. Charter boats are greatly missed in today's tournaments and we want them back! With that, we've gone back to the roots and created a pure charter boat division for charter boats to compete on the same level with other charter boats in the tournament while still remaining eligible for other general entry divisions. The NEW Charter Boat division boasts a 100% payout, and we've also added a 70/30 Charter Boat Calcutta! This is a PSA to all you tournament-hungry anglers….Call up for your favorite charter captain with a valid NOAA charter or head boat permit, and let 'em know it's time to get to work!
*See rules for eligibility requirements here.*
Optional Entry Calcuttas 
Some things are bigger than fishing. We encourage all our teams to enter our Fish For Charity Calcutta benefiting our charitable partner FFMD. Both teams and charity win in this category with a 50/50 split between the high point team and the tournament charity. The entry fee for this Calcutta is $500 per boat.
And finally, everyone's favorite Calcutta – The Quest For The Quest Series Exclusive Winner Take All: Release Round Up. This optional entry category is divided into 4 rounds over 2 days of fishing. Advance through all 4 rounds and your team could hit it big in the Release Round Up Jackpot! In 2020, Miss Annie hit the Round Up lottery with a $371,700 payout!! Who will be the next team to cash in big? Right now the jackpot is $53,100 and counting! Entry fee for the Round Up is $1,000 per boat.
To learn more about the Quest for The Crest and Final Sail, please call 945-725-4010, email info@bluewatermovements.com, or visit www.bluewatermovements.com or www.finalsail.com. 
Final Sail 2023 Schedule of Events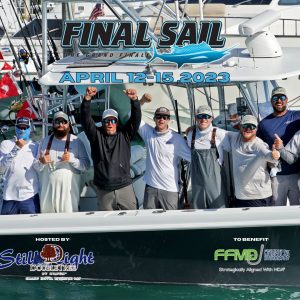 Kick-Off Party/Captain's Meeting
When: Wednesday, April 12, 2023
Where: DoubleTree Grand Hotel Biscayne Bay
Time: 7:00pm – 10:00pm
Fishing Day 1
When: Friday, April 14, 2023
Lines In – Lines Out: 8:00am – 4:00pm
Miami Beach Marina Dock Party: 5:00pm – 7:00pm
Deadline to Submit Media: 6:00pm
Fishing Day 2
When: Saturday, April 15, 2023
Lines In – Lines Out: 8:00am – 4:00pm
Deadline to Submit Media: 5:30pm
Awards Ceremony
When: Saturday, April 15, 2023
Where: DoubleTree Grand Hotel Biscayne Bay
Cocktail Reception: 7:30pm – 8:00pm
Dinner: 8:00pm – 9:00pm
Awards Presentation: 9:00pm – 11:00pm
ABOUT THE QUEST FOR THE CREST SAILFISH SERIES
This iconic series hosts some of the top billfishing teams in the sport. Teams in this 3-leg series are expected to compete for an estimated purse of over $1.7 million. However, the most coveted award – The Crest – doesn't come in the form of a cash prize. The Crest represents the pinnacle of tournament sailfishing. It is viewed as the highest accolade bestowed upon a team. Presented in jacket form, competitors must emerge as the most dominant among an elite field in order to don the burgundy jacket. Privilege is earned, not given, on this Quest to crown a world champion.
ABOUT BLUEWATER MOVEMENTS
Bluewater Movements, Inc., is a sports marketing company based in South Florida, the sport fishing capital of the world. Throughout the past 27 years, our team has developed some of the most successful competitive fishing events in the industry. Our background in tournament fishing, coupled with our expertise in event marketing, has enabled a premium experience for tournament anglers and sponsors. Within our portfolio, there are seven wildly popular fishing tournaments, all hosted at various venues across South Florida.