Final Sail Returns To Miami, April 7-11, 2021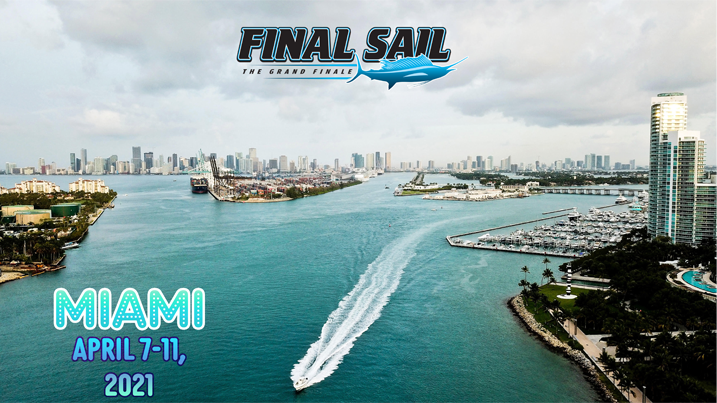 FOR IMMEDIATE RELEASE
March 2021
Contact: Jennifer Hoffman
Phone: 954-725-4010
Email: jennifer@bluewatermovements.com

Final Sail Returns To Miami, April 7-11, 2021
The Final leg of the Quest For The Crest Sailfish Series returns to the docks of Miami Beach Marina, April 7-11, 2021. The third leg of the series was cancelled last year due to the COVID-19 pandemic, so this year's finale will award two teams the coveted burgundy jackets.
 A kick off party will be held at the Doubletree by Hilton Grand Hotel, Biscayne Bay on Wednesday, April 7th from 7pm-10pm. Competition days will be Friday, April 9th and Saturday, April 10th. The awards ceremony will be held Saturday night from 7pm-11pm. 
Rooms at the Doubletree are available for a discounted rate through March 17th, 2021. Standard hotel rooms are available at $189 per night. 2 bedroom condos are available at $289 per night and 3 bedroom condos are $349 per night. Please use code "FS2" when booking to receive the discounted room price! Click here for the room block information. 
The Quest For The Crest Series was halted last year due to the COVID-19 pandemic and no winner was crowned, which only ups the ante for Final Sail 2021, as there will be two jackets on the line.
The 2020 Quest For The Crest winner will be determined by combining the scores from last year's series with team's points from Final Sail this year. Bar South is looking to win their second burgundy jacket, the team won their first jacket in 2015 with 97 points. They are poised to claim their second jacket with a 6 point lead over Jichi in the 2020 series with Shell Yeah just 8 points behind in third place. 
2020 Sailfish Series Leaders 
Bar South – 57 points
Jichi –  51 points
Shell Yeah –  49 points 
2021 Sailfish Series Leaders 
Native Son – 52 points
Showtime – 51 points
Team HMY – 46 points
Fish On – 46 points
The bite was red hot for Captain Art Sapp and his crew on Native Son during last month's  Sailfish Challenge, a last minute double sent them over the top and secured their first place finish in the Quest's second leg with a total of 13 sail and a hefty paycheck for $255,340. Native Son has their eyes on their first burgundy jacket and certainly won't go down without a fight. 
Not far behind them are three standout teams from Operation Sailfish, Showtime, Team HMY and Fish On. Showtime is looking to win their second jacket, they won in 2019 (80 points) while Team HMY and Fish On are in contention for their first ever burgundy jacket. 
In addition to the sailfish accolades, there are two major meatfish titles up for grabs at Final Sail. The Quest Sailfish Series also offers a meatfish title to the top overall meatfish team in the series. Team Blue Moon/Chop it Up holds a strong lead from the 2020 series and there are a number of boats in close contention for the 2021 title. Similar to the jacket, the meatfish points scored at the upcoming Final Sail event will count towards the 2020 series as well as the 2021 series.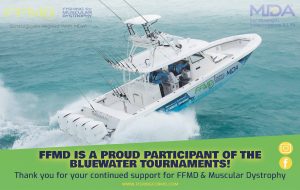 Fishing For Muscular Dystrophy (FFMD) is the benefiting charity of Final Sail. The mission of FFMD is to utilize winnings to find a cure for neuromuscular disease while providing funds to raise awareness and support for those currently affected by Muscular Dystrophy. The FFMD program is a 501(c)(3) organization that was founded by Paul Robertson, a native of Maryland and successful entrepreneur and businessman, who has also been diagnosed with Muscular Dystrophy (MD). To date, FFMD has raised nearly $1 million to support the fight against neuromuscular disease.
For more information on all that FFMD does, please visit their website, www.fishingformd.com 
To learn more about the Quest for The Crest and Final Sail please check out, www.bluewatermovements.com or www.finalsail.com. 
About the Quest for the Crest Sailfish Series:
This iconic series hosts some of the top billfishing teams in the sport.  Teams in this 3-leg series are expected to compete for an estimated purse of over $2.3 million. However, the most coveted award – The Crest – doesn't come in the form of a cash prize. The Crest represents the pinnacle of tournament sailfishing. It is viewed as the highest accolade bestowed upon a team.  Presented in jacket form, competitors must emerge as the most dominant among an elite field in order to don the burgundy jacket.  Privilege is earned, not given on this quest to crown a world champion.
About Bluewater Movements:
Bluewater Movements, Inc., is a sport's marketing company based in South Florida, the sportfishing capital of the world. Throughout the past 20 years, our team has developed some of the most successful competitive fishing events in the industry. Our background in tournament fishing coupled with our expertise in event marketing has enabled a premium experience for tournament anglers and sponsors. Within our portfolio there are six wildly popular fishing tournaments, all hosted at various venues across South Florida.
###