Doing It All/ Hardway Wins the 27th Annual Saltwater Slam!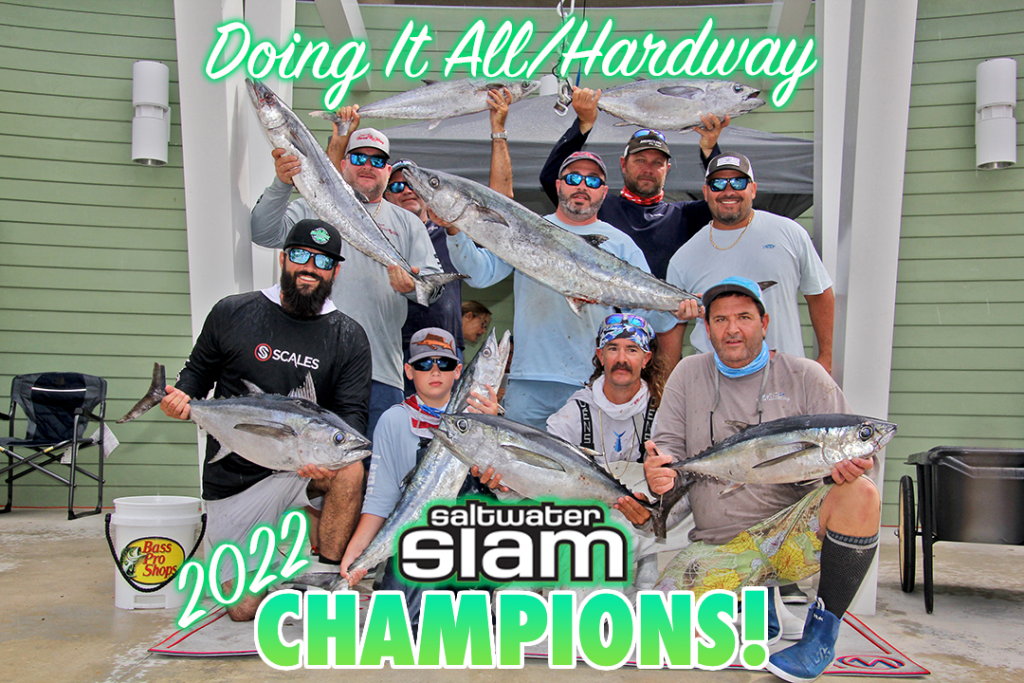 FOR IMMEDIATE RELEASE
JUNE 2022
Contact: Jennifer Hoffman
Phone: 954-725-4010
Email: jennifer@bluewatermovements.com 
Doing It All/ Hardway Wins the 27th Annual Saltwater Slam!
Despite tough fishing conditions this past weekend, 67 boats participated in the Mercury/SeaVee sponsored Pompano Beach Saltwater Slam. The Kick Off Party/Captain's Meeting was held on Thursday June 9th, at the Pompano Beach Civic Center. Teams had the opportunity to mingle with tournament sponsors such as Unlimited Marine, SiriusXM Marine, Pelagic and others while enjoying refreshing beverages from Landshark Lager and Islamorada Brewery & Distillery and great food from Bonefish Mac's. The Bubba sponsored 'Cast for Cash' contest was the hit of the kickoff party as anglers tested their casting skills for the chance to win Bubba products and help raise money for tournament charity, Mission Fishin.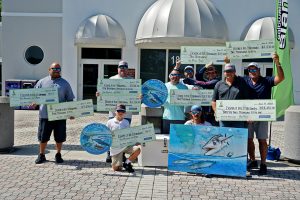 Fishing was held on Saturday June 11th with a weigh in at Sullivan Park in Deerfield Beach. The stormy weather held off and anglers and spectators alike were able to enjoy the weigh-in without any torrential downpours and thunderstorms. The Hooters Girls were at Sullivan park handing out cold beer and wings to the teams as they headed to the scales and Galuppi's had a bar set up to serve tournament favorite cocktails and official PBSC trophy artist, Eddie Forbes had a variety of nautical decor on display for spectators looking to do a little shopping during the weigh-in!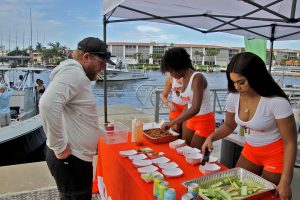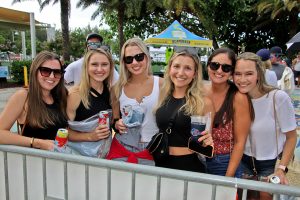 As the teams approach the scales, you never know which team will have the heaviest bag, and on Saturday it just so happened that one of the first teams to weigh, did just that. Team Doing It All/Hardway was one of the first teams to jump on the stage at Sullivan Park to weigh in their fish, giving the crowd quite the show! They weighed in a 35.8lb Kingfish, a 23.2lb Blackfin Tuna, as well as a slew of other fish for a grand total weight of 156.5! There was a 33.6lb difference between the top two teams and only team Ice Box would rival Doing It All/Hardway for the top spot, with a total weight of 122.9 for a second place finish.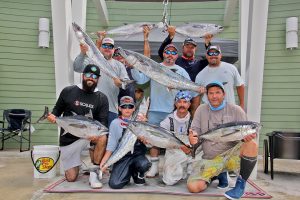 In addition to finishing in first place overall, Team Doing It All/Hardway also finished in First Place Bluewater Bonanza, Third Place Kingfish, Third Place Tuna, Third Place in The Big Three, Third Place in the Holy Mackerel, First Place in Ante Up, Charity Calcutta, and the top Male angler (Martin Martuscelli) and Second Place Junior Angler (Hunter Deka) for a grand total of $22,051!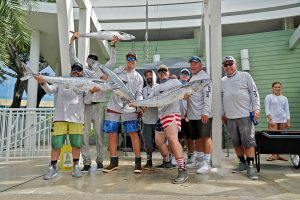 Team Ice Box fishing on their 39' SeaVee was looking to repeat their performance from last summer when they won the KDW. They didn't find any dolphin or wahoo to but their stellar catch of four kings weighing 122.9 pounds was enough to secure them the second place position for the tournament! Their 38.2lb Kingfish won them second heaviest king, Second Place in The Big Three, Second Place in the Holy Mackerel, along with a couple other aggregate weight calcuttas for a total payday of $13,829!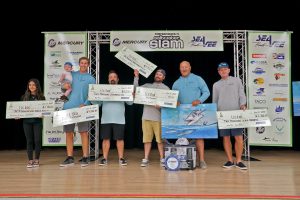 Rounding out the top 3 for the Saltwater Slam was team Flight Plan. Weighing in a total of 115.1 lbs of fish. They also had the heaviest blackfin tuna of the tournament at 28.1lb as well as the heaviest cobia at 21.1 lb for a total of $5,188!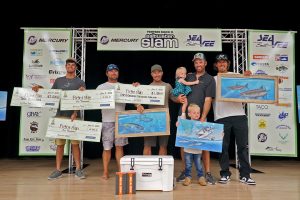 The biggest fish to hit the scales in the 27th Annual Mercury/SeaVee Pompano Beach Saltwater Slam was a 39.2 lb  kingfish caught by tournament sponsor Tuppen's Marine and team Nor Tech/Tuppens. As is always the case in the PBSC tournaments a BIG fish equals a BIG payout and that is exactly what Captain Steve Sprague and his teammates received in the form of a check for $16,503!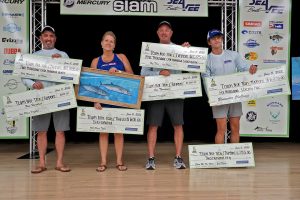 MORE SLAM RESULTS:
Team Nor-Tech/ Tuppens: 10th place Overall, 2nd Place Dolphin (11.6), 1st Place King (39.2), 2nd Place Show Me The Mahi, Bluewater Challenge, 1st Place The Big Three, 1st Place Holy Mackerel – $16,503
The Skinny/Rockford Fosgate: 1st Place Non Pro Division & Bonanza, 15th Place Overall – $3,920
Runnin Late: 1st Place Small Boat Division & Bonanza – $2,540
FULL RESULTS: https://fish.bluewatermovements.com/Leaders/Overall/59 
SAVE THE DATE!
The Pompano Beach Saltwater Circuit continues on with the Saltwater Showdown August 11-14, 2022! Early Entry closes on July 29, 2022 and teams can register by visiting, https://fish.bluewatermovements.com/app/ . Early Entry registration price is $475 + tax, after the 29th it will increase to $575 + tax , so register early and save $100!  
ABOUT THE POMPANO BEACH SALTWATER CIRCUIT:
If you like fishing for Dolphin, Wahoo, Kingfish, Tuna and Cobia, then you will love the format of the Pompano Beach Saltwater Circuit. The PBSC is a 3-leg tournament that takes place annually in South Florida from May to August. Leg 1 of the series begins in May with the Saltwater Shootout, followed by the Saltwater Slam in June and the Saltwater Showdown in August. In addition to a $550,000 purse, teams that register for the tournaments will enjoy premier hospitality including free drinks, great food, live entertainment, tournament shirts and a team bag loaded with sponsor swag! It's no wonder why the PBSC has become one of the most popular series on the east coast. Learn more by visiting our website, https://www.bluewatermovements.com/tournaments/summer-series/
About Bluewater Movements:
Bluewater Movements, Inc., is a sport's marketing company based in South Florida, the sportfishing capital of the world. Throughout the past 20 years, our team has developed some of the most successful competitive fishing events in the industry. Our background in tournament fishing coupled with our expertise in event marketing has enabled a premium experience for tournament anglers and sponsors. Within our portfolio there are seven wildly popular fishing tournaments, all hosted at various venues across South Florida.
###