CHIPS AHOY TOO/TIGRESS Are 2019 SLAM CHAMPIONS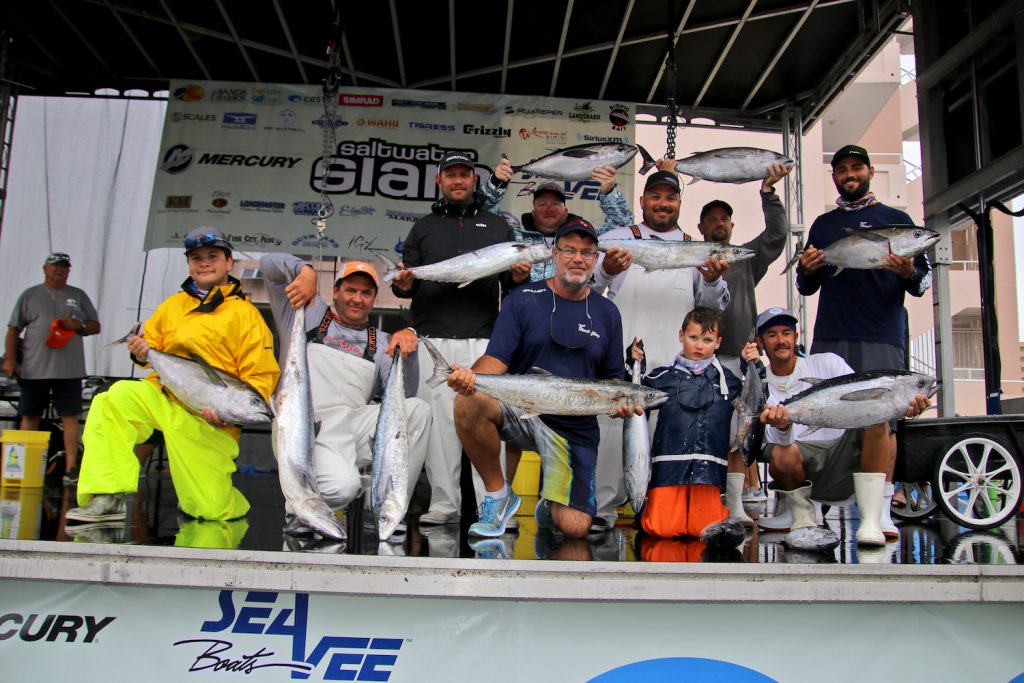 Pompano Beach, Fla. (June 12, 2019) – Rain or shine, nothing could slow down the 24th annual Saltwater Slam fleet. The 2019 Mercury/SeaVee Pompano Beach Saltwater Slam kicked off on Thursday, June 6th with a wide variety of fun activities and top-notch food hospitality from Blue Moon Fish Company and Hooter's girls on site serving up free drinks for registered anglers.  By the end of the kickoff party and final registration, 80 teams were signed up and ready to chase down the winning catch to claim their piece of the $175,000 cash purse!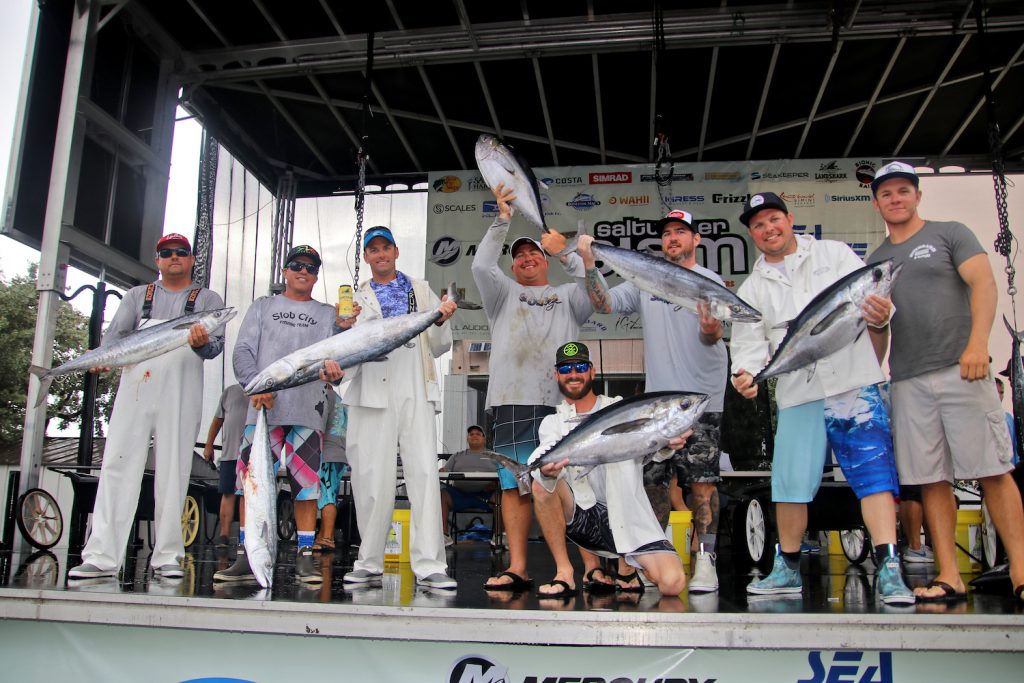 A forecast for scattered showers and thunderstorms kept teams on their toes all day, but they didn't let it stop them from finding the fish.  Captain Chip Sheehan and his Chips Ahoy Too/Tigress team came out on top with 142.9 pounds that included 4 kings, three tuna and an 18.0-pound Dolphin that was also the heaviest dolphin caught in the tournament.  There were high fives and champagne showers all around on the Costa Del Mar weigh-in stage for the team when they realized they won their first tournament in the PBSC summer series and a check for $18,405!
With 60 different cash prize categories in the Slam, there were plenty of other big winners as well!  Team High Gear finished 9th overall, but they also managed to land a 34.6-pound kingfish that was the heaviest in its category and also the single heaviest fish of the tournament.  With that king, they cleaned up in several different categories for a grand total of $18,103 in prize money.  Crew member, Melanie Chojnacki was also the top female angler with 44 points.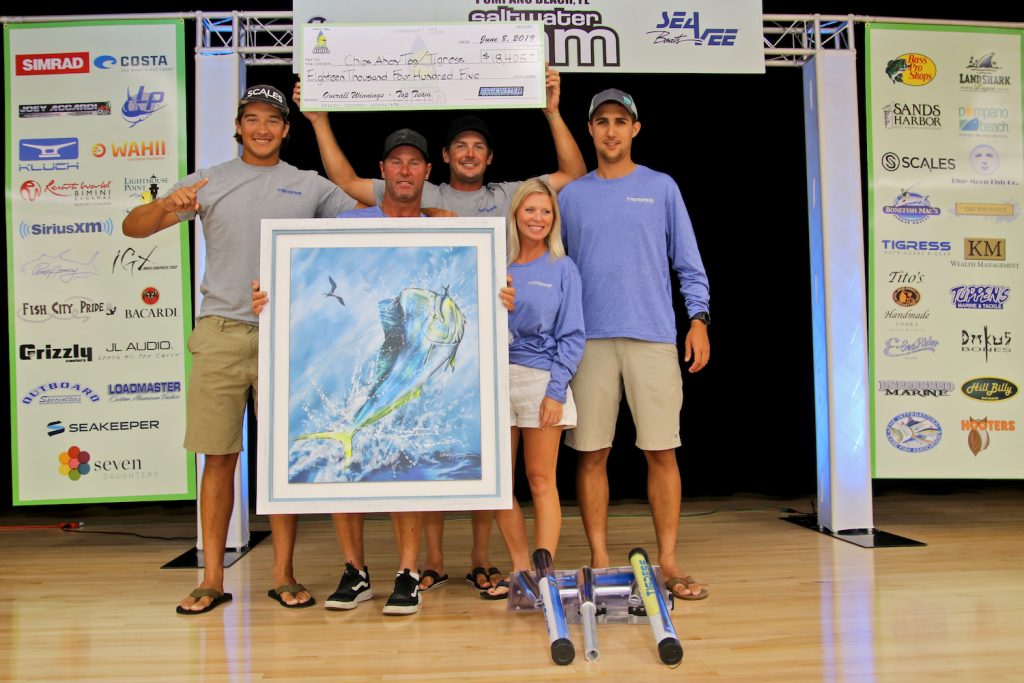 Captain Carl Torresson and his SLOB City team backed up their 3rd place finish at the first leg of the series with an even stronger finish at the Slam.  They took 2nd place with 132 pounds and a check for $8,554.  More importantly, they jumped into the series lead in pursuit of the championship rings and a Showdown Crown title sponsored by Simrad Electronics.  Not to be overlooked, they have two-time ring winners, Blue Moon Fish Company, sitting right behind them in 2nd overall and 5-time ring winners, Native Son, hot on their heels in 3rd.
The top 5 in the Slam were rounded out with Doing it All/Hardway in 3rd place with 131.9 pounds, Reel Synergy in 4th with 128.5 pounds and Native Son in 5th with 128.4 pounds.  Doing it All/Hardway received a round of applause from the crowd at the awards ceremony when they donated $1,000 of their tournament winnings back to the tournament beneficiary, the Perry J. Cohen Foundation.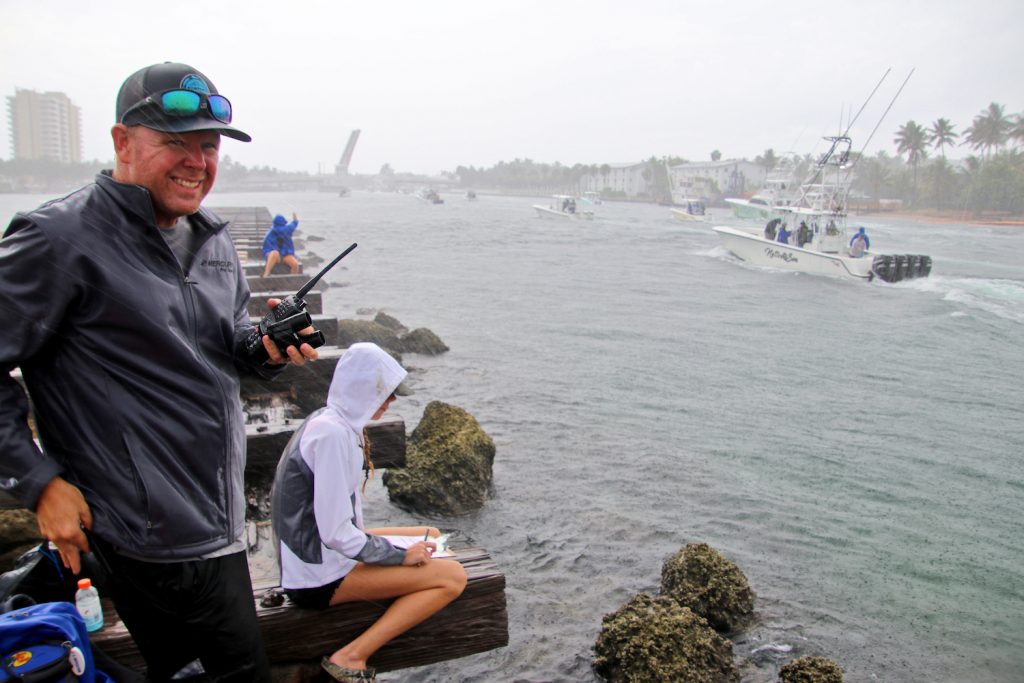 Team Runnin' Game had a stand out performance of their own at the Slam.  In addition to a 10th place finish, they won the non-pro division and posted the second heaviest fish of the tournament to win a grand total of $9,594.  In the species division, Sarah Marie had the heaviest tuna at 29.7 pounds.  Money Pitt weighed the heaviest wahoo at 15.4 pounds and Ice Box had the heaviest cobia at 13.9 pounds.  All three of those fish were worth a bonus $1,000 to each team.  Cameron Camden, from team Bionic Bait, was the top pee-wee angler with 75.2 points and Brian Miller, team Reel Line, was the top junior with 61.9 points.  Brian is also sitting in first in the battle for the junior master angler of the series followed by James Demarco, Native Son, in second and Jonah Bennett, Loan Shark, in 3rd.
The most highly anticipated categories in the Slam were of course, the KDW and Pick 3, due to the substantial size of the jackpots up for grabs in each.  All three of the target species for both categories were caught in the tournament, however no team was successful in catching all three on their boat, so both pots roll over into the final leg of the PBSC series, the Saltwater Showdown, on August 17th, where the Pick 3 is expected to exceed $63,000 and the KDW is expected to exceed $36,000!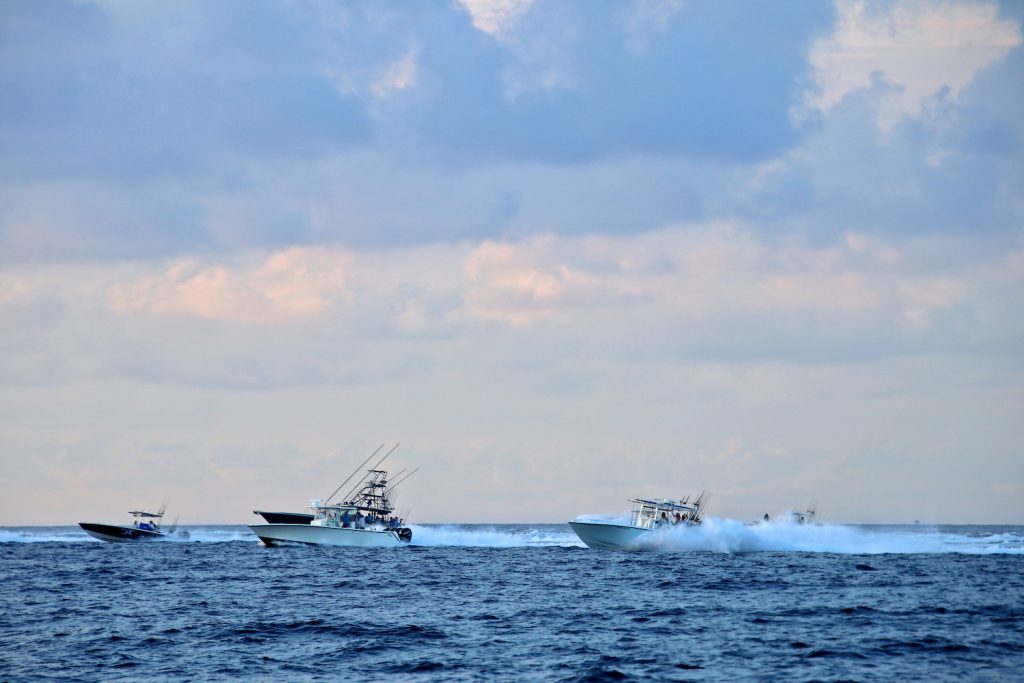 Early registration for the Saltwater Showdown closes Thursday, August 1st at midnight. You can register your boat and pay for calcuttas in person at the Thursday night kickoff party on August 15th at the Pompano Beach Civic Center. To save money and time in line, register before the kickoff party online at www.fish.bluewatermovements.com or call the Bluewater Movements office at 954-725-4010. To register your child for the FREE Kid's Fishing Clinic that is hosted by IGFA during the kickoff party Thursday, August 15th from 6 – 8 p.m., call the office at the number listed above or email Julie@bluewatermovements.com to reserve your child's spot.
Teams that have signed up for all three legs of the PBSC series will qualify for some incredible grand prizes at the upcoming Showdown as well. The mega prizes include, a VIP weekend package to Resorts World Bimini valued at $6,000, a three-year 2019 RAM 1500 truck lease from Joey Accardi of Pompano Beach, a Grizzly cooler package, Costa sunglass package, $4,000 Loadmaster gift certificate, Tigress Outriggers & Gear package, $500 Bass Pro Shops shopping spree, SiriusXM marine weather package, and a $2,500 giveaway!
For full results on the Mercury/SeaVee Pompano Beach Saltwater Slam, visit www.saltwaterslam.com  Details on the 3-leg PBSC summer series are available at https://www.bluewatermovements.com/tournaments/summer-series/
About Bluewater Movements:
Bluewater Movements, Inc., is a sport's marketing company based in South Florida, the sportfishing capital of the world. Throughout the past 24 years, our team has developed some of the most successful competitive fishing events in the industry. Our background in tournament fishing coupled with our expertise in event marketing has enabled a premium experience for tournament anglers and sponsors. Within our portfolio there are six wildly popular fishing tournaments, all hosted at various venues across South Florida.