Big Fish Equal Big Bucks at the 24th Annual Saltwater Slam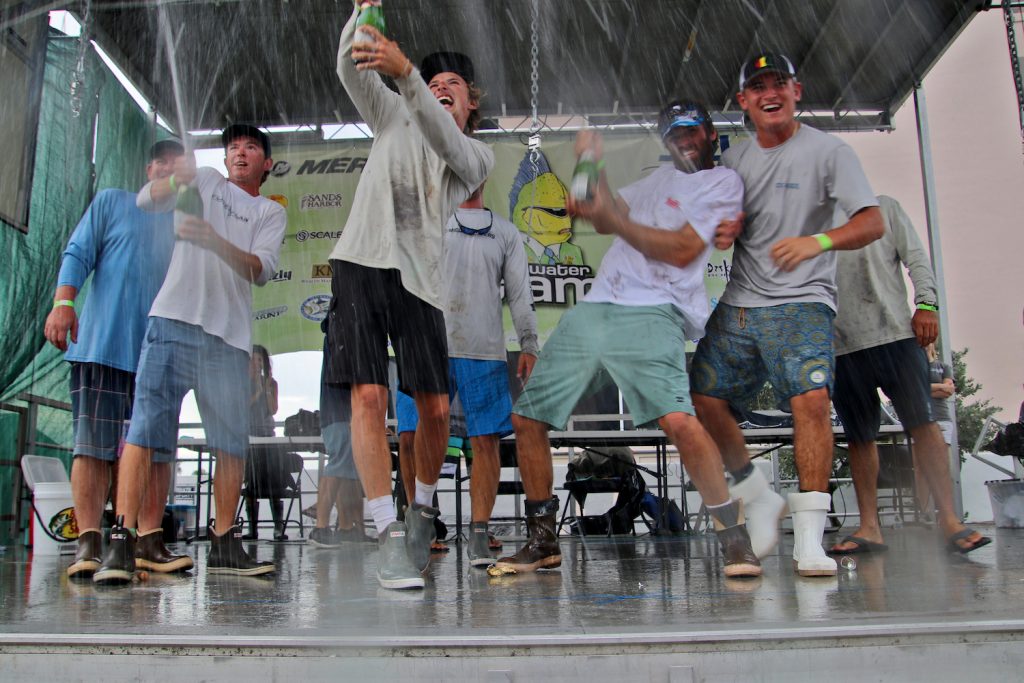 Pompano Beach, Fla. (May 28, 2019) – School's out and the fish are biting! The second leg of the Pompano Beach Saltwater Circuit, the Mercury/SeaVee Pompano Beach Saltwater Slam is right around the corner, so gear up your boat, stock up on bait, and prep your anglers because the 2019 Saltwater Slam is the meat fish tournament you won't want to miss. The Slam hits at just the right time for families to round up the kids and enjoy a weekend of summertime fishing in a family oriented South Florida fishing tournament. Signature prize categories include big fish payouts in excess of $15,000, a non-pro division with payouts to five places and a small boat division for boats 26' and under with a single engine.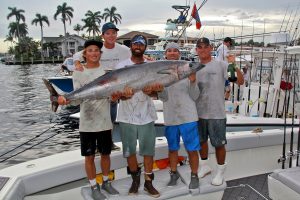 The 24th annual Saltwater Slam kicks off Thursday, June 6th at the Pompano Beach Civic Center with decadent food courtesy of Blue Moon Fish Company, fully stocked bars sponsored by Hooters, IGFA sponsored Kid's Fishing Clinic, and DJ Select with the music. With hundreds of raffle & auction items up for grabs, plus a Spin-to-Win wheel lined with cash, gift cards and sponsor products, you will be hard pressed to go home empty handed.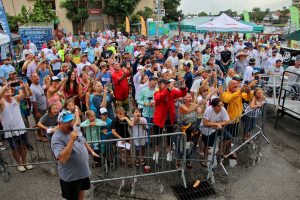 114 teams participated in the 2019 Saltwater Shootout, Leg 1 of the PBSC series, but none of them were successful in claiming the Pick 3 or KDW Jackpots.  Respectively, the Pick 3 and KDW payouts are expected to reach the $55,000 and $30,000 mark at the Slam, and the wahoo are starting to show up just in time for teams to take down the hefty KDW purse.  Earlier this week, team Reel E Sea landed a 95-pound wahoo – reminiscent of last year's Slam when team No Plan/Contagious brought the crowd to their feet when they hoisted an 85.2-pound wahoo on the scale on their way to a $35,800 Slam victory.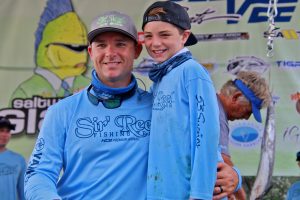 The Costa Del Mar weigh-in stage opens at 4 p.m. at Sands Harbor Resort on Saturday, June 8th with fun for the whole family! An express weigh-in option is available at Lighthouse Point Marina as well. Open to the public, everyone is invited to Sands Harbor to enjoy the weigh-in party with the opportunity to guess the weight of fish and WIN prizes, enjoy live music, chill at the pool and patio bar, buy tournament apparel and celebrate with the winners! The party doesn't end there.  The awards ceremony sponsored by Bonefish Mac's takes place at the Pompano Beach Civic Center on Sunday, June 9th at 2pm, where a purse including $200,000 in cash & prizes will be dished out to teams in over 65 different prize categories!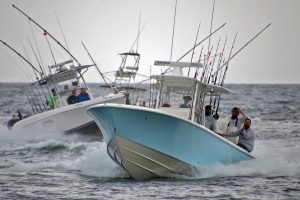 If you are planning to fish all three legs of the PBSC summer series, you will be happy to know that there are some major perks in store for teams that sign up for the Shootout, Slam & Showdown. The mega prizes include a VIP weekend package to Resorts World Bimini valued at $6,000, a three-year 2019 RAM 1500 truck lease from Joey Accardi, a Grizzly cooler package, Costa Sunglass package, $4,000 Loadmaster gift certificate, Tigress Outriggers & Gear package, $500 Bass Pro Shops shopping spree, SiriusXM Marine package and a $2,500 giveaway!  Simply sign up for all three legs of the series and your team will be entered in the drawing to win these amazing prizes.
Registration for the Saltwater Slam closes Thursday, June 6th at midnight. You can register your boat and pay for calcuttas in person at the Thursday night kickoff party at the Pompano Beach Civic Center. To save time in line, register before the kickoff party online at www.fish.bluewatermovements.com or call the Bluewater Movements office at 954-725-4010. To register your child for the FREE Kid's Fishing Clinic that is hosted by IGFA during the kickoff party Thursday, June 6th from 6 – 8 p.m. call the office at the number listed above or email Julie@bluewatermovements.com to reserve your child's spot.
Charitable proceeds from the PBSC summer series benefit the Perry J. Cohen Foundation.  Together PJCF and Bluewater Movements are working to educate adolescent boaters on the importance of boating safety to make sure they place safety first and are fully prepared with the life-saving equipment they need every time they leave the dock. To learn more about the PJCF mission visit https://www.bluewatermovements.com/tournaments/summer-series/charity/
For more details on the Mercury/SeaVee Pompano Beach Saltwater Slam, visit www.saltwaterslam.com  Details on the 3-leg PBSC summer series are available at https://www.bluewatermovements.com/tournaments/summer-series/
About Bluewater Movements:
Bluewater Movements, Inc., is a sport's marketing company based in South Florida, the sportfishing capital of the world. Throughout the past 24 years, our team has developed some of the most successful competitive fishing events in the industry. Our background in tournament fishing coupled with our expertise in event marketing has enabled a premium experience for tournament anglers and sponsors. Within our portfolio there are six wildly popular fishing tournaments, all hosted at various venues across South Florida.