22nd Annual Saltwater Shootout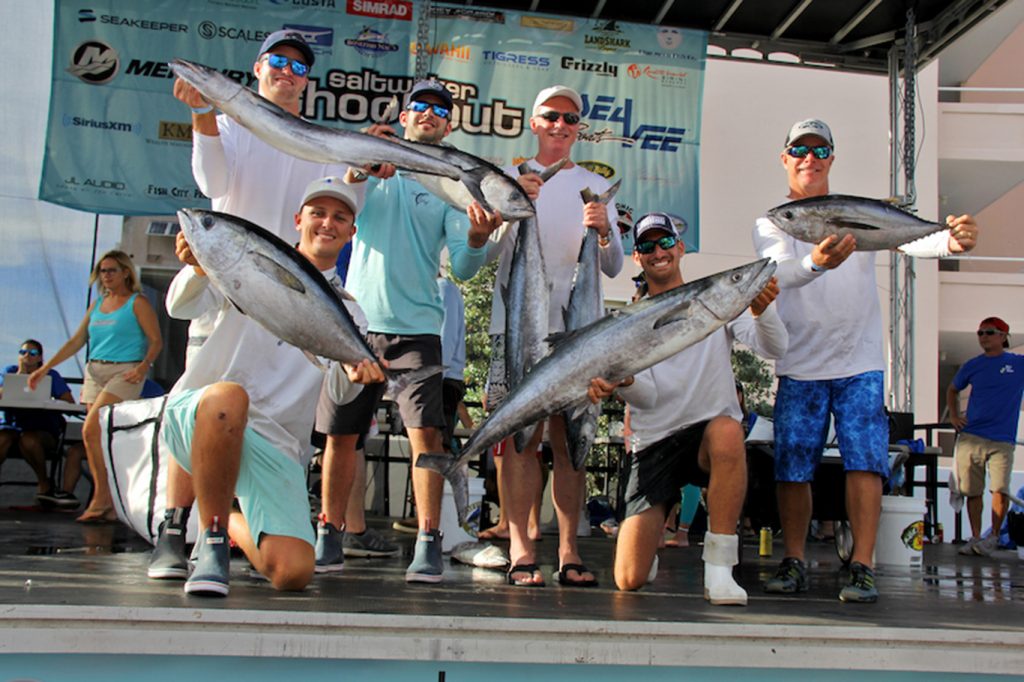 South Florida's Most Popular Meatfish Series Returns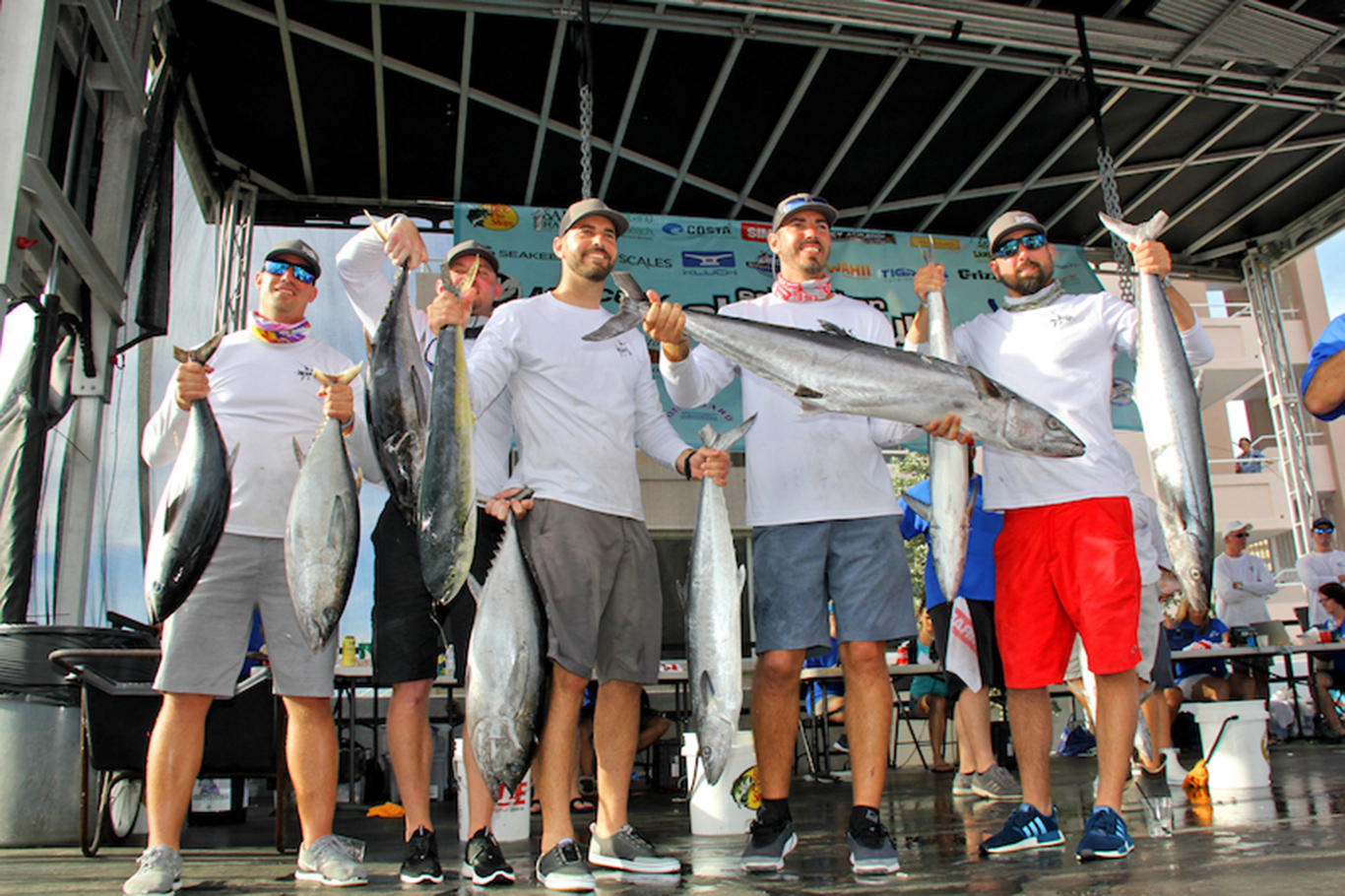 Pompano Beach, FL. (April 12, 2020) – The 22nd Annual Pompano Beach Saltwater Circuit arrives in May with more anticipation than ever before. With cabin fever reaching its peak over the past month, anglers from all over South Florida are reeling to get back their teams back together for the tournament season. With over $550,000 in cash and prizes on the line, and 4 prestigious meat-fishing titles up for grabs – the 2020 PBSC summer series is set to dish out the green and the gold in a big way!
The 3-part series kicks off with Leg 1, the Mercury / SeaVee Pompano Beach Saltwater Shootout, held on May 14th – 17th.. The annual captains meeting and kickoff party goes down on Thursday, May 14th at the Pompano Beach Civic Center from 6 – 10 PM, with an incredible seafood and carved dining experience for anglers from Blue Moon Fish Co., as well as hospitality bar services from the famous Hooters girls! The PBSC is notorious for its grandiose parties and prize structure, while still maintaining an affordable entry fee that allows both novice and experienced teams to compete in over 75 different categories.
The Pompano Beach Saltwater Circuit is one of the most popular series in the South Florida fishing community and proud to be one of the first events to reconnect anglers, their families, and friends with their passion.. The target species in the PBSC series are wahoo, kingfish, mahi, cobia, and blackfin tuna. Competition day for the 22nd annual Saltwater Shootout is set for Saturday, May 16th, with a morning check-out at 6:30 AM at the Hillsboro Inlet Park and bimini start promptly at 7:00 AM. Scales open at 4pm for the Bass Pro Shops sponsored weigh-in held at Sands Harbor Resort & Marina with the deadline to check-in at Hillsboro Inlet by 4:30 PM.
Bring the whole family to enjoy the fun and festivities for the Saltwater Shootout weigh-in. With over 100 boats in contention for over $200,000 in cash & prizes, the dock carts will be loading up with "meat" as each team gets their chance to weigh their heaviest catches of the day in front of the whole crowd – come cheer on your team! The general public is encouraged to join the anglers at Sands Harbor for opportunities to watch the big fish hit the scales, win tournament gear, and relax at the waterfront patio bar with live music and beer specials from Landshark Lager.
This season, there are 57 ways to win big just through your general entry, and increase your odds with 19 additional chances to win big in the optional entry prize categories. Two of the most highly anticipated calcuttas are the "Pick 3" and "KDW Jackpot". The Pick 3 has rolled over from last season and currently sits at $78,840 jackpot, with only a $200 entry and the KDW jackpot is currently worth $55,620. Find the fish and capitalize on your bites and your team could go home with a check for over $100,000 in the 22nd Annual Saltwater Shootout.
There are major incentives for teams that participate in all three legs of the PBSC summer series. Teams that sign up for all 3 legs will be eligible for some incredible grand prizes including a 2020 RAM 1500 truck lease from Joey Accardi of Pompano Beach, a VIP weekend package to Resorts World Bimini, TACO Marine outrigger package, Grizzly cooler package, Costa sunglass package, $4,000 Loadmaster trailer gift certificate, free service from SiriusXM Marine, $500 Bass Pro Shops shopping spree and a $2,500 CASH giveaway!
Bluewater Movements is proud to continue its charitable affiliation with the Perry J. Cohen Foundation in 2020. Perry J. Perry is a 14-year-old boy from Jupiter, Fla. who went missing at sea with a friend on July 24, 2015. Together, Bluewater Movements and PJCF have established a 'Safety First' award for the top junior angler in each tournament with a complete safety kit including an epirb, handheld vhf and other life saving devices all donated by Bass Pro Shops in an effort to build awareness with our adolescent anglers for the importance of placing safety first every time they leave the dock.  To learn more about PJCF and their mission visit https://www.bluewatermovements.com/tournaments/summer-series/charity/
The Shootout weekend wraps with an awards ceremony back at the Pompano Civic Center on Sunday, May 17th from 2 – 4 PM. Food and bar hospitality are sponsored by a neighborhood favorite, Bonefish Mac's, with an incredible raffle, spin-to-win wheel, and more – make sure to come support your team at awards.
Registration remains open for the Saltwater Shootout through the kickoff party on May 14th.  To register online visit: https://fish.bluewatermovements.com/login.aspx?ReturnUrl=%2fHTMLClient%2f
For more information on the Saltwater Shootout, visit: https://www.bluewatermovements.com/tournaments/summer-series/shootout/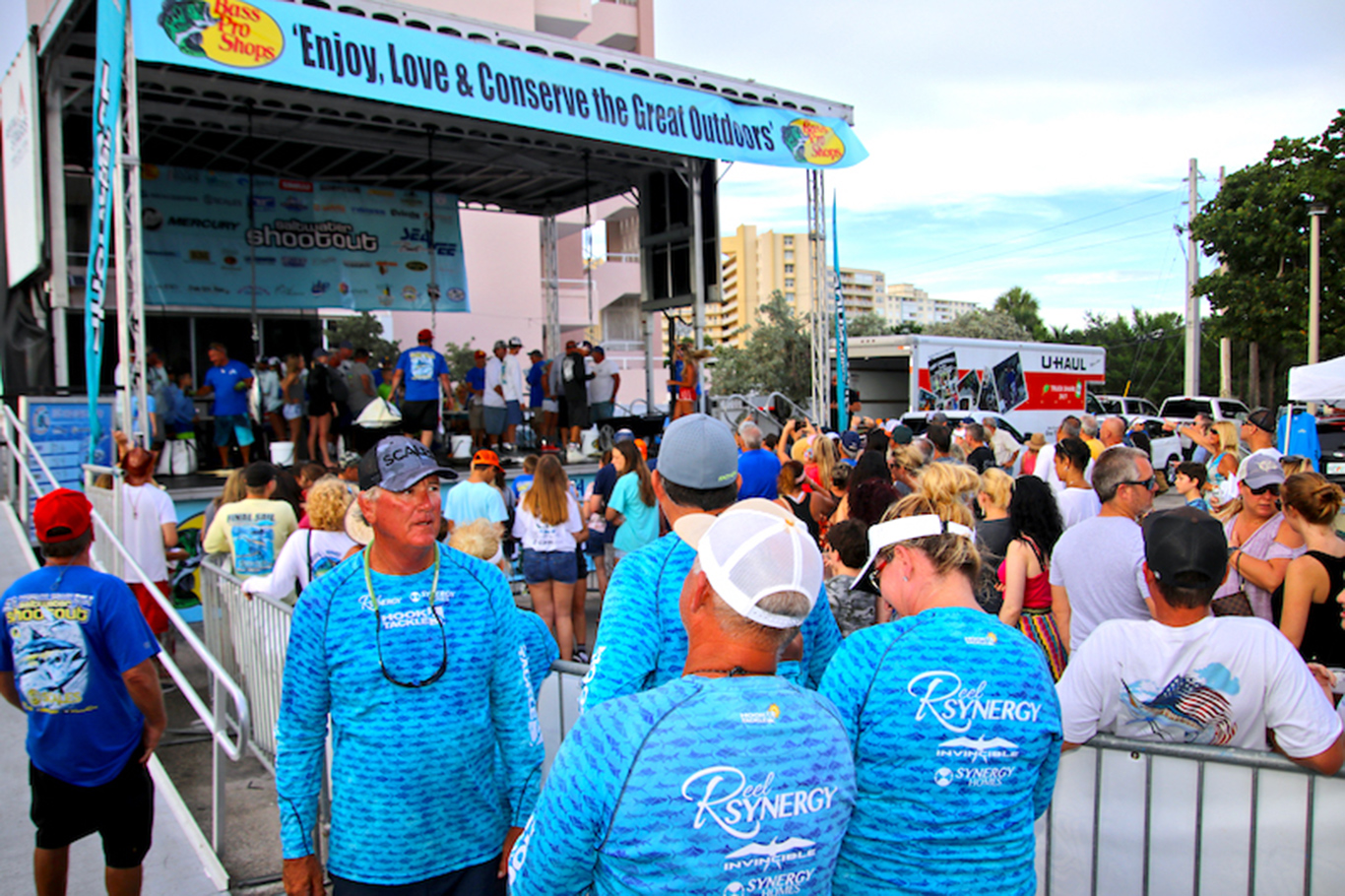 About Bluewater Movements:
Bluewater Movements, Inc., is a sport's marketing company based in South Florida, the sportfishing capital of the world. Throughout the past 24 years, our team has developed some of the most successful competitive fishing events in the industry. Our background in tournament fishing coupled with our expertise in event marketing has enabled a premium experience for tournament anglers and sponsors. Within our portfolio there are six wildly popular fishing tournaments, all hosted at various venues across South Florida.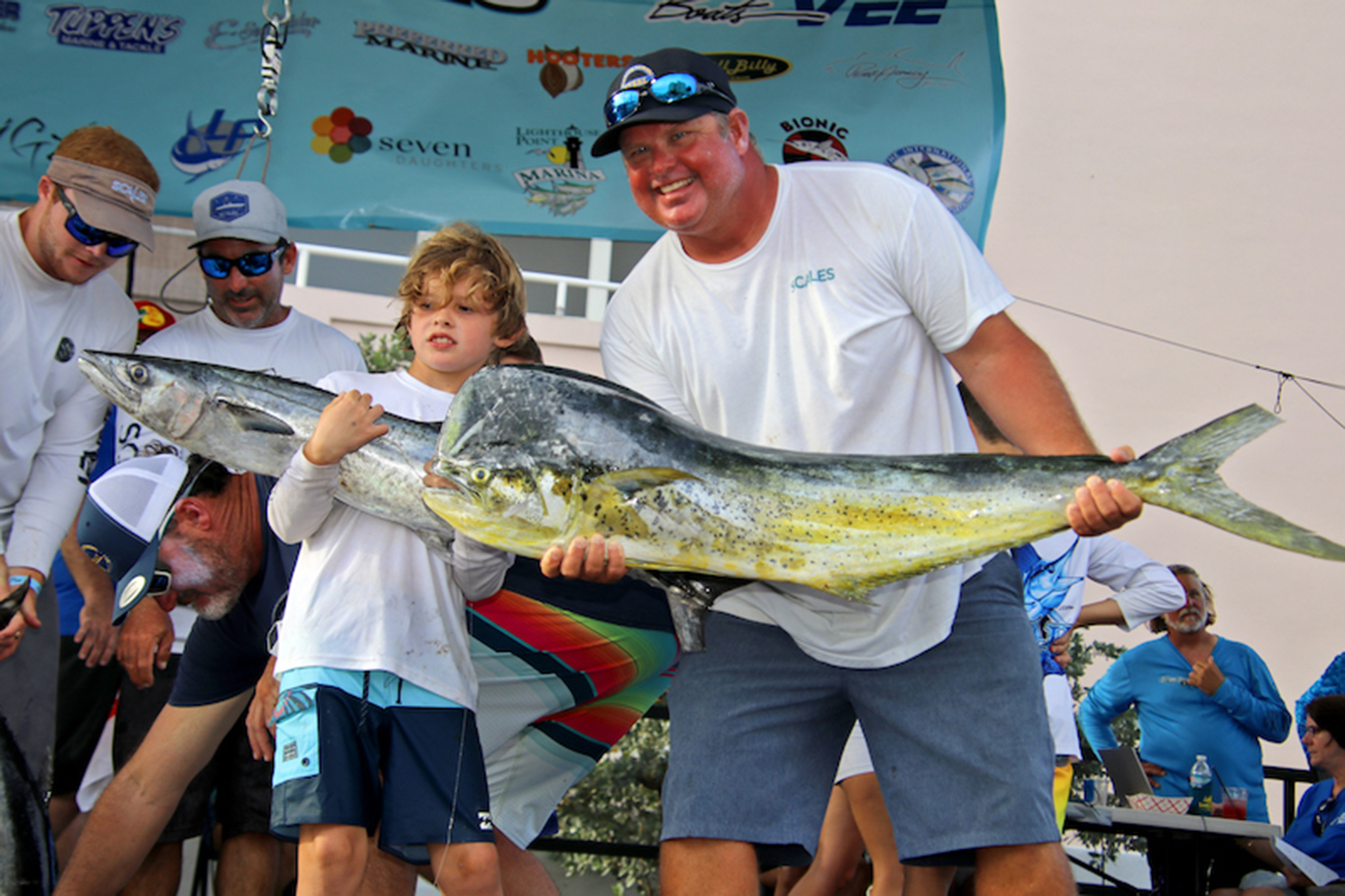 About the Pompano Beach Saltwater Circuit:
If you like fishing for Dolphin, Wahoo, Kingfish, Tuna and Cobia, then you will love the format of the Pompano Beach Saltwater Circuit. The PBSC is a 3-leg tournament trail that takes place annually in South Florida from May to August. Leg 1 of the series begins in May with the Saltwater Shootout, followed by the Saltwater Slam in June and the Saltwater Showdown in August. In addition to a $550,000 purse, teams that register for the tournaments will enjoy premier hospitality including free drinks, great food, live entertainment, tournament shirts and a team bag loaded with sponsor swag! It's no wonder why the PBSC has become one of the most popular series on the east coast. Mark your calendars and join Bluewater Movements for the kickoff to the summer series in May! For more information on the PBSC series, visit: https://www.bluewatermovements.com/tournaments/summer-series/