Operation Sailfish Returns to Sailfish Marina for the 11th year, January 11th-15th, 2023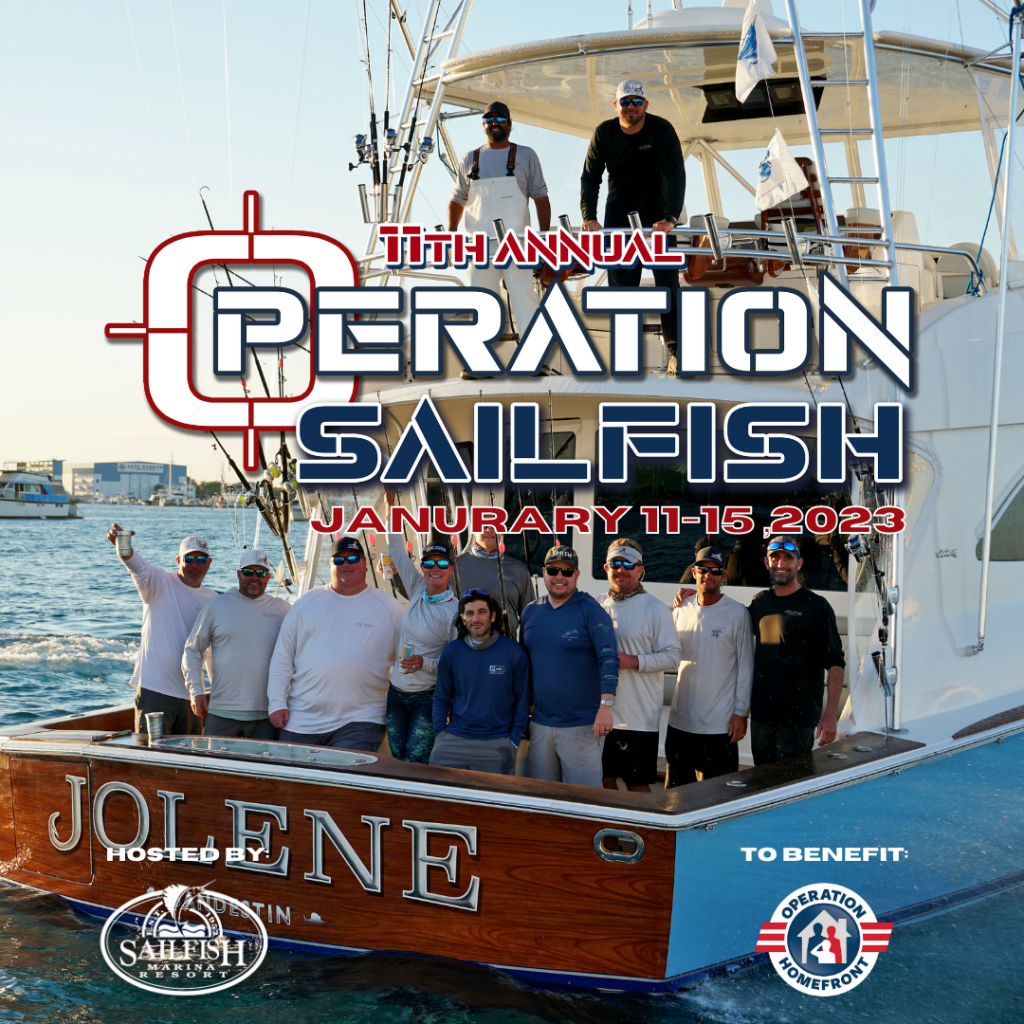 FOR IMMEDIATE RELEASE
December 2022
Contact: Chris Caravello 
Phone: 954-725-4010
Email:Chris@bluewatermovements.com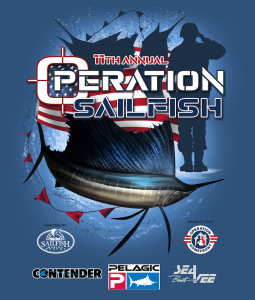 The Quest For The Crest Sailfish Series is back in full swing as the race for the coveted burgundy jacket is set to begin with Leg 1 of the Quest, Operation Sailfish, at the historic Sailfish Marina Resort from January 11-15th, 2023. Teams will compete in a two-day battle off Palm Beach for their piece of a cash purse of more than $800,000, exclusive sterling silver champions' dog tags, and one sweet year of bragging rights. 
The week of events kicks off on Wednesday, January 11th, 2023, at the captains' meeting with an Opening Ceremony & USA Military Salute from the Operation Homefront color guard. Following the commencement, participating teams will enjoy complimentary cocktails, dinner, silent auction, and entertainment by DJ Select accompanied by tournament sponsors and vendors for a night of festivities before the games begin. The 2-day competition extends over Friday, January 13th, and Saturday, January 14th followed by a Sunday Brunch awards ceremony on January 15th, followed by a closing ceremony to retire the flag and pay final respects to the great men and women of our United States military.
Take A Hero Fishing Day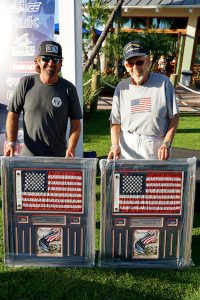 The signature, "Take a Hero Fishing Day," is a day to honor our true American heroes –  the men and women of our United States military. "Take a Hero Fishing Day" will be held on January 12th, 2023, in partnership with Operation Homefront a 501(c)(3) organization whose mission is to build strong, stable, and secure military families that can thrive in the communities they've worked hard to protect.
Active duty military and veterans will take to the seas on January 12, where they will be paired up with teams to enjoy a fun day of fishing, followed by a cocktail party and awards ceremony, where the top heroes will receive their very own trophies. Check out last year's blog, Take A Hero Day 2022 to read about 92-year-old veteran Jack Melnick's extraordinary experience fishing with Old No.7 and earning the title of Master Angler.
Heroes can visit the following link to fill out their application or anglers can nominate a hero to join them on their boat; please click here.
NOTE: Spots will be filled as boats become available. 
For more information on the Operation Homefront mission, please visit their website, https://operationhomefront.org/ 
Tournament Entry Tips!
Early registration for Operation Sailfish is $1200 per boat through January 3rd, 2023. After January 3rd, 2023, the late registration fee is $1700. In addition to the first-place title, there will be several other opportunities for anglers to cash out through a variety of general and optional entry categories and Calcuttas, so you may want to take some notes!
General Entry Divisions
Calling all meatfish teams, don't sleep on Operation Sailfish; you can win the big bucks too! With three meatfish divisions in Operation Sailfish – Meatfish Aggerate, the Heaviest Fish Divisions for Dolphin, Wahoo, Kingfish, Cobia, and Tuna, and The Grand Daddy: Heaviest Fish Overall, plus 3 meatfish calcuttas, teams can win over $50,000 without landing a single sail! Makin' bills without catchin' bills never sounded so good! 
No Boat, No Problem! From the beginning, fishing tournaments were created to help promote the charter boat industry. Charter boats are greatly missed in today's tournaments and we want them back! With that, we've gone back to the roots and created a pure charter boat division for charter boats to compete on the same level with other charter boats in the tournament while still remaining eligible for other general entry divisions. The NEW Charter Boat division boasts a 100% payout, and we've also added a 70/30 Charter Boat Calcutta! This is a PSA to all you tournament-hungry anglers….Call up for your favorite charter captain with a valid NOAA charter or head boat permit, and let 'em know it's time to get to work!
*See rules for eligibility requirements here.*
Optional Entry Calcuttas 
Some things are bigger than fishing. We encourage all our teams to enter our Fish For Charity Calcutta benefiting our charitable partner Operation Homefront. Both teams and charity win in this category with a 50/50 split between the high point team and the tournament charity. The entry fee for this Calcutta is $500 per boat.
And finally, everyone's favorite Calcutta – The Quest For The Quest Series Exclusive Winner Take All: Release Round Up. This optional entry category is divided into 4 rounds over 2 days of fishing. Advance through all 4 rounds and your team could hit it big in the Release Round Up Jackpot! In 2020, Miss Annie hit the Round Up lottery with a $371,700 payout!! Who will be the next team to cash in big? Entry fee for the Round Up is $1,000 per boat.
To learn more about the Quest for The Crest and Operation Sailfish, please call 945-725-4010, email info@bluewatermovements.com, or visit www.bluewatermovements.com or www.Operationsailfish.com. 
Operation Sailfish 2023 Schedule Of Events
All events for the week will be held at Sailfish Marina:
98 Lake Drive, Palm Beach Shores, FL, 33404
Kick-Off Party/Captain's Meeting
When: Wednesday, January 11th, 2023
Time: 7:00pm – 10:00pm
Take A hero Fishing Day
When: Thursday, January 12th, 2023
Lines In – Lines Out: 8:00am – 2:00pm
Cocktail Reception: 3:00pm
Awards Ceremony: 3:30pm 
Fishing Day 1
When: Friday, January 13th, 2023
Lines In – Lines Out: 8:00am – 4:00pm
GEMLUX Happy Hour: 5:30pm
Deadline to Submit Media: 6:00pm
Fishing Day 2
When: Saturday, January 14th, 2023
Lines In – Lines Out: 8:00am – 4:00pm
C&L Insurance Happy Hour: 5:30pm
Deadline to Submit Media: 6:00pm
Awards Ceremony
When: Saturday, January 14th, 2023
Brunch: 11:00am – 12:00pm
Awards Presentations: 12:00pm – 1:00pm
Closing Ceremony: 1:00pm 
About the Quest for the Crest Sailfish Series
This iconic series hosts some of the top billfishing teams in the sport. Teams in this 3-leg series are expected to compete for an estimated purse of over $1.7 million. However, the most coveted award – The Crest – doesn't come in the form of a cash prize. The Crest represents the pinnacle of tournament sailfishing. It is viewed as the highest accolade bestowed upon a team.  Presented in jacket form, competitors must emerge as the most dominant among an elite field in order to don the burgundy jacket. Privilege is earned, not given, on this quest to crown a world champion.
About Bluewater Movements
Bluewater Movements, Inc., is a sports marketing company based in South Florida, the sport fishing capital of the world. Throughout the past 27 years, our team has developed some of the most successful competitive fishing events in the industry. Our background in tournament fishing, coupled with our expertise in event marketing, has enabled a premium experience for tournament anglers and sponsors. Within our portfolio, there are seven wildly popular fishing tournaments, all hosted at various venues across South Florida.